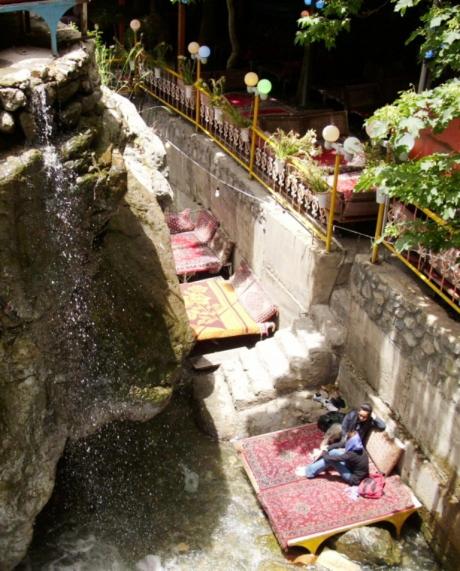 Last month JJJ the Publisher of i.com sent me a very brief email entitled "Profanity" and said that I've been "frequently resorting to profanity in the comments" and if I continue my account will get closed. 
If the admin (Foad) is reading this, before I get to the rest of the blog, I'd like to ask you something.  When a user gets blocked his/her entire profile gets deleted.  Is there a way to modify the system to allow the profile to remain "public" so others can go and look for the contributions? And also allow the user to just delete (not edit) his/her blogs but not be able to comment anymore?
I ask this because sometimes I'm looking for a piece or comment and remember the author but don't remember the title of the blog or article.  When the user is active I can go to his/her profile and run down the contributions and find what I'm looking for.  It seems like a waste that many "contributions" are blocked when a user is blocked.
Anyway, back to the subject at hand, I thought to myself what if JJJ has too much Chianti with bad pasta one night and the Waiter over charges him for other stuff that gets him all riled up and fuming while struggling with a bad reaction in his stomach to the mix of wine and bad pasta?   What if in the middle of all this a few venom and anti-venom users are fighting with each other over Islam which gives him a headache as well and he reads one of my comments and suddenly decides to block my account altogether?!  ZAP! I'll then need to find a donkey and load it with lima beans! 
All my contributions, blogs, my perecious belogs, my perecious comments, will all be gone!  Poof!  Not that they are of any literary value but they're mine and their only offense is that someone else is having a chemical reaction to bad pasta and wine in his stomach!
So I decided to open a new account and post under this one, Esfand for the short version.  I'll provide a link in my profile to the Anonymouse profile and vice versa so if someone wants to look up my perecious belogs, they can do so 😉 
I'll keep the same avatar until a few months from now when I'll change to a new car. This way it'll be easier to recognize me and in time my new user name will be like before.  I won't use the Anonymouse account to blog or comment anymore.
Given the state of i.com's hodgepodge of comment section policy which can be swayed by anything up to and including bad pasta, I think we have to come up with some creativity to protect ourselves with the options available.  Don't get me wrong, I really appreciate i.com and what JJJ is doing; I just don't think there is any consistency that we can depend on.
As an example, adult subject matter especially female erotica are applauded as soothing and the best there is, while male erotica (not gay porn 🙂 is frowned upon and we can't comment about them like an adult without being deleted!  All this while i.com was founded with Hajiagha's male erotica and now all of a sudden as we say in Farsi; the cat has become "religious", "praying" and "Muslim"! Or another one (cat obsession :-); it's like leaving the meat on the counter and asking the cat to be shy and look the other way!
Photo caption: Darband (north of Tehran)