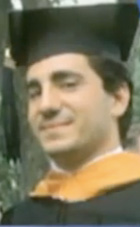 Imperial Guard never mourns
With a public caravan
But in heart.
Immortal one took an oath
So princess' smile shall last
The darkness of the night
But it did not.
So the jolly prince or his
Bride can take a safe ride,
He wielded a sword
But dishonored it by
Not pulling out on the mob.
Now that mob claims to
Be a remorseful crowd,
Now that the vultures
Have taken over of
The ancient hut,
Now that mayhem, darkness
And blood
Claim our nest as slaughterhouse
I am a shameful immortal one,
At the mercy of my ghosts at night,
Your pain forever etched
On my soul and your voice echoing
In my heart,
I see my own tribe in your blood,
I see my days tailing your sunrise,
Now that the prince has taken a last ride,
I give you one more oath,
That there is an inner-monarch
Who will never cease to go ahead
And beyond, despite carrying your sorrow
Always in his heart,
Rest in peace lonely soul
As I have chores to do
To redeem my own soul
Since I abandoned and left you behind.
Let my restless conscience be always
Behind to do more good,
So I can subdue the lurking murmurs
On the conscious of this tribe.
Rest in peace.
Farhad