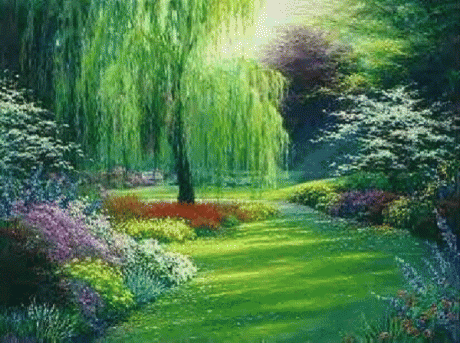 I sit quietly in the shadows.
Looking out the window.
I see the weeping willow,
swaying in the wind.
A distant voice I hear.
I hear my mother's voice,
calling "it is time to eat".
I quickly dry the drops,
of sorrow from my face.
It is time to play the part,
I know too well.
I turn and smile at her,
as if nothing wrong exists.
I pretend to be so strong.
I suffer silently and alone.
No point in sharing my demise.
Nothing that can be done.
Only time controls my fate, 
or so they tell me every time.
How to defeat the sands of time?
Dazed looking at the weeping willow.
No matter how strong the wind blows,
it does not break, it will not yield.
Instead it dances in the wind.
I do wish for better things to come.
I dream of a day without pain and sorrow.
Again, I hear my mother's voice.
Awoken from my trance, the shadows are no more.
I smell the Menudo cooking on the stove.
Comforted by familiar sights, sounds and scents.
I hope to see my sons become men.
So, I must not yield to the sands of time.
I must fight back with all my strength.
I must control this dance.
I believe that wherever there is hope there is life.
I am forever set free……….
   Copyright © Latina