The rotoscoped animated film has a varied history, from Ralph Bakshi's seminal Lord of the Ring's film, Richard Linklater's existential dream-narrative Waking Life, and the latter's Philip K. Dick adaptation A Scanner Darkly. There is something haunted about aggressively stylized renditions of actors moving and gesturing in this type of film, an effect that can be alternately informal, horrific, or even soothingly distracting.
Ali Soozandeh's background has included formative work behind-the-scenes in animation, but the past four years have been devoted to his debut animated feature film, the Farsi-language Tehran Taboo. Using a combination of rotoscoping live-actors against a green screen, then positioning them against pre-rendered backgrounds, the film has a striking, haunted look that seems to compliment the subject matter: human taboo desires, and how they are satisfied and explored in a nation which frequently scrutinizes and punishes this pursuit. This calls out another benefit to using these elements of design: it helps Tehran Taboo take place in the titular city in Iran without requiring the potential risks of filming this subject matter on-site.
Having been notably selected for The International Critics' Week at Cannes this year—a distinction exclusively reserved for standout debuts deserving of wider audiences—Tehran Taboo should be primed for American distribution to follow in the upcoming months or next year, with a French release currently slotted for October 2017.
The Iranian thanks Mr. Soozandeh for taking the time to answer a few questions while in Paris.
The Iranian: You make this statement in the film's promotional materials: "We find places free from rules." Do you envision modern Iranian life having a crucial relationship to secrecy? Do you think this marks Iran as dissimilar to other parts of the world, or similar to them? Have you personally looked for "places free from rules"?
Ali Soozandeh: I'm not going to compare the Iranian society with others, but in the Iranian society there are many restrictions, especially sexual restrictions. But the people need to live with their sexuality, so they look for places free from rules. Secrets and double standards are the consequence of these restrictions. You need several faces to survive in the society. One face for the family, one for friends, one for colleagues at work, etc.
Our time, especially as teenagers, was formed by these restrictions. We always tried to find a way to get around them.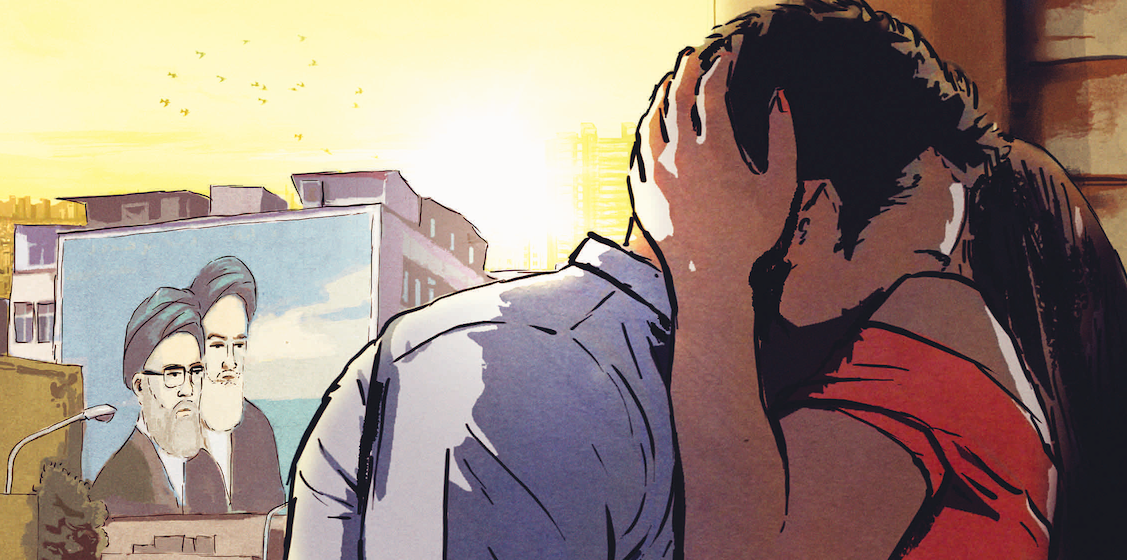 The Iranian: Deborah Young's review for The Hollywood Reporter mentions that "Women are the main victims here…and their lives are depicted as pure tragedy." Was this at all part of your intent? Is any of the film intended to be deliberately erotic?
Ali Soozandeh: Tehran Taboo is about the restrictions in the society both men and women suffer from. But the women are the ones who suffer more. They are responsible for the honor of the family. A woman who engages in extramarital sex brings the honor of the family in danger. On the other side, the women must teach the next generation the same rules which restricted themselves.
The film isn't erotic at all. We broke the taboos. So we didn't want to censor ourselves, neither in words nor in images.
The Iranian: Do you think that there are particular challenges related to being an Iranian artist in terms of Western funding? How did you go about sourcing funds to complete this project, and do you have any advice for other artists on this topic?
Ali Soozandeh: It was difficult to fund the project. Not because of my origin, but because it was an animated film for adults. Nobody believed that the story could work as an animation, so we produced a short teaser to show that it would. After watching the teaser everybody was enthusiastic.
The project took about 4 years from the beginning to the end. It is important to believe in the film and stay tuned to it.
The Iranian: What would be the next type of film and/or subject for a film that you'd like to work on? Is there anything you can tell us about upcoming projects?
Ali Soozandeh: I'm working on two stories. The first is an Iranian story, and the other one is a story which may take place in west (Europe or even in the US). I'm not sure if the next project would be an animation or live-action. At first, the story must work, and after that I will think about the realization of it.
The Iranian: I watched a clip of the movie and learned about the musician character. Are you familiar with the underground nightclub scene in Iran? Do you have any personal stories about these types of parties?
Ali Soozandeh: When I was in Iran we were often at underground parties. One friend of mine was a musician. I had contact with him after I came to Europe, and his dream was to record his songs and sell them, but he couldn't get any confirmation from the cultural minister. Six years ago he killed himself.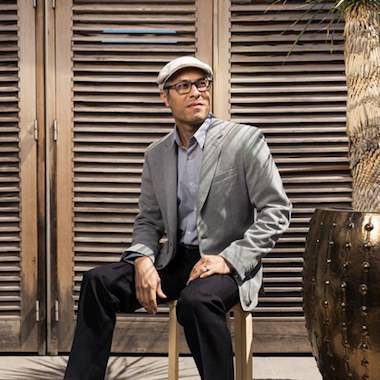 The Iranian: Although I haven't seen the movie yet, I'm interested in the music being used. Is there anything interesting you can tell us about the soundtrack? Was it all recorded for the film, or does it feature pre-existing songs? How did you go about creating or selecting the soundtrack?
Ali Soozandeh: We have two kinds of music in the film. The music of the young student which is a part of the story, and the film score. All the music was composed and recorded by our composer Ali N. Askin. We decided for a mix of a traditional Iranian instrument called the santur with western instruments like piano.
The Iranian: Have you learned any crucial lessons as a filmmaker that you might be able to share with our audience? If you could say one thing to a young Iranian filmmaker working on their first feature, what would it be?
Ali Soozandeh: It's important to be yourself and not try to copy others. One must remain faithful to oneself, only so that you can write an authentic and believable story. I think working on the story is the most important stage in film-making. You have to ask yourself questions again and again, and try to find answers.
A good screenplay is the basis for a good movie.
The above interview has been lightly edited for clarity.
---
Images from 'Tehran Taboo'