The first Abjeez song I ever heard was the uber-hit "Barab! Barab!". It is still in my opinion, the perfect Pop song. Until I saw the Edeaa video. "Basseh Digeh Baba! Cheh-Ghadr Edeaa…". At the time, I was working with some friends trying to put on the first Iranian Rock concert in the US. In San Francisco. We had already locked in Kiosk, but we felt that was not enough​,​ and we needed another great band to make the show ​even ​better. So we asked Abjeez if they would like to come to San Francisco, and be part of a different kind of Iranian revolution.
Needless to say they accepted, so on May 4th, 2007, at the Great American Music Hall, a refurbished former whorehouse, barely one block from Mitchell Brothers one of the world's oldest and largest strip clubs (details that I Ieft out of the invitations), we somehow convinced 450 Iranians that Iranian Rock was a real thing, and worth listening to. Needless to say, we sold out. If you were there, you know.
Kiosk had exploded and was the main draw at the time. The Abjeez completely destroyed their half of the show. A clever variation on Ska themes, Abjeez music lends itself to the quirky yet deep meaning lyrics the band has become famous for. The rest is Herstory.
Ever since, my favorite mixed Iranian and non-Iranian band of misfits, along with each album, has gotten better and better, culminating in what I think is their best effort to date. "Paa Sho!" (Get Up!) a fun filled Pop collection of hits. What jumped out at me this time around was the incredible production value. The album start to finish sounds fantastic.
Although primarily a guitar-driven band, with Safoura in between vocals, chopping away on her axe like a crazy woods woman, this album is filled with huge airy keyboard hooks, and blaring synthesizer anthems. As a child of the 70's, I would like to officially and specifically thank Safoura for the glorious scratchy guitar riffs, and the delicious lead solos splattered around this album. A most (delicious) fine mess you've gotten me into!
The thing I like the best about Abjeez, is their true kick-ass force of nature girl-power ferocity.
Many mistake Abjeez music for Reggae, but it would not be an Abjeez album without the signature Ska presence (I used to call them the SkAbjeez). But on this album there are also more of the very sweet melody and harmony driven songs like (Berim ba Ham) "Hamoom", that to me sound a lot like Heart or Cocteau Twins, with the ever present reminder that Abjeez are one of the few Iranian bands that can actually carry off harmonized a cappella. That is sis Melody's standout vocal contribution, and what is the most fun to hear.
Think about that for a minute.
Ok, so the thing I like the best about Abjeez, is their true kick-ass force of nature girl-power ferocity. It is wholly un-Iranian until you see the Abjeez doing it on stage, which makes you realize that under the usual socially polite and demure proper Persian princess Iranian woman lies the heart of an Abjee! The Abjeez don't come to be polite and demure. They come to destroy, pillage, and take everyone prisoner. Because it's fun! The voice of your family's younger "defiant sister-in law", is best heard on "Estadium", an anthem to decry the ridiculous ban by the "government" of Iran, prohibiting women from attending sports in Iran. Which is also stupid. No, the ban. Of course, the government is stupid.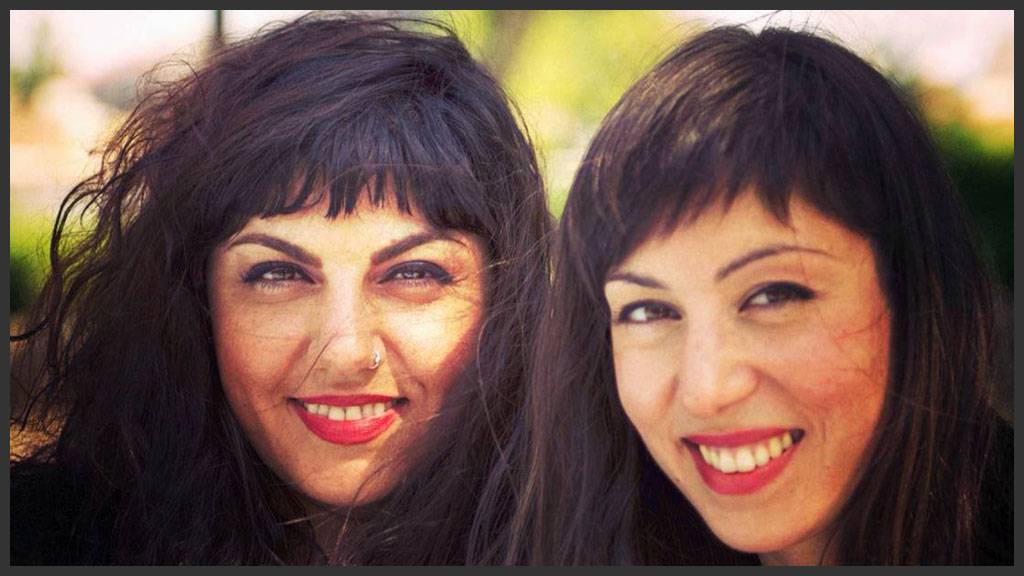 In the only English song "Crossing Borders", a song that reminds me of Boy George for some reason, the refrain that instead sounds like she's saying "I'm Crushing Borders… Disobeying Orders…" rails against the inhumanity of recent anti-immigrant sentiments in the world today.
If you sit still during "Cheshm Cheshm" or "Baad Az In", and don't jump out of your seat to hop around the room to the infection, well I'm sorry, because there's just something very wrong with you! And you may need to be slapped out of your coma.
But don't worry, there's a song on this album just for that! The perfect song to slap you with, is the album's hit, "Paa Sho!" With what sounds like the soul funked out signature Clapton riff from "Bad Love", this song will most certainly slap the lazy out of you, forcing you to well- Paa Sho! (Digeh!)
But once again, the sound and quality of the production of this album blew me away. It is perfect. Loud, clear, deep and layered with great 80's synth textures long thought lost forever, now that no one admits to remembering Michael Jackson's "Off the Wall" album anymore.
This album was produced by Safoura. In Costa Rica of all places. Melody and Safoura were on a much needed vacation from the day jobs they work at to sustain their lives and the band. Which explains everything right off the bat. But it might also explain the more than ready and ample availability of the generous portions of SOUL this album dishes out. What Costa Rica might have provided however, what you might imagine, is the sheer unbridled joy of two brides, escaping from the set expectations of badly arranged Iranian weddings. Who took off to write great music that celebrates their freedom.
That's the joy you can hear in this album.
Which is a hell of a lot of defiant sister-in-law kick ass fun.
For the latest album news and concert tour dates: https://www.abjeez.com/