Iran is a land of poets
A powerhouse of talented actors and creative design comes together in Ann Marie Fleming's Window Horses, an animated feature about Persian poetry and communication between cultures. Originally crowdfunded on Indiegogo in 2014, Window Horses is additionally financed by actress Sandra Oh, who stars in the film as the central character Rosie Ming. Conspicuously, the movie does not skimp whatsoever on Iranian actors, featuring recognizable stars such as Omid Abtahi, Shohreh Aghdashloo, and Navid Negahban, among others, as well as Ellen Page playing Rosie's best friend Kelly.
Fleming's film centers on a young multiracial Canadian poet who travels to Shiraz to participate in a poetry festival. The director herself is Asian-Canadian, and the character of Rosie Ming is actually a kind of persistent avatar in her work, first appearing in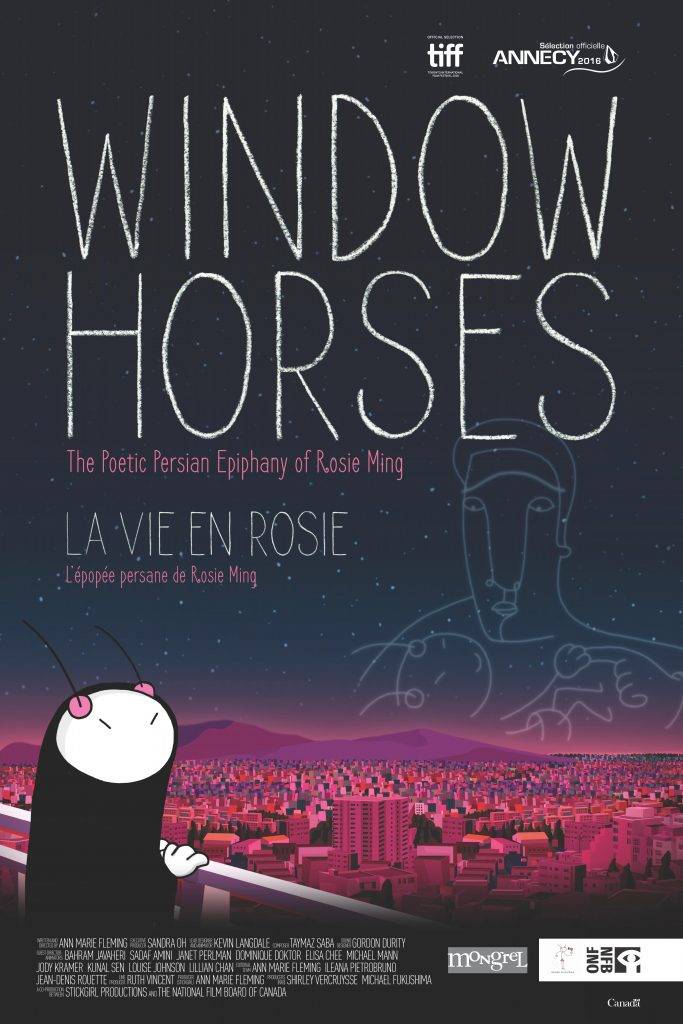 her documentary The Magical Life of Long Tack Sam in 2003. That being said, this film is not a sequel in any way, but a new narrative which utilizes the character in a dramatic feature role for the first time, as she's previously appeared in video shorts and other forms of media.
Beyond the story itself, Window Horses represents an elaborate collaboration, in terms of both its success with crowd-funding (to the tune of $83,503 CAD) as well as its threading of original poetry and short-form content throughout: "…the poems and histories are created by different artists, to both accentuate and blend the myriad differences in culture, philosophies, time frames and poetry. It is a film about identity and the imagination."
Originally released theatrically in Canada last year, Window Horses had its US premiere on September 29th at Laemmle Theatre in Beverly Hills, CA, with a short run continuing until October 5th. Early reviews have been positive, describing the film as accessible, teen-oriented, but also profound, tackling issues such as artistic censorship in Iran and China.
Check the main website for updates on a wider US release, and you can take a look at the colorful trailer linked below.
Trailer: