Iranian-American couple Joe and Sarah Kiani are recognized for their humanitarian efforts. And it all started with one small act of kindness.
If you want to change the world, start with the person next to you.
It's a good saying – but when it's put into practice, that's when great things start to happen.
That's what Joe Kiani will tell you as he pretty much lives by this mantra.
A successful medical technology entrepreneur, he and his wife, Sarah, formed the Masimo Foundation for Ethics, Innovation and Competition in Healthcare in 2010.
Married, not just through love but by philanthropic aims as well, when they met 20 years ago they quickly established that they were on the same page:
"Within the first few months she said to me 'I really want to help people, I really hope we get the chance to give back to our community'. She's not only been a great partner but has also inspired me to do more."
And together they formed a philanthropic fund focused on improving medical care among other philanthropic goals.
But for Kiani, his humanitarian ambitions started very early on.
If nothing else, give people a smile
Kiani moved to America when he was nine from Shiraz in Iran.
At the time, he said there were whispers of all the bad things that the Shah was doing, "and when the revolution came we thought the world was going to change. But then it all turned and there was little political freedom and also social freedom left in Iran."
"Sometimes when you change things really fast and big you can have unintended consequences, and it could make things worse. I got into this idea of micro-fixing, trying to make small changes to make a fairer world with more justice.
"As a kid, I would do it with waves and smiles."
And Kiani says that individuals can determine what contribution they can make in order to fix the world, "If it's waves and smiles then give waves and smiles. If it's more, then do more."
Many stay out of politics because where we came from it usually had a bad ending. But that's just not the case around the world.
But he maintains that charity starts at home and one of the first acts he and Sarah did together, just before they created the foundation at his company Masimo, very much feeds into that. He says,
"After years of protecting one of our patents from an infringer, we got a huge settlement. We had a team meeting and we handed out $30 million of cheques to show how much our team means to us. Some people bought homes – something they would have never been able to do."
They have since become involved in projects a little farther afield too such as providing help to victims of the tsunami and working in refugee camps.
However, one of their most challenging projects he says has been to remove a very common problem.
The Patient Safety Movement
"Over 3 million worldwide die from medical errors out of those who have access to healthcare.
"It is the most daunting challenge but it is where we felt we could help."
Clarifying that he believes doctors do a great job saving people from cancer and heart failure etc., he says "But after they've done their miracle of healing, about ½ percent of people don't make it home." He says, in the US alone preventable patient deaths in hospitals are the third leading cause of death.
In Europe, infection associated with healthcare affect 1 in 20 hospital patients every year. Something as simple as proper hand hygiene can significantly reduce hospital acquired infections. Another big issue is the lack of proper monitoring of patients on strong pain medications. The Patient Safety Movement Foundation has identified 15 of the most common challenges and provided easy to implement solutions.
So far, the foundation has set up regional chapters to encourage every hospital to participate. In February 2017, the foundation announced that 3,526 hospitals around the world had committed to ZERO preventable deaths by 2020. 69 healthcare technology companies have also now signed the PSMF's Open Data Pledge to improve patient safety.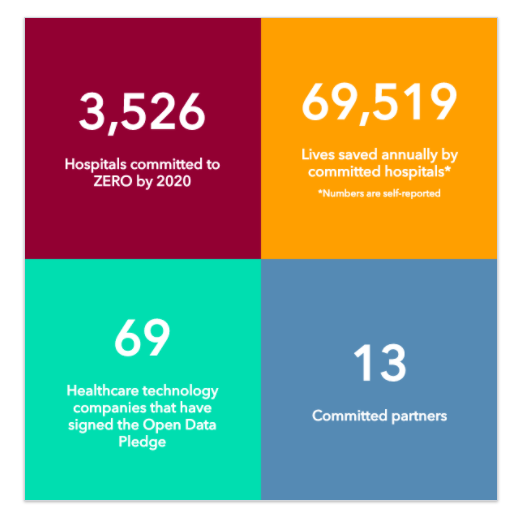 In February 2017, the foundation announced that these commitments had saved 69,519 lives annually. But Kiani feels as though they're still failing because the number of preventable deaths is still so far from zero.
Fortunately, others have faith in the initiative and when Kiani was traveling with former President Clinton on a project to build schools in Africa, he mentioned the issue with preventable patient deaths and what he wanted to do about it. Clinton said that if he did it, he would support him. And since 2012 he has attended and provided the keynote at every Patient Safety, Science and Technology Summit.
The Kianis are now being recognized for their work with the Masimo Foundation and they received a humanitarian award from the Anti-Defamation League (ADL) on 5 December for their overall achievement over the many years they've been active.
The ADL has been criticized in various quarters, including for placing the National Iranian American Council (NIAC) on an anti-Israel watch list as a result of their support for the Iran nuclear deal. But for his part, Kiani points out the good work of the organization, particularly in tackling anti-semitism and its help toward other communities. And he says the award has come at the right time, particularly in the era of Trump and the current prevalence of racism.
Be part of the democracy
Kiani's resolve certainly stands strong and he encourages others, if they feel inspired by Kiani's efforts, to start making a difference themselves by helping one person. Otherwise it can feel "like trying to boil the ocean."
In particular, for diaspora living in a democracy, they should take advantage of that, he says "Many stay out of politics because where we came from it usually had a bad ending. But that's just not the case around the world."
Kiani says if you're part of a democracy then take part in the democracy, "have your voice heard. Be part of an organization, give money to them and make them work for you."
---
Micro-Fixing: Massi Joe Kiani at TEDxChapmanU