Monday 29 January marked the 1000th day Iranian lawyer Narges Mohammadi spent in detention in Iran.
A prominent human rights defender, Mohammadi was sentenced twice for her human rights activities and is in the midst of serving a sentence amounting to a total of 16 years for what human rights group Amnesty International describes as trumped up charges.
Mohammadi's situation is however not atypical for human rights defenders in the Islamic Republic. As Amnesty International's Researcher for Iran Raha Bahreini told The Iranian, it is representative of the way in which the country treats those who campaign for the improvement of the human rights situation within it. In particular, her case is part of a wider crackdown against those campaigning to end the death penalty in Iran.
Two counts, 16 years, 1,000 days and counting
Mohammadi received her first six sentence back in 2012 on the charge of "membership in founding an illegal group" linked to her work with the now disbanded Centre for Human Rights Defenders.
While she was released in 2013 for medical reasons she was rearrested in 2015. This time it was because of her human rights work with the Campaign for Step by Step Abolition of the Death Penalty (known by its Persian acronym Legam), her engagement with the media and her solidarity with the families of those on death row.
Part of the evidence against her was a meeting she had in March 2014 with the European Union's then High Representative for Foreign Affairs and Security Policy, Catherine Ashton.
Attracting a lot of media attention, it prompted security and intelligence officials to carry out repeated interrogations and pursue a case against her. Mohammadi was charged with "gathering and colluding to commit crimes against national security" and "spreading propaganda against the system".
The trial against Mohammadi, Bahreini says, was grossly unfair. Held in a closed session, as is typical of cases that are heard inside the revolutionary court, a hard line judge Abolghasem Salavati, notorious for his harsh sentencing in political cases, was responsible for the judgment.
"It was very biased, very brief and she was not allowed time to defend herself properly. In fact she was only permitted to answer a few questions, by writing her answers down on paper. It was fundamentally unfair and this is consistent with the manner in which trials in the revolutionary court are conducted."
Bahreini also says that those appointed to the court tend to have political opinions that support the security and intelligence agencies.
So as well as having to serve a sentence on trumped up charges in a gross miscarriage of justice, Mohammadi's fair trial rights were also violated.
Redress
Having served over 1,000 days in detention, Amnesty International are still calling for her release despite the exhaustion of all domestic legal avenues.
As Bahreini says "Cases in Iran tend to be politically motivated. It is therefore, important to keep the voice of human rights loud and clear. The authorities must know that they cannot criminalise the activities of human right defenders.
"Amnesty International staff and campaigners will not stop until Narges Mohammadi and all other human rights defenders are released".
Action from the international community is thus incredibly important. Bahreini says, "It is important that all international bodies continue to keep up the pressure to release human rights defenders. The Special Rapporteur [on the situation of human rights in the Islamic Republic of Iran] and the EU have previously commented on Narges Mohammadi's case and we encourage them to keep monitoring the situation."
Amnesty International is also running a campaign in solidarity with 'Brave' human rights defenders across the world. Their petition to the Iranian government is asking for the release of Mohammadi and others like her and to end the repression of campaigners who are peacefully seeking to improve the human rights situation in the country.
Bahreini says, "We encourage members of the public to sign the petition and write to the Iranian authorities in their countries. If the authorities are overwhelmed with correspondence showing concern for the plight of Narges Mohammadi or the situation of human rights defenders in Iran then they are compelled to acknowledge this and take some form of action."
Opposing the Death Penalty
Iran executes hundreds of people every year and comes second only to China in the number of executions it carries out annually. Amnesty International recorded almost 1,000 executions that took place in 2015 and 567 or more that took place in 2016 in the country.
There are several other cases that reflect the "grim reality" for human rights defenders who campaign against the death penalty in Iran.
Atena Daemi for instance is serving a seven-year prison sentence in Evin prison following an unfair trial on charges including "gathering and colluding to commit crimes against national security" and "spreading propaganda against the system" for her peaceful human rights activities. This included posts she wrote on Facebook and Twitter criticizing the authorities' execution record and distributing anti-death penalty leaflets.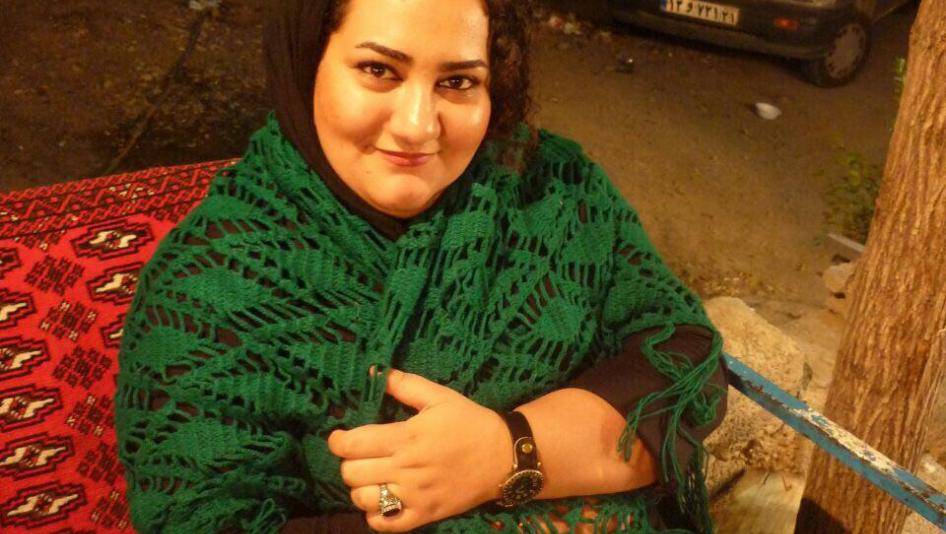 "She was transferred to a prison reserved for the most violent acts, which is just appalling for a young activist to endure on account of trying to improve the human rights situation in the country", said Bahreini.
Also notable is the conviction of Abdolfattah Soltani, a founder of the Centre for Human Rights Defenders. He is serving a 13-year prison sentence, also in Evin prison and again in part for his peaceful activism against the death penalty in Iran.
Reform Iranian Law
Bahreini and Amnesty International say that Iran must stop abusing the criminal justice system. And they must publicly acknowledge a space where peaceful protest can occur in order to defend the human rights of the citizens of Iran.
Broad and vaguely worded legal provisions around national security must be reformed so that the peaceful defence of human rights is not criminalised and that they are not used to crack down on peaceful freedom of expression.
In addition there are various other unjust laws In Iran that require reform according to Bahreini.
For instance, Daemi was additionally charged with insulting the supreme leader and insulting public officials. Iran must also stop violating the right of independent human rights NGOS to operate and all NGOs of this nature have been forcibly shut down in Iran.
Ironically, Iran often uses its relations with international organizations like the UN and EU as a talking point for its progress, but at the same time it has cracked down on human rights defenders like Mohammadi for liaising with those same institutions.
And while Amnesty International opposes the death penalty no matter the nature of the crime, in Iran it has made gains by influencing reform in terms of the scope of drug related offences and the death penalty, preventing its use for non-lethal drug offences. The human rights organisation is now calling for the abolishment of the death penalty for anyone under the age of 18.
These are small steps and less than the ideal, which is abolishment but it is still an achievement within a country with a prolific record for capital punishment.
Perhaps with the weight of the international community behind her, her release does not have to be a hopeless battle.