Sunset, Sunrise is the title of an upcoming poetic exhibition by Monir Shahroudi Farmanfarmaian. Organised by the Irish Museum of Modern Art of Ireland (IMMA) it presents the artworks one of today's most prominent contemporary Iranian artists. The exhibition focuses on Monir's large-scale mirrored sculptures, colourful collages, works on paper, whilst including the poetry, music, fashion, and interiors she's influenced and has been inspired by for over 40 years. This dynamic exhibition moves across geometry, architecture and minimalism, to folklore and spiritualism. Sunset, Sunrise marks the first time Monir's work will be shown in Ireland.
Monir Shahroodi was born in 1924 in Qazvin, North West Iran. In 1944 she studied fine art in Tehran University. Later, she moved to New York to study in Cornell University, at Parsons the New School for Design, where she majored in fashion illustration. After 12 years living in New York from 1945 to 1957, during which she met artists Frank Stella, Willem de Kooning, Joan Mitchell, Louise Nevelson, Barnett Newman, and, later, Andy Warhol, among others, Monir started to look at art more seriously and deeply. There, she further developed her artistic sensibility through encounters with traditional crafts, the technique of reverse-glass painting, mirror works in Quajar architecture and geometrical patterns, resulting in a period of artistic discovery that culminated exhibitions in Iran, Europe and the United States.
She married Manouchehr Yektai, a fellow artist and classmate, in 1950. The artist couple were together for just 3 years.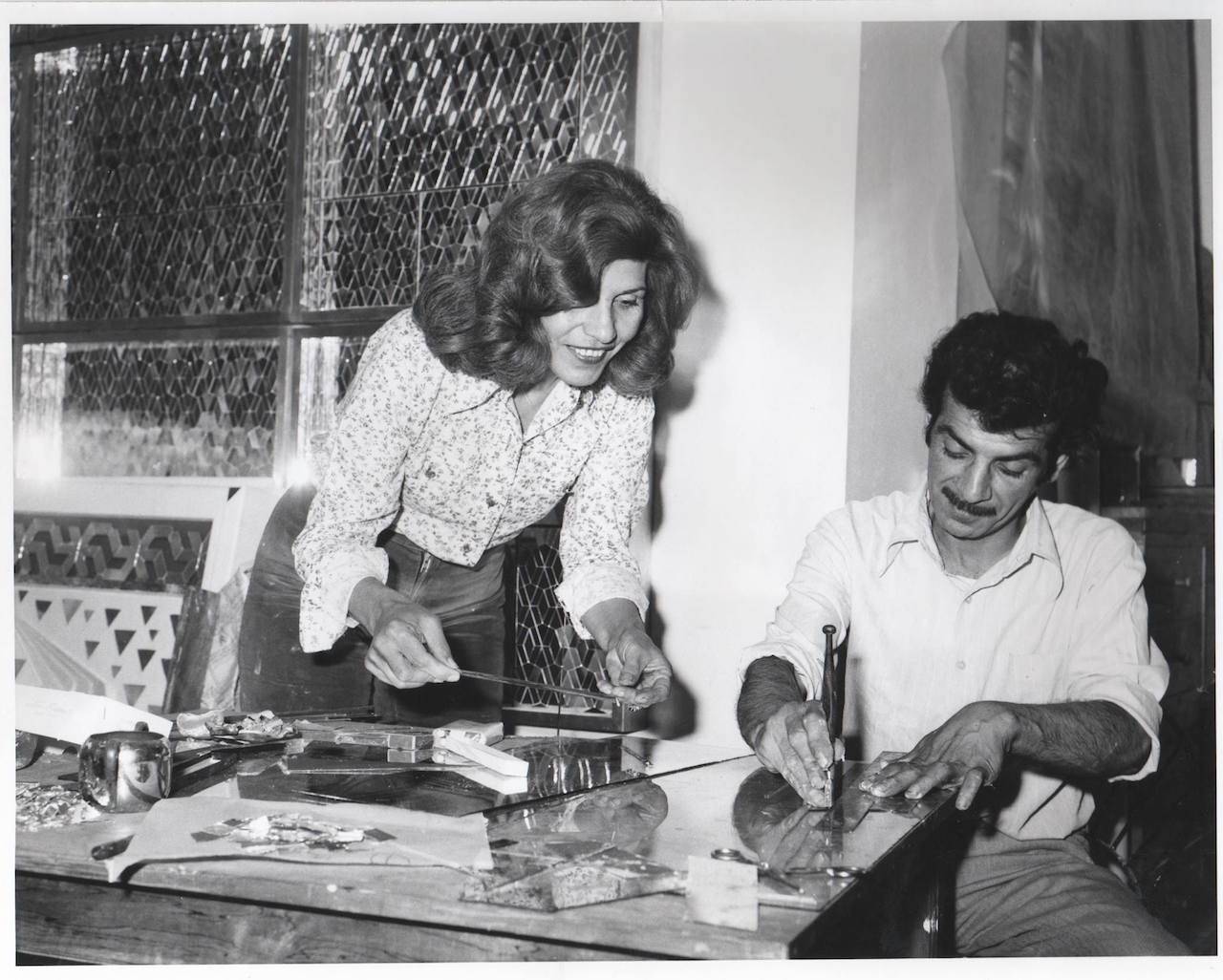 In 1957 she moved back to Tehran and married Abolbashar Farmanfarmaian. The couple were soon part of the glamorous, cosmopolitan world in Tehran before revolution. They owned a sprawling, modern home in the north of Tehran, where they hosted the Kennedys, entertained Parisian curators, and enjoyed Iranian art's glittering moment of international attention. In 1979 Monir and Abolbashar went to New York to visit family but Islamic revolution happened at the same time and they decided to stay in New York for a while although they lasted staying in States for 25 years.
She has participated in four editions of the Venice Biennale, which is one the biggest achievement in an artist's life. Monir's work is housed in several major public collections including the Museum of Contemporary Art, Chicago; The Guggenheim, New York; The Metropolitan Museum in New York, the Victoria and Albert Museum's Jameel Collection, London; The Queensland Art Gallery, Australia; The Tehran Museum of Contemporary Art, Iran; The Sharjah Art Foundation; and the School of Law at Columbia University, America.
Monir eventually moved back to Iran in late 90's. She set her studio in Tehran in 2004 with all her employees to works for her on her large scale mosaic mirror works.
In 2015, Bahman Kiarostami made a documentary movie about Monir's life and work. The film takes an intimate look at the artist's life and her practice, and explores how she has become one of the most innovative and influential artists working in the Middle East today.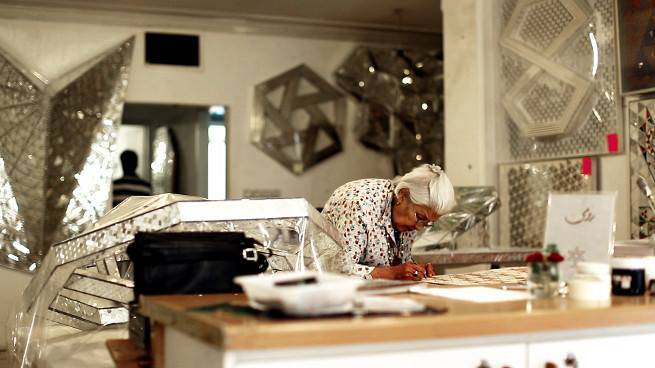 In December of 2017, the Tehran University inaugurated the Monir Museum. Housed in the historic (1843) Negarestan Park Gardens, the institution is home to over fifty works from Monir's personal collection. The 95 year old artist appeared in her opening night on a wheelchair with a smile of satisfaction.
This is the first museum dedicated to a female artist in Iran.
Sunset, Sunrise is organised by IMMA, in collaboration with Sharjah Art Foundation, United Arab Emirates. The exhibition travels to Sharjah Art Foundation in 2019. The exhibit opens on August 10th and runs until December 2nd, 2018. 
Photos taken from the opening night of Monir's Museum in Tehran: