The vibrancy of Persian culture filled Seattle's City Hall on Sunday, March 18, 2018 as crowds of Persians and non-Persians alike traveled from across the Seattle region to celebrate Nowruz with music, dance, art, historical/cultural presentations, and special appearances from a variety of luminaries such as Washington State Attorney General Bob Ferguson and Washington State Solicitor General Noah Purcell. As the Seattle's Persian community celebrated Nowruz, the theme of this year's celebration is about building bridges across all American communities and sharing the ancient traditions, contributions, and resiliency of the Iranian-American community. This year's event was presented by the Seattle-Isfahan Sister City Advocacy (SISCA).
Nowruz History
Nowruz dates back to the 6th century BCE and is celebrated not just by Iranians but by many countries along the Silk Roads, including Afghanistan, Azerbaijan, India, Iran, Iraq, Kyrgyzstan, Kazakhstan, Pakistan, Tajikistan, Turkey, Turkmenistan and Uzbekistan. And today, many Iranian-Americans continue the tradition of Nowruz throughout the Diaspora, bringing the celebration of nature and new beginnings to the new countries they now call home.
Nowruz transcends national borders, religious divides and other differences to unite communities with bonds of goodwill. Such common purpose can help humanity rise to this moment in history.

– Secretary-General Ban Ki-moon
At this second annual Nowruz celebration, many communities were united to celebrate the commonalities between Iranian-Americans and the rest of the country.
Celebrating Beauty
The Nowruz celebration was filled with many forms of beauty from the Haft Sin which was colorful and filled with items that represented the new season to the melodic music and graceful dancers who brought dance traditions from Iran and Uzbekistan. The celebration also featured many artists who displayed their paintings and crafts representing Persia's rich artistic history. Stacey Jehlik, the International Affairs Director at the City of Seattle, who oversees the Sister Cities program spoke about the beauty of fostering friendship across cultural differences and political viewpoints so that people can build alliances and understanding even when there is conflict. She is currently educating and guiding Seattle-Isfahan Sister City Advocacy (SISCA) about how they can best establish people-to-people connections and, eventually, a sister city relationship with Isfahan, Iran.
Celebrating New Beginnings
Noah Purcell, who is married to an Iranian-American, spoke before a packed room about the importance of Nowruz and the importance of standing up for the human rights of Iranian-Americans. He spoke proudly about taking part in Washington State's fight against the travel ban instituted by the Trump administration.
"This has been a very tough year for Persians here and around the world," Purcell said. "I think a lot of Persians assumed that they didn't have to worry so much about being targeted in this way. But now people are getting engaged and they are paying attention to what they're elected officials are saying and they're getting involved in politics."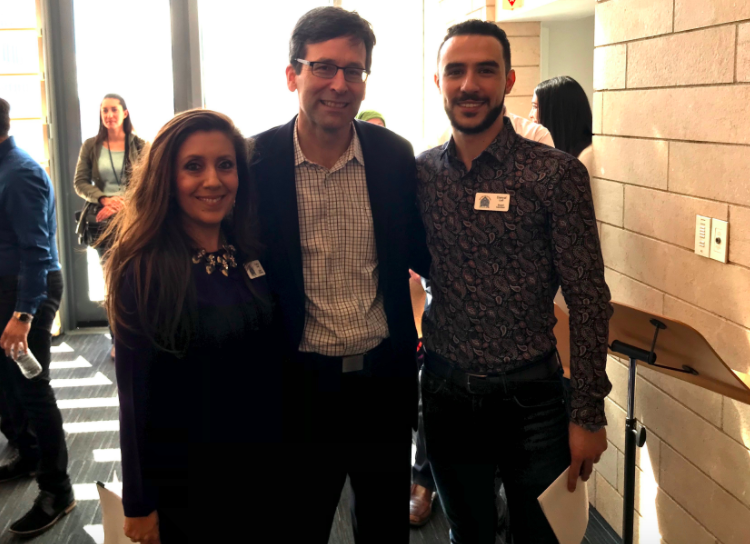 When asked about the importance of Nowruz, Purcell emphasized the importance of Iranians becoming more visible.
"A lot of Americans either don't know any Iranians or they don't realize they know Iranians," Noah said. "A lot of Iranians are very nervous about being public about their identity but events like this show people that Iran is not just what is shown on TV which is such a narrow view. All they show on TV are the leaders or the angriest people, and that's just not the whole picture at all. I think events like this help show the public what a diverse and welcoming community the Iranian community is."
In essence, this Nowruz isn't just about celebrating the New Year but it's about celebrating a new way for the wider American community to see Iranians living amongst them.
Stepping Into The Spotlight
In 2017, the travel bans against Muslim countries thrust Iranian-Americans into the spotlight winning them many allies along the way including the Washington State Attorney General Bob Ferguson who spearheaded the first legal challenge to the Trump travel ban. When he stepped onto the stage to speak, the crowd burst into loud and long-lasting applause, woofs, and whistles. Ferguson spoke of his commitment to defending the Iranian-American community and all immigrant communities that might be targeted and harmed by nefarious policies such as a travel ban. He also spoke of the importance of everyone stepping up to the political plate to play a role in protecting their families and communities.
"It's not a time to be on the sidelines," Ferguson said. "I have a role that I can use as Attorney General but everyone has a voice whatever their station in life is. You can write a letter, go to a protest, and you can vote. Everybody has a role whatever their political viewpoints are. I see a lot more people getting engaged and getting involved and that's always encouraging, especially when it's young people."
When asked about where he sees the New Year heading, Ferguson offered a hopeful outlook.
"I'm an optimist by nature, and I have a lot of confidence in our institutions," Ferguson. "We have to ask ourselves, are we still a nation of immigrants, do we still appreciate diversity as part of our culture and celebrate that? Or, are we trying to go back to a darker time in our country? I'm optimistic that our better angels will prevail but there are some challenges along the way."
Amalgamation
As Persians share Nowruz with Americans around the country, many are hopeful that they can finally share all that is good in their culture and merge it with the culture and traditions of their adopted home.
"We love the US, we want to be here and we want respect and recognition," said Sara Jamshidi the CEO and Executive Editor of GolTune. "I've been in this country for 18 years and I celebrate Nowruz. For me it's all about being a proud Iranian, being a proud Muslim, and a proud woman and just intertwining all of that with this new country and new culture that I've adopted."