Ramtin Zad is a young, talented Iranian artist. He was born in 1984 in Tehran, where he studied art at Jahad University and has been working with the Etemad Gallery in Tehran for the past ten years.
In his latest project, Smile, Ramtin is teasing both dictatorship and the absurdity of society. In the Smile project, presented by the Etemad Gallery in the winter of 2017, Ramtin exhibited a large installation piece looking like a mad carnival, an adventurous world full of mismatched objects such as a large camel, fruit baskets, ice cream, pumpkins, a devil in a red gown and many other unusual objects made out of mixed mediums such as foam, plastic, plaster and lamps. The on-going temptation that exists in human beings from childhood is the main guide to this Disneyland-like inspired installation. The installation size for the Smile project is about 200 sq. meter and includes six videos.
I had an interesting conversation with Ramtin Zad in his studio in Tehran in relation to his upcoming exhibition in Monaco.
Ramtin's paintings are wild, mischievous and sarcastic. He says that he follows 'action painting' rules when he paints, splashing acrylic paint freely on the canvas, which is how he starts his paintings. The inspired paint and colour on his canvas include human figures, animals, trees and other figurative shapes. Ramtin takes inspiration from his own daily life in Tehran; wild parties, friends, enemies and Iranian society. Animal Party is the name of one of his paintings and also the title of an exhibition in the Kamil Gallery, curated by Fereshteh Mousavi, who has a Ph.D. in curatorial/knowledge from the, Goldsmiths University of London.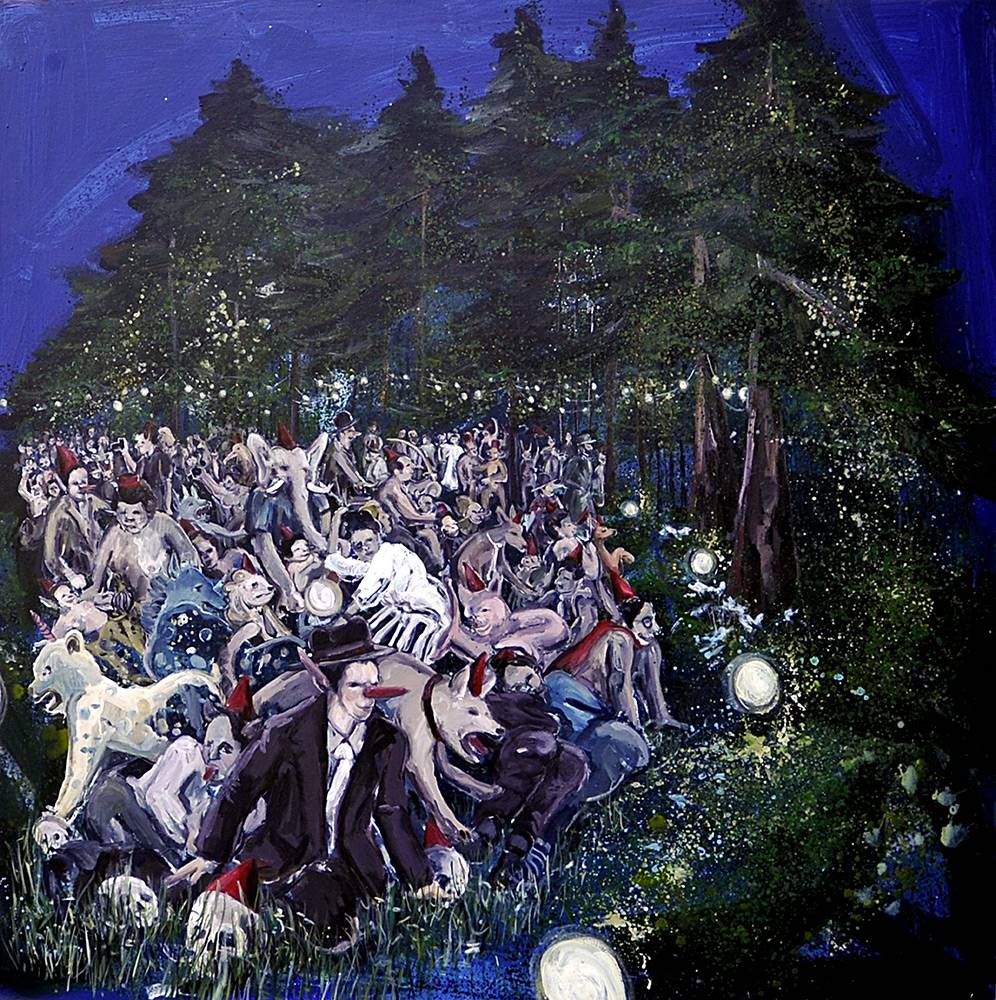 Ramtin will present six paintings from different periods of his works and a video from the Smile project in the Kamil Gallery in Monaco from April 25th to May 25th. There are three other emerging Iranian artists also in this show curated by Fereshteh Mousavi, in collaboration with the Arte Monte Carlo 2018, Magic of Persia (a London based art charity foundation) which will present a panel discussion and exhibition titled, Contemporary Iran. This panel discussion will be at The Grimaldi Forum during the Arte Monte Carlo. The Contemporary Iran discussion panelists are: Fereydoun Ave, an artist, Dina Naser Khadivi, a curator, Dornaz Hajiha, a filmmaker and Rose Issa, a curator and writer.
The Animal Party exhibition will be running alongside the 71st Cannes Film Festival scheduled to be held between the 8th to the 19th of May, 2018. Also concurrent with Contemporary Iran and Monaco Art Week is the Animal Party Exhibition. For art lovers it should also be mentioned that Monaco Art Week will take place from the 26th to the 29th of April, 2018 and will be involving the whole Monegasque territory, giving birth to an urban, interconnected art exposition of round tables promoted by main art galleries and auction houses.
It seems like, under the pretext of the Animal Party exhibition, there is a lot to see in Monaco and Cannes this April and May.