The second annual Chefs Without Borders, a collaboration between Tom Douglas Kitchens and the Seattle Isfahan Sister City Advocacy (SISCA), will be held November 1, 2018, 6 to 9 pm, in the Palace Ballroom (2100 Fifth Avenue, Seattle).
The Iranian thanks SISCA Board Member Cathia Geller for taking some time to speak with us about the organization, its goals and much anticipated Chefs Without Borders dinner.
The Iranian: What is Chefs Without Borders all about?
Cathia Geller: In summer 2017 SISCA approached Tom Douglas, Seattle's premier chef, with the idea of a bilateral event featuring dinners on opposite sides of the world: one in Seattle and one in Isfahan. We were thrilled that he was immediately enthusiastic about the idea and generously offered the support of his staff and the Palace Ballroom as the venue. As Douglas stated in 2017, "Food is a powerful international language. I am inspired to participate in such a creative reach across borders that otherwise have so many restrictions. Our team is excited to create new culinary connections and have this opportunity to learn from masters in another country's cuisine."
Now SISCA has partnered again with Tom Douglas to produce the second annual Chefs Without Borders dinner. This year, Tom Douglas Chef Dezi Bonow (The Carlile Room) will prepare a traditional, four-course Iranian meal. We applaud the courage of the Tom Douglas chefs to participate in this one-of-a-kind collaboration between chefs in the U.S. and Iran, chefs who are willing to take on the challenge and risk their reputations by preparing an unfamiliar cuisine from the other side of the world.
The Iranian: What are the goals of SISCA?
Cathia Geller: The Seattle-Isfahan Sister City Advocacy is a small, all-volunteer non-profit organization with more than 600 members. The Board is made up of Iranian-Americans and allies from the greater Seattle area who seek to reverse decades of hostility between the United States and Iranian governments by developing people-to-people relationships between our two countries.
The long-term goal is for Seattle and Isfahan to become official sister cities. However, until Seattle lifts the moratorium on new sister city relationships and political relations improve, SISCA aims to be a cross-cultural conduit between Iranians and Americans; to incubate projects that seek to increase understanding of the vibrant and misunderstood people and culture of Iran; and to foster community for those who wish to celebrate or share their Iranian heritage with a larger population through non-political, people-to-people collaborations. Giving greater visibility to the Iranian diaspora and amplifying our voice in the public arena is the cornerstone of our work.
SISCA will use funds raised at this event to support its third annual Nowruz celebration at Seattle City Hall, among other projects.
The Iranian: What will the funds raised be used for?
Cathia Geller: SISCA will use funds raised at this event to support its third annual Nowruz celebration at Seattle City Hall, among other projects. SISCA's free and family friendly  Nowruz celebrations have garnered an annual attendance of 1,500 and represent a huge statement of support from the City of Seattle, as well as from top State officials who have spoken at the events: Lieutenant Governor Cyrus Habib, Attorney General Bob Ferguson, and Solicitor General Noah Purcell. While our first  Nowruz celebration was funded by our accumulated membership fees, it depleted our reserves and were it not for the first Chefs dinner with Tom Douglas, we would not have been able to bring the second such celebration to fruition the following year. Other SISCA projects include supporting the Seattle-Isfahan Guitar Project musical exchange and granting funds for the purchase of shoes for needy children in Iran.
The Iranian: What was the dinner like last year?
Cathia Geller: The SISCA premise is that the better two cultures know and understand each other, the less likely they are to demonize each other. The 2017 dinner in Seattle proved that food diplomacy is a delicious way to build bridges of understanding. The event was a big success and was attended by 160 including many of Iranian heritage. Some guests had never met an Iranian-American before and, in addition to the excellent food, the conversations around the dinner tables were vibrant, educational, and enjoyable. The menu was designed by popular Iranian-American chef and cookbook author, Najmieh Batmanglij. Tom Douglas generously shared the revenue from the event with SISCA, which made the dinner the main SISCA fundraiser for the year, making Nowruz 2018 At Seattle City Hall,  possible.
The Iranian: What about the dinners in Iran?
Cathia Geller: It was very difficult to find a partner restaurant in Isfahan in 2017 given the tensions and concerns between the U.S. and Iranian governments. This in itself speaks to the importance of what SISCA aims to accomplish. In 2017, however, a restaurant in Isfahan, did prepare and serve a Pacific Northwest menu designed by Tom Douglas that was enjoyed by all although attendance was lower than we had hoped. This year we are thrilled to report that a very successful dinner was held in Tehran's Café Land restaurant on October 15 and featured a Pacific Northwest-inspired menu created by Tom Douglas Chef Dezi Bonow of the Carlile Room prepared by Iranian chefs. Despite the inherent barriers of acquiring ingredients, associated costs, and possible political risks, the Pacific Northwest menu was executed to perfection and plated according to Chef Bonow's instructions. What is normally a casual café in Tehran produced a delicious Carlile-level dinner. Many attendees asked for the recipes (which had been translated by Najmieh Batmanglij). Videos and photos of this exciting event will be screened at the Seattle dinner on November 1.
Photo from Tehran's Café Land restaurant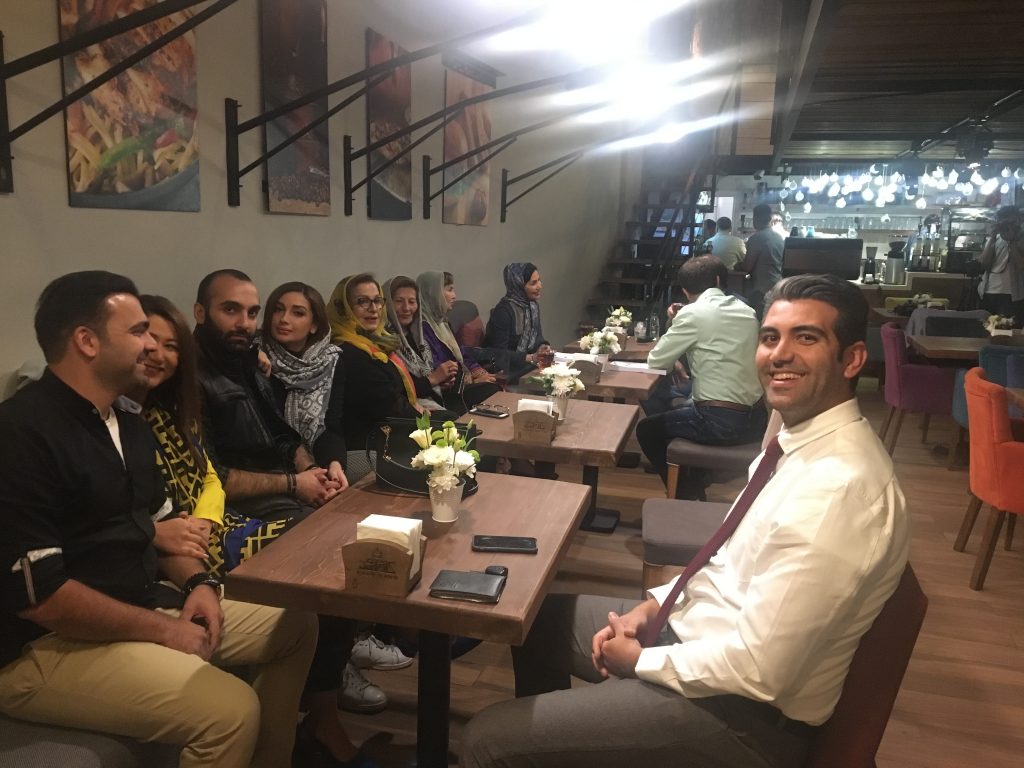 The Iranian: Why should the Iranian-American community in Seattle attend and support Chefs Without Borders?
Cathia Geller: The success of the 2018 dinner depends on the Iranian-American community showing up. Join us please, in supporting these courageous chefs who are risking their reputations by taking on an unfamiliar cuisine.
SISCA has worked hard with many high-level people in the Seattle area, such as Chef Tom Douglas and Seattle City Council Member Lisa Herbold, to raise the profile and understanding of the Iranian-American community's cultural heritage and contributions to our region. The Chefs Without Borders dinner is a tremendous vote of confidence from Seattle's leading chef in our goals and in our community. We need your help maintaining that belief in what SISCA is working to accomplish. We need you and your friends and family to buy tickets and join us at the November 1, 2018 Chefs Without Borders dinner. If SISCA does not raise sufficient funds from this event we will not be able to host again a free Nowruz celebration in Seattle City Hall.
Among other projects SISCA hopes to launch, given the funds, is a possible treehouse installation in Isfahan; continued collaboration with the Child Foundation and much more.
We are an all volunteer, small nonprofit group, dreaming big and aiming high, but we cannot do it without the support of the Iranian American community and our allies. We therefore, are counting on our own diaspora as we realize that they are the ones we serve and they are the ones who care the most about the outcome of our work. We look forward to your participation and support!
***
Please click here to purchase your ticket for SISCA's Chefs Without Borders dinner.
Special 20% discount code for readers of The Iranian: SISCA20
***
Photos from last year's Chefs Without Borders dinner