The United Arab Emirate's foreign ministry did not issue details about an attack on four commercial vessels near its territorial waters on 12th May except to describe it as "sabotage operations". However, with heightened tensions in the Persian Gulf Iran did not wait for allegations of Iranian involvement to take flight in western media and was quick to suggest that an international investigation should be launched.
Tensions increased when the scheduled return of the USS Abraham Lincoln to the Middle East on April 2nd was hyped by John Bolton as a "clear and unmistakable message" to Iran that the USA is ready for confrontation. The significance of Bolton's wording has not been lost when he said the US would counter any attack [by Iran] with "unrelenting force". Reporters and analysts were quick to contextualise Bolton's rant against Iran in the demands of Israeli PM Netanyahu. In this respect, the fears of a false flag op which would be blamed on Iran are clear and present. But concerned observers do not appear to recognise the significance of a visit to the USS Abraham Lincoln on May 1st by Albanian President Ilir Meta along with top Albanian military leaders and diplomats.
Why Albania matters
Albania is now home to the Iranian Mojahedin-e Khalq terrorist cult (MEK) and John Bolton has long believed he can use the MEK to facilitate regime change in Iran. One of those ways is to create false flag ops which can be blamed on Iran as a means to provoke a military response. One such event took place in Iraq when it was reported last year, falsely it turned out, that Iran had launched missiles against the US embassy in Baghdad.
In Europe, several unresolved incidents have been blamed on Iran. This author has warned that these are false flag ops meant to destabilise relations between Iran and the EU as well as to provoke Iranian reaction. This activity has now shifted to the Middle East.
MEK operatives, brought from Albania, will be deployed to carry out false flag ops that can be blamed on Iran – such as a suicide attack.
An Albanian source told me off the record that alongside the delegation to the ship he witnessed the presence of Shish operatives taking some Farsi speakers on board the USS Abraham Lincoln who were not disembarked before the ship moved on. Kuwaiti media also reports that MEK operatives have been arrested attempting to buy speed boats in the Persian Gulf. Such a combination is highly concerning. MEK operatives were trained as suicide bombers by Saddam Hussein's Republican Guard and in the MEK's camps in Iraq. They have transferred this training to their new closed camp in Albania.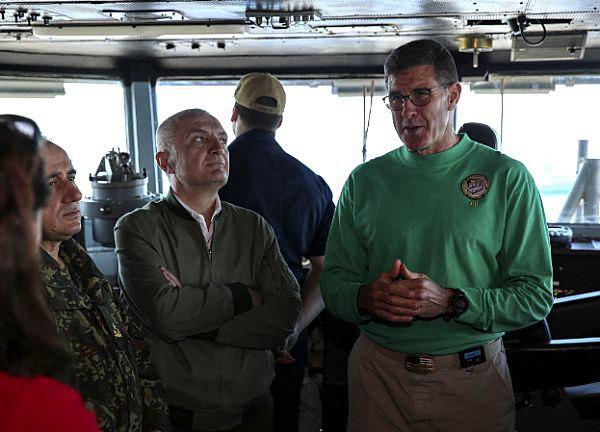 Bolton's unrelenting drive to attack Iran and his unstinting support for the MEK can only lead to one conclusion: MEK operatives, brought from Albania, will be deployed to carry out false flag ops that can be blamed on Iran – such as a suicide attack. Their unique value is that as Iranians they can be passed off as Iranian naval personnel. This ties in with the attempted purchase of speed boats which are used by the Iranian naval forces. The attack on commercial vessels in the gulf for which no details are forthcoming hint that this was a trial run to see what Iran's reaction would be. In this context, a false flag op that could trigger Bolton's war in the Middle East is almost certainly already planned and underway.