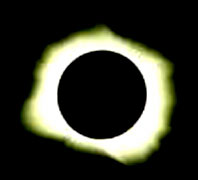 Thriving toward desolation
O'meed Entezari
November 10, 2004
iranian.com
I finally found the inspiration to write lyrics for a song that I wrote this past year:
I know the sky well.
The one, I had wrought
Fares, always without a star
To witness, well.

Drift closer;
Meaning nothing.
Our value flowing;
Truth a world wonders
Why it is pursued.

Densely confined,
Lost.
Path sought after
Vile ways conformed.
Frozen,
Thawed and shed.

Quaking in sleep,
Dream awakening.
And above,
The infected sky.

They declare:
I've taught other wise
Beyond my years
Where life ends,
They still grow like mold.
.................... Say goodbye to spam!