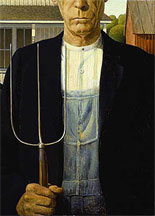 Nakhosteen
Poetry from an early 20th century immigrant
Ali A. Parsa
February 26, 2005
iranian.com
My intent is to share with you the feelings of Mehdi Nakhosteen, a high-profile Persian scholar in the diaspora who migrated to America in the 1920's to continue an educational career that had started in Iran and ended as a distinguished professor at the University of Colorado at Boulder. Nakhosteen died in the 1970's, leaving an American wife, two children and several books.
At a book auction in San Francisco my daughter happened to get hold of one of his books: Koliyaat-e Mehdi Nakhosteen, parts of which I will share with you here. The bottomline of his message is that migration is not necessarily a panacea. Perhaps this is partly due to the fact that the world has never been, nor will it ever be good enough for the intellectuals anywhere.
Please read these excerpts from the book and see how he has spoken for all of us. May we have the courage of promoting his ideas at this time when the intellectuals are once again downtrodden almost everywhere in the our world.
Click on poem to see next
Click on poem to see next
* Kohneh va noe
* Sargozasht
* Tani chand
* Peymaneh beegaaneh
* Jazaa-ye hekmat
About
Ali A. Parsa, received his PhD from the Colorado State University. He is a former Professor, Founder and Chair of Soil Science Department at Shiraz University's College of Agriculture and former soil scientist/conservationist for the U.S. Department of Interior. Visit his site.
.................... Say goodbye to spam!
* *