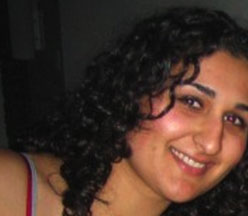 You can't be better than me
Tara Shirani
February 19, 2007
iranian.com
I turned myself inside out
just for a taste
of manufactured latex
born from the wreckage of righteousness
your words --
inaudible whispers
Unaware
that when I cry
it's only one
tear (teer)
one
tear (t-air)
within the hardened pages of this dying testament.
You can't be better than me
Fornicating with the Devil
In some fucked up fantasy
While all I can think is
Why
Did
I
Follow
You?
Divest myself
and be conquered by you?
Convince myself
Of Truth
In tragedy
Left
Lured by you
Torn by you
and whored by you
My vision ---
Blurred by you
Decieved by the inexhaustable nature
of Beauty
and Envy
which tempted me
to swallow your seed
Greedily
But even when my tank is on empty
I'll still say
You can't be better than me
My heart is pure though my flesh
is filthy
When I'm lonely
it takes all my strength
not to ask you to hold me
Console me
or give me back
the Peace
After the Storm
I'm torn at the loss
And I don't ever feel safe
And I can barely look
At my own face in the mirror
Fearing--
my eyes have been erased
of innocence
And how long has it been
since my body
felt no pain
No sin
Nothing.
How long until I win?
Patch the soil
Of this inner turmoil
and walk away
Actually believing
that you can't be better
Than ME.