July 28, 2003
The Iranian
This July at the US Fencing summer national tournament held in Austin, Texas, an Iranian-American by the name of Jamie (Jamsheed) Douraghy won the all around gold medal and took the honor of US Fencing champion in the 40-49 age bracket.
There are two reasons why this is important. One, is that I am in the same age group and as any one of us in this group will attest, witnessing ANY sports accomplishment by another member of the group gives us great personal pleasure as well as continued hope that it isn't altogether over. The other reason is that I have known Jamie for the past 35 years and it is an especially proud moment in our long friendship.

Jamie first began fencing in 1977 when he was in boarding school in England. The alternative sport at the time was to play field hockey during the wet England winter/spring terms. Not an especially pleasant activity. So he chose fencing instead. He quickly excelled in this sport and won a few local tournaments and being left handed with unusually quick reflexes it came fairly naturally to him.
After school Jamie moved to France for college where he continued to fence at a local level. Later he moved to the US attending Syracuse University in New York, but there wasn't a varsity fencing team, so he pretty much had to train on his own without a coach which is a critical element in fencing.
After university Jamie lived in Washington DC and Chicago and found fencing clubs to go to and work out at. I asked Jamie what it was about fencing that he liked so much.
J: "I enjoy the one on one challenge, you're trying to out maneuver [the opponent] while they're trying to do the same to you. Few other sports have this challenge. I've also run in several marathons where the similar challenge is to push yourself further. I've played in several amateur soccer leagues and the challenge there is more about getting in sync with your teammates and work in unison. Fencing has a totally different level of focus required."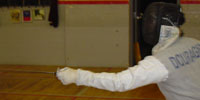 At this year's US Fencing summer nationals in Austin, Jamie arrived unusually focused and advanced early on. A competition starts with an initial seeding (first) round that is fenced by pools of 6-7 fencers in a round robin format. From there, they take each person's total victories, total defeats and touches scored vs. touches received. They then calculate your winning percentage and rank you in a direct elimination tableau out of 64.
His strategy was to deliberately focus on the first round, while everyone else was using the round as a warm up round. If he could come out as the top seed, he felt he would have a better path to the finals. He'd figure out what to do in the finals once he got there and could see who he was up against.
Coming out of the pools, Jamie's strategy worked perfectly. He was seeded first as hoped, having scored 6 victories, 0 defeats. He scored 30 touches and was only hit twice so his indicators were +28.
The direct elimination rounds that followed are won by either scoring 10 touches or having the most touches at the end of two, three-minute periods. Having a bye from the round of 64 into the round of 32, he beat the first opponent 10-1.
In the round of 16 and the round of 8, he beat both opponents 10-6. At this stage he knew he was in the medal round, and knew that just 2 more victories would give him the gold. In the final four, he remained consistent and kept focused, beating his opponent by the same 10-6 score.
It seemed that 6 was his lucky number. One more victory and the 40-49 National Championship would be his!
His opponent had been having a very good day having beaten the number 3 seed and in a surprise upset of the number 2 seed making it to the final. Jamie had never fenced this guy before didn't know anything about his style of fencing. Not only was he taller then Jamie by almost a foot, but he was also left handed. All left handed fencers hate fencing other lefties!
Jamie started strong getting off to a 5-2 lead half-way into the first period. His opponent changed his tactics and Jamie didn't adjust quickly enough and was only able to score just 1 more touch as his opponent scored 6 more touches in quick progression. The first period ended with the opponent leading Jamie 8-6 (was 6 going to be his UN-lucky number this time?).
During the 1-minute break between periods, several other fencers came over and asked Jamie what the problem was.
"He's in my head," Jamie kept saying, "He's in my head!"
Jamie was clearly the stronger fencer, but the other fencer was fencing better, and now only needed to score 2 more touches to win the gold. You can score a touch in a matter of a few seconds.
The break ended and this was it. The other fencer had to score 2 to win, Jamie had to score 2 to tie and then 2 more to end it.
In a previous tournament Jamie tightened up at the very end with the score 9-9. He was too concerned with not making a mistake and ended up not doing anything and lost 10-9. After that loss, his coach told him "When it's on the line, you must make a decision to do something, don't just wait for something to happen and then react."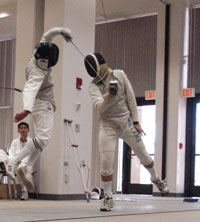 Remembering this advice, Jamie now scored the first touch to bring it to 7-8 and then made his now famous decision. He decided that even if his opponent was taller and had a longer reach, if he was just able to get close and inside on him, a long attack might surprise him. It did, and just like that the score was 8-8.
Friends and fans who were now sensing a comeback, began to shout encouragement from the stands, Jamie was focused and felt it. They went back and forth for a while and no one scored (seconds seemed like hours). Suddenly he stopped, and you could tell that indecision was starting to creep in as he contemplated too many moves. That's the worst thing to do, because your legs stop moving and you become an easy target. Fortunately someone from the crowd shouted, "Keep bouncing Jamie, keep bouncing!". That registered with him, and he started moving up and down again before his opponent was able to take advantage of the momentary lapse.
Jamie decided to feint as if he was going to do the same move that he had used to score that last 2 touches. But then, he stopped his attack short, baiting the opponent into a counter attack, took the opponent's blade with a parry and quickly scored the next touch. It was now 9-8. Now firmly in control of the match he had only to wait for the right moment. That moment came quickly, as the opponent fell into the same trap, and Jamie scored the final touch, the blade sinking deep into the chest (the blades are flexible with a lot of give).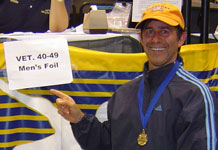 "10-8 Douraghy, end of bout," said the referee.
Jamie let out a loud yell and jumped around with his arms in the air like a kid. He then took off his mask, saluted the crowd, the referee and shook hands with the opponent, it was all over and it felt good!
Jamie has continued with this exciting sport and has competed at various state tournaments and regional events. I asked him why he thinks he has been able to stick with it so long.
J: "I have stayed with the sport for over 27 years because of the many fellow competitor friendships I've made and for some strange reason it's still a challenge every single time I put my mask on and get ready to face the next opponent!"
Now a bit about the sport in case you're a novice. There are 3 main fencing styles: Epee (pronounced "EPP-pay), Foil, and Sabre. Jamie fences in Foil. The object of the game is to outscore your opponent by "Touching" them with the blade or tip depending on the type of sword you are using.
Epee: Is your typical dueling sword, heavier than the foil, points are scored by touching any part of the body.
Foil: is the lightest of all the swords and the only area allowed for points is the main torso or upper body (not the face). Foil is the most elegant of the three.
Sabre: is the most slashing form and considered to be the most brutish. But it is very exciting to watch. points are scored from any touch and a sophisticated electronic sensing system is used to determine the score.
In 1987 Jamie made an unusual offer to the then Iranian Olympic Committee. He offered to pay his own way to Seoul for the 1988 games and represent Iran in the sport. I asked him about the motivation behind doing this.
J: "Making an offer to represent Iran was not the easiest thing to do from the States. I had to follow the traditional Persian path of getting in touch with someone who knew someone who knew someone who would try to get me in touch to the right people. Well I never heard back from anyone and understood, because there was so much going on in Iran at that time and fencing simply wasn't a priority. I am pleased to say that today there is a fast growing program in Iran and several Iranians are ranked in the top 100 in the world. There is even an annual world cup circuit event that takes places in a different Iranian city each year. This year's was held in Tehran on July 2."
Here's to you Jamie. Afareen, bud
To send an email to Jamie: Click Here
To Learn more about the sport of Fencing visit: United States Fencing Association