Behrouz Bahmani
March 18, 2005
As a hobby writer, I am always amazed at how stories seem to land in my lap. As did this one. I heard about the person you will get to know next, from the farthest of connections, a phone call about a technical issue of no great importance.
The funny thing is how when you talk to a fellow Iranian on the phone, even if the conversation starts out focused on something, it very quickly drifts into matters that seemingly are un-related or even unimportant, but to us, they are of the most importance. Call it gossip or chatting, or whatever, it is an essence of our Iranian-ness.
Mehrnoush "Noushi" Barmaki as you will see, is a treasure. A disciplined, and dedicated person, challenged by both circumstance and herself, to overcome normal and abnormal obstacles. A definition of a winner. A spokesperson for women (and men) over 40 facing the realities of shall we politely call, gravity!
Mehrnoush, was born and raised in Tehran. She first came to San Francisco, CA (USA) in 1976 and her original goal was to go to college and like most Iranians of that time, return to Iran. Growing up in Iran, Noushi was slightly overweight compared to other girls, and as was traditional, was rarely encouraged to do any serious sports. When she began working out, her family thought it would just be a phase. To this day her family is still unsure what a tri-athlete is and don't know exactly what she does. Her mom (she lost her dad in 1986) thinks that she merely has an obsession with working out and that she is too old, however, Mom always prays for her to come in first place! I recently spoke with Noushi. I think you will finder her inspiring.
BB: How old are you and what was the first reason you thought to become a tri-athlete given your age?
NB: I am 47 years (young!) and I don't think there is a limit to what our minds can do and how powerfully it takes over our bodies. To me, age is just a number that society calls us by.
BB: Okay, so tell me what is your daily training regimen like?
NB: My day normally starts with 3500 yards of swimming at around 5:30 a.m. I Bike for 90 minutes and then run for one hour after work around 5:30 p.m. However, my weekend schedule is a bit more intense. For example I start Saturdays with a 45 min. swim, an 80 mile bike ride and a one hour run. Then on Sundays I bike for 90 minutes and a 2 to 3 hour run and a focused weight lifting program. This workout regimen is only applies when I am in preparation phase for an Ironman competition. Otherwise, it would be two workouts a day which could be a combination of bike and running, or swimming and running. Also, I try to be consistent with lifting weights at least 3 times a week and during the off-season at least 5 times a week.
BB: Are you serious? How can you maintain such a rigorous regimen?
NB: Well, I go to bed around 9:00 p.m. so that's the reason my body can functions for these workouts. Sleep is really important for me and it's a great recovery source.
BB: What kind of diet do you have? How many calories a day, and give me an idea of a typical menu.
NB: I don't have any specific diet per se. I don't deprive myself of anything. But I try to eat lean meat such as chicken, fish (salmon, halibut) and occasionally red meat (I can't resist chelo-kabab!). The only thing that I don't eat is pork. Also, I don't drink alcohol during my Ironman season which is mostly 9 -10 months out of the year. As far as calories, it depends on my workout that particular day. My weekend calorie intake is around 3,000 and during the week is around 2,000, but again if I feel hungry, I eat. A typical menu for my day is as follows:
Breakfast: one banana before my swim at 5:30 a.m.
1 cup of oatmeal with 1 cup of espresso (no sugar, with non-fat milk) at 7:00 a.m.
Snack 10:00 a.m.: one fruit plus 1 oz of mixed trial nuts
Lunch 12:00 p.m.: 1 cup rice, 3 oz of chicken or fish, lots of vegetables (broccoli, green beans, spinach, etc.) with a peach or nectarine for dessert
Snack at 3:00 p.m.: 1 oz of mix trail nuts with a fruit (sometimes a cup of popcorn if I am very hungry)
Snack: banana or apple before my workout at 5:00 p.m.
Dinner: Mixed salad with 2-3 oz of chicken and vegetables at 6:30-7:00 p.m.
BB: What do you do professionally?
NB: I work as an Executive Assistant for a Vice President. I also work as a Triathlon Head Coach for the YMCA in San Francisco part-time throughout the year.
BB: Tell me what a typical race is like? What does it involve how is it judged and what are the rules?
NB: Hmm!!! There is no typical race. There are several distances in triathlon: Sprint (.75k swim, 22k bike, 5k run), Olympic (1.5k swim, 40k bike, 10k run), 1/2 Ironman (1.2 mile swim, 56 mile bike, 13.1 mile run) , Ironman (2.4 mile swim, 112 mile bike, 26.2 mile run). I personally do a few of the Sprint, Olympic and 3 of the half Ironmans and one full Ironman a year. There is a cut-off time for each portion of the sport. If you don't make the cut-off time, you are disqualified. So it is not just about finishing, it is about finishing fast enough. The only winners cross the finish line first. Normally there are around 2,500 to 3,000 participants. Also, there is category for age group as well, but they just win a trophy, not the money.
BB: What is your weakest event and why?
NB: My weakest event is swimming since I learned to swim as an adult and I am very slow.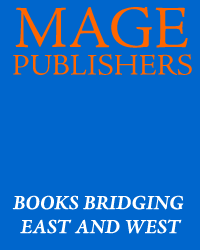 BB: What is your goal, what do you want to accomplish in this sport? When will you stop competing?
NB: My goal is to qualify for a Hawaii Ironman and meeting their cut-off times. I would like to be a role model for any Iranian woman and to show everyone that there is no limit to your age or gender and as we Iranians say, ́Khastan Tavanestan astî (trans: To want, is to be able). As far as when will I stop, I think maybe when I am an 80 year old grandmother would be a good age to settle down! I just started so I am not planning to quit any time soon!
BB: What do you think you can you tell other women your age, who think they may be too old to have an active lifestyle?
NB: Don't let anyone stop you from doing what you love and enjoy doing. There is no limit to age. Age is just a number. You are as young as your heart wants to be.
BB: I know you have a son. What does he think of you doing this?
NB: Oh, my son is my pride and joy! My son's name is Bardia. Although growing up with that name wasn't easy here, but I told him that you will be so handsome and successful that everyone will know your name! He loves his name now. He is very proud of me and calls me ́iron momî or "triple threat" which is the same name as the US Airforce's three jets. He calls me that because he says that I am triple threat, once in water, once on the bike and the last one on the run. I wish I was that fast but it is a GREAT compliment.
BB: Does he participate in any sports himself?
NB: He decided to pursue American football. He also played baseball, wrestling, ice hockey (won a championship!), windsurfs and is a good downhill skier. He became a high school ALL STAR and they won their championship 3 years in a row in high school in football. He is currently working as a Medical Lab Technician serving in the US Airforce and is coaching football and wrestling for middle school and high school kids. He is currently married to a beautiful girl, his high-school sweetheart. Her name is Falon. And they currently live in Maryland, close to Washington D.C.
BB: What about your husband?
NB: He is deceased and I have raised my son since he was 4 years old on my own.
BB: So, what motivates you? What is it that when you don't want to do something, makes you get up and do it anyway?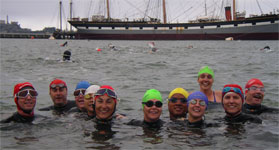 BB: Having a healthy child, being happy, and that I am able to have the freedom to freely run on the street, rain or shine and enjoy the weather and knowing that I am healthy. I try to be positive at all times because our minds can be your worst enemies or our best friends. A lot of positive talks to myself in my head to reinforce a positive vibe. I try to think about, if I stay healthy I can see my grand kids and who knows maybe their kids as well! Life gives us lots of challenging situations. We are lucky to live healthy and improve our health under any circumstances and improve our independence. Our culture is traditionally very dependant and mostly as you get older, it's expected you will rely on your kids and family. I don't want to rely on anyone and that's what keeps me going.
BB: What is your favorite Iranian food and where do you go to get it?
NB: I LOVE chelo kabab (koobideh please!) and my favorite place to eat in the Bay Area is Shalizar.