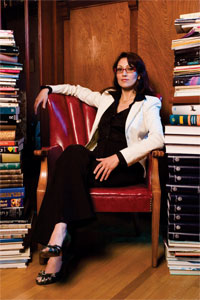 New life, through translation
Interview with The Translation Project's Niloufar Talebi
Bruce Bahmani
September 13, 2006
iranian.com
Why is it that when it comes to Iranian culture or anything Iranian or Persian we are always on the teaching end of the stick? It seems like the world has amnesia, and we are constantly explaining how Iranian/Persian art and culture has contributed to this or that. For once I would like to go up to an average American and have them know something about us.
Since that isn't going to happen anytime soon, we have to go on. In that tradition of bringing our culture to the west, enter Niloufar Talebi, the one woman Force du Perse of Iranian Contemporary Poetry (Sher-e-No). Her goal is to bring Contemporary Poetry to a global audience through a series of translation projects, which have been accompanied by an array of multi-media events, such as live theatrical performances of the poems and their rendition into short videos like music videos for the poems, which have shown at film festivals and will air on television in the future. As a translator, Talebi attends conferences and presents panels all year round to promote her brand of translating Iranian literature within its literary and historical context, without fetishization, which so much of eastern literature is subject to in the hands of translators who project a skewed perspective onto the literature. But that is an exciting discussion for a different time! Such is the dramatic weight of this form, that it takes all senses to grasp it.
Unlike classical Persian poetry such as Hafez, Saadi and the like, Contemporary Poetry is an entirely free and unbounded form. About the closest thing I can think of is the American poetry of the Beat Generation. Poets such as Ginsberg, Kerouac, and even Bob Dylan expressed emotions and feelings and ideas, so wonderfully abstract, they have become institutionalized in the American psyche.
And so goes our Contemporary Poetry. Giants of the form like Shamloo, Farrokhzad and Sepehri blow minds with such evocative imagery and emotion you see sound, and hear color, concepts and ideas too fantastic for a historically oppressed culture to have produced. Yet is has produced them. Now hopefully for all to see. No longer a secret pleasure for those brave enough to consider the message.
I recently got a chance to speak with Niloufar, I found her to be exceptionally competent, focused on this important mission, and more, she has a plan! Here is the conversation.
How did you get into this?
I was brought up in a literary family. Both my parents provided us with as many books as you can imagine. We took what seemed like weekly trips to the bookstore row near The University of Tehran and would come back with stacks and stacks of books.
What was it about this form of Persian poetry that connected you to it?
I was also lucky enough to have learned from Ahmad Shamloo, when he visited my parents socially for a few years. So a combination of the two I am sure, led me to study Comparative Literature. I concentrated on modern and post-modern art and literature--1850 to present--and then got an MFA in Writing and Literature. I am partial to the era I concentrate on and have always felt a deep connection to the spirit around the late 1800's all over the world that led to the artistic movements of 20th Century and now the new millennium. In 2003 I founded The Translation Project to bring contemporary Iranian literature to the world stage because I thought the Nima and post-Nima era, basically the modernist-into-contemporary period of Iranian literature has not yet made itself widely present in translation. Our first project concentrates on the poetry of Iranian poets who live outside Iran since the revolution, but we intend to tackle prose as well as poetry of the entire era I just spoke of.
So what is your personal background?
I was born in London to Iranian parents and lived in Tehran intermittently until I left Iran at fifteen. I went to Ettefaagh School in Tehran, boarding school in the UK and public schools in France and the US. I studied Comparative Literature at the University of California at Irvine at a time when Jacques Derrida was still alive and teaching there. Then I got my MFA at Bennington College in Vermont and learned from wonderful contemporary American writers such as Philip Lopate, Sven Birkerts, Henri Cole, Robert Bly, Jason Shinder and Lynne Sharon Schwartz.
What was the first poem you read that made you go, "Wow!"
To be honest, I don't remember the very first poem that wowed me. It was more of a slow progression of hits. I was very young and through my parents' encouragement, I read a lot of literature, particularly the Western Canon, both in English and in Persian translation. So I had an instinctive understanding of meter and rhyme early on. But I can tell you when the first time I FELT poetry was: I must have been about 7 or so, and I was standing at my childhood bedroom window in Tehran on a white winter day, watching the big snowflakes fall slowly. Suddenly I was compelled to take out my notebook and found myself spontaneously composing words about falling snow! It had line breaks and a minimalist efficacy to it and I had the sense that it was a perfect thing and that this sentient moment was what they called poetry! I wish that notebook was not one of the casualties of migrating from Iran.
Is there a favorite poet?
You mean poets! There are so many! You have to understand I was not just immersed in Iranian poetry. I love Rumi's Divan-e Shams-e Tabrizi, Forough Farrokhzad -of course, then Lee-Young Li, Mary Oliver, Rilke, George Seferis, Derek Walcot, Sappho translated by Willis Barnstone.
So in terms of the contemporary poets that I have selected to translate for my upcoming Anthology of Contemporary Iranian Poetry Around the World, for example, I love Amir-Hossein Afrasiabi's fresh voice and tender subject matter. I love Granaz Moussavi's mastery of language and her current-ness while referencing the classics. I love Shahrouz Rashid's work because he has the ability to engage us in epic poetry without writing an epic poem. I love Abbas Saffari's sense of humor and his narrator's refusal to be defeated, even in the most profound circumstances. I love Ziba Karbassi's uniqueness of language and because you can really sense the fervor of the moment the poems came to her, even if they have been revised for craft. I love Jamshid Moshkani's poetry because it's so direct and he's not afraid to write about his fears. The list goes on and on… Oh, and I love the poem called, "The Glass Essay" by Anne Carson; it's closest to the kind of writing I do myself.
Recently Iranian rock musicians like O-Hum have taken to using Hafez and other classical poetry and fusing the poems as lyrics with rock or grunge music. What do you think of this, would the use of Contemporary Poetry, be suited to music, or would you want it to stand pure and on its own. Should this line be crossed?
I am not a purist in the sense that I believe in the status quo. If we look closely at the definition of Tradition, for example, as written about beautifully by T.S. Eliot in his famous essay, "Tradition and the Individual Talent", nothing new is ever created if young artists don't take risks and try to change what they have learned from the masters. It's part of the artist's job description, to push the boundaries and offer new perspectives. With the advent of instant communication and global access to information, art forms from different cultures will have to intermingle, rock will mix with classical poetry, as classical Indian music has recently mixed with techno. Inspiration comes to artists from many sources. Wouldn't you rather hear Hafez than some degrading lyrics some Hip Hop artists have reverted to? If O-Hum is furthering Hafez to a new generation, then I think they are a great conduit.
Why is it important for Iranians to acquaint / re-acquaint themselves with Contemporary Poetry? What do you think this form says about us, as compared to say, traditional classical poetry that in my view, does a better job of saying who we were, rather than who we are.
Each human being carries a sense of identity within him or herself, what I like to think of as a work-in-progress. Who we are is not static, it is additive and constantly revised moment by moment. Human beings are always seeking answers, seeking to know themselves and their world. This is the idea behind the Human Genome project. To that end, immigrants and their children will always be compelled to ask questions about their heritage. So at one point or another, Iranians, and their second-generation children, who may not have kept up with Iranian culture and literature, will become curious about it. I think at times like this, when the US-Iran foreign policy can use some help, cultural exchanges are even more important. Iranians should be represented by emblems and icons they are proud of, and what better emblem than poetry, specifically contemporary poetry that speaks of who we are NOW. Once in a while an artist will capture the imagination of an entire generation, if not the world, and speak for all of us. Our contemporary Contemporary Poetry speaks to the loss we have all endured. But it also speaks to the resilience we have shown in the face of change.
How well does this form stand up to the standards of translation? I mean, how will non-Iranians be able to connect with the form, and do you think they will get "it"?
Translators are always walking a fine line, preserving the innovation of the original text while finding a new free-standing work in the target language (the language translated into). The final product we create lies somewhere on that continuum, between two points of negotiation. I translate contemporary Iranian contemporary poetry, mostly free verse poems at this point. Luckily, it lends itself beautifully to translation, if the right tone is struck. There is great freedom and creativity in this process. I think readers of English must be "getting it" just fine because the translations have so far won 4 major US translation awards and have been published in numerous American literary magazines, among them Poetry International, Two Lines, Rattapallax, and Circumference. The translations also get very positive feedback at readings I do at places like the New York Public Library, National Arts Club, PEN World Festival of International Literature, and Asia Society. My upcoming book, The Anthology of Contemporary Iranian Poetry Around the World, will be published by a US publisher in 2007. So it is playing quite well to the non-Iranian audience, as I had expected.
What is the plan for this project and where do you intend to take this effort? Where are you in the project, and what do you need from us ?
The plan is to create in International Institute of Iranian Letters, that functions more or less like the Goethe Institute, with even more focus on translation. Being that Iranian literature has always been subjected to some form of censorship, whether during the Pahlavi era, or since the 1979 Revolution, I feel that if we do not make a concerted effort to provide the conditions that make it possible for Iranian writers to share their work not only with their countrymen, but with thinkers of other cultures, in translation, then our literature will greatly suffer in the long run. If you think about it, the health of civilization has depended on the ability to share knowledge and benefit from each other's treasures. So much of Western scientific knowledge is based on the translations of scientific texts from eastern lands. If Ezra Pound had not translated Chinese poetry, then 20th century American poetry would have been much less a force than it has become. The same is true of the impact that our classical poetry, namely the Ghazal form, has had on Western poetry.
Iran has had a long history of supporting the arts through state institutions that no longer exist and Iranian literature has been subject to censorship for many years. New systems of support, sponsorship and indeed individual wealthy benefactor stewardship is critically necessary to support this work. Without them, Iranian literature cannot thrive or flourish to its capacity. This private investment in the advancement of our culture will make a difference in everyone's future. We need partners in creating the infrastructure of this Institute.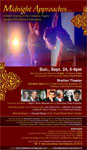 "Midnight Approaches" Benefit Screening on Sept 24 in San Francisco. (Click for Flyer)
Whereas the German government funds the Goethe Institute, since the current Iranian government has other priorities, it then remains up to our community and I would especially invite those many prominent successful figures who have so much to provide in the form of financial support, to help create this model of cultural advance. If we do not take this on now, then we might be implicating ourselves in the multiple layers of censorship our literature goes through.
If you could wish for anything on this project, what would that be? What would the ideal Sher-e-No (Contemporary Poetry) day look like?
To have an endowment that allows the full realization of this Institute and its dream. I would love to see those who are in the position to benefit from tax-deductible donations and who make sizeable donations to established institutions, to make this investment, to give to a new organization that will engage the world in the best Iranian literature has to offer. We have the skills, the mission, and a well charted course to a new world. All we need now is the proverbial Queen's support! Comment
More information
1. To learn more about the Translation Project and their multi-media projects, visit: www.thetranslationproject.com
2. Benefit Screening of "Midnight Approaches" the newly-released DVD of shorts based on Iranian poetry-San Francisco SEPTEMBER 24, at the Shelton Theater from 6-9pm.