A class apart
Fereydoun Hoveyda belonged to a generation of Iranian Intellectuals and art lovers who were to pave the road for some of today's brilliant Iranian artists
Darius Kadivar
November 6, 2006
iranian.com
"Hoveyda combines his literary sensitivity, his cinematic instinct, and his international experience, to create images that are beautiful, perceptive, and funny." – Andy Warhol
Much will be said and written about the Hoveyda brothers in History books as well as on their moral and political legacy that was nurtured by brotherhood love that transcended the tragic death of elder Amir Abbas in the aftermath of the Islamic Revolution of 1979. As a young Iranian diplomat, Fereydoun Hoveyda was involved in the preparatory work for the San Francisco Conference that adopted the Charter of the U.N. (1945) In 1947 and 1948 he participated in the drafting and voting of the Universal Declaration of Human Rights. the former Ambassador and permanent representative of Iran to the United Nations died at his home in Virginia on November 3, 2006 at the age of 82. He was the last living signer of the Universal Declaration of Human Rights...
Although not a close friend of Mr. Hoveyda, we both were nevertheless columnists and feature writers for Iranian.com. I therefore had the honor of corresponding with him several times to talk about art and his experience in films. I have to say that I came across a man who despite the great ups and downs of life came across as not only brilliant but also a man of taste with a great sense of humor. Of all his articles and books he wrote I should say that I was mostly intrigued by those that were related to films. Reading a passage from one of his articles in the Iranian.com under the title Read or Watch? which my own brother Cyrus, also a columnist, had drawn my attention too.
I was amazed to discover and read some common thoughts about movies that were triggered to me (only decades later) upon seeing another version, (yet probably more known today as the definitive color version) of one the greatest historical novels of all Time : Ben Hur: A Tale of the Christ by Gen. Lew Wallace. The film that started off Mr. Hoveyda's life long passion for the moving pictures (and subsequently mine too along with Cecile B. DeMille's Ten Commandments) was the 1923 silent version of Lew Wallace's book directed by Hollywood legend Fred Niblo. The eternal story of betrayed brotherhood love, vengeance and hate that concluded with an optimistic note on individual glory, faith and pardon.
After reading the article, I thought to myself what a great irony it was that the story of Judas Ben Hur echoed so strongly in my mind on that of the Hoveyda brothers even if not exactly in the same order or conclusion as in the book. However very much like the heroes of the ancient drama, Ben Hur and Messalla were destined to be separated by circumstances larger than life. The birth of a new religion, The might of an Empire in all its glory and decadence, brotherhood and betrayal are all recurrent themes that unfold in the real life and death of the Hoveyda brothers albeit with very different conclusions.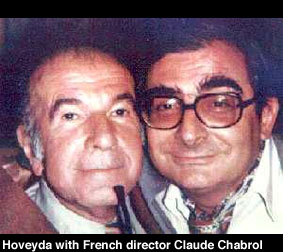 Far from searching historical accuracy any Romantic novelist may nevertheless conclude that the Hoveyda brothers were the two sides of the same coin. In this fictitious tale, they could well both be Judas Ben Hur while the Roman centurion Messala would be the Shah, the friend who betrays. If this historical comparison is far fetched and certainly less accurate than the political realities that would explain the downfall of the Persian monarchy and the death of one of its major civil servants of 13 years, the late Amir Abbas Hoveyda, Ben Hur's tale appears as an interesting Manichean metaphor at least to explain the often complex relationship between those in Power and those who are being ruled.
Maybe this initial but strong impression from seeing Ben Hur in his youth may also to some extent explain some of Mr. Fereydoun Hoveyda's later works as in trying to find parallels between Persian Mythology and History to explain the roots of the downfall of the monarchy and the rise of the Ayatollah Khomeini to Power. Whether his arguments are correct or his approach to the issue entirely objective is certainly debatable, but it is however interesting to note that both Hoveyda's were drawn by a similar passion for the same novel and that both chose albeit differently to be in the public eye: One through politics (Amir Abbas) while the other by serving the arts (Fereydoun) and films in particular.
Fereydoun Hoveyda was to befriend some of the greatest Stars of Hollywood and European cinema such as the yet unknown Robert De Niro, Paul Newman, Shirley Mclaine, and Claude Chabrol. As an artist Hoveyda, in his many shows in the U.S., developed a new technique of "papiers collés," leaving a very narrow white space between papers. In the words of Andy Warhol, "Hoveyda combines his literary sensitivity, his cinematic instinct, and his international experience, to create images that are beautiful, perceptive, and funny." Warhol was even to do his portrait along with other Iranian dignitaries of the Imperial era such as the Shah himself and the Shahbanou.
He was not only familiar with the medium but was a passionate critic who certainly contributed to an art form that was not yet recognized as one. In 1953, he met two major film critics and Theorists of the 20th Century: André Bazin and François Truffaut, his protégé. They offered him to write in les "Cahiers du Cinema", shortly after Truffaut wrote his famous article turned into a manifesto for the French New Wave Cinema . At the same time the monthly "Fiction" gave him a column on cinema. From 1954 to 1960 he worked with the father of Italian Neo Realist cinema Roberto Rossellini on several projects.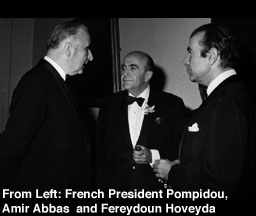 In 1957 he co-wrote with him the script for INDIA, a feature film which was screened in 1959. In 1962 he published his first novel: "Les Quarantaines" which was widely reviewed in France. When he became ambassador to the United Nations, he met many artists and intellectuals in New York. Many of them used to come to the Iranian Embassy, and allowed him to introduce them to Iranian culture, which he noted not without humor "It was after all was part of my official job!".
Fereydoun Hoveyda belonged to a generation of Iranian Intellectuals and art lovers who were to pave the road for some of today's brilliant Iranian Artists and particularly filmmakers in being exposed and understood in the West. It is not surprising that Les Cahiers du Cinéma was to do a coverage on the future Cannes Laureate of 1997 the film Maestro Abbas Kiarostami far before his name was even recognized as one of the major filmmakers of the 20th Century.
Two months ago I had the privilege of corresponding with Mr. Hoveyda again on behalf of the World Academia of Arts and Literature and Media (WAALM) in Budapest, Hungary for the 2nd Persian Golden Lioness Awards during which some of the best representatives of the ¨Persian Arts of the Diaspora were honored in various disciplines such as Shohreh Aghdhashloo, Omid Djalili, Kayvan Mashayekh, Dustin Ellis in cinema, Soprano Monika Jalili and Maestro Alexander Rahbari in Music, Shahrokh Meshkin Ghalam in Ballet Dance and Azar Nafisi in Literature to name a few. Hoveyda was very enthusiastic about this cultural initiative. He said that he regretted not to be able to respond favorably to our invitation due to his illness but wished us success in the years to come. He even hoped to be able to write back to some of his old film acquaintances and write on films again after his recovery.
The World of Arts and Cinema in particular loses one of its greatest contributors.
Yes Mr. Fereydoun Hoveyda certainly belonged to a class apart ... Comment
Darius Kadivar is a freelance journalist, film historian, and a columnist for OCPC magazine. He operated as Paris-based PR & Press Officer for WAALM 2nd annual Awards 2006.