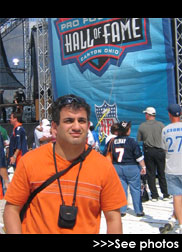 There's always Sunday
Another immigrant kid somewhere looking forward to American football on Sunday
Abbas Zeineddin
August 13, 2004
iranian.com
Last Sunday was a beautiful sunny day in Canton, Ohio. A perfect day for the Pro Football Hall of Fame ceremony and the enshrinement of John Elway as one of the four 2004 inductees! A good friend of mine and I made a pact years ago that when the time comes for Elway, we would be right there cheering for him just as we did for over ten years when he made those miraculous comebacks and made the impossible seem possible!

By the time Elway took the podium to make his acceptance speech, the clouds had already caught up with the sun. It was suddenly breezy and cool. Honestly, I don't remember much about his speech as I was scrambling to take pictures and trying to capture the moment on my camcorder, until my friend told me to stop and enjoy the moment.
As Elway was thanking his family, friends, coaches and teammates, he became emotional a few times. After a while, I was not hearing his words! I was just sitting there staring at him talk! I guess I was finally enjoying the moment!

I remembered an immigrant kid trying so hard to make sense of his life in this new country. Everyday, he would go to school striving to survive, make good grades and make his loving parents proud. After all, they had given up their lives in their home country, so he and his sister can have better lives in America.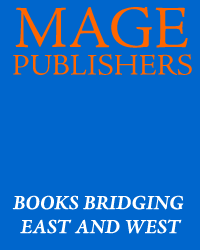 Everyday, when it appeared that he was making progress, he was somehow reminded that he was a stranger in a strange land. He had nothing in common with his new fellow citizens and assimilation was so far away that it was almost unthinkable then!

But there was always Sunday! He knew that on Sunday when he switches the TV on, John Elway, Jerry Rice, Walter Payton and ... would give him all they've got. Although it would take several games and Sundays before he would actually understand the game, their greatness was obvious right from the start long before he really understood the scoreboard, the significance of field goals, first downs and etc.
Every Sunday, Rice would make a catch and magically make twenty yards out of nothing, while making cornerbacks (defenders) look helpless. Payton would dash his way into ten yards while breaking tackles.

And then there was John Elway! Elway would do it all: throw the ball for a complete pass under pressure; scramble for yards when there was not an open receiver; sacrifice his body for first downs; and make Fourth Quarter comebacks so regularly that after a while the kid began to think that he slacked off until the end of the game just to make it interesting!
But perhaps most importantly, Elway would make the kid forget about the chaos in his life for a few hours. For a few precious hours, he would be right there on the field with Elway through the highs and lows, complete passes, interceptions, touchdowns, hard hits and sacks. At the end, win or lose (losing was rare during those years for Elway), Elway would be THE MAN, because he has given it all while facing great adversity. What a great escape for the kid! Elway has made his week!

By the time Elway's speech was over, I was fighting my tears. He was only a few yards away from me. I couldn't help thinking about another immigrant kid somewhere in this country today looking forward to Sundays to watch his/her favorite football player. I smiled.
... ... ... ... ... Say goodbye to spam!