Lost In life
Gentlemen, do us (women kind) a favor and never get married
Sholeh Ja
July 7, 2006
iranian.com
I wasn't going to write about this but I thought if I could help only one person out there, it is well worth the effort. Let me begin by saying that I am not a writer, so pardon me if I am not doing a good job. This story started when I went to the local bookstore in Los Gatos, California, to pick up a magazine, have a cup of coffee and relax after a hard working day.
Since I do not look Persian, the two gentlemen sitting next at me, did not see a need to lower their voice, therefore, continued their conversation:
#1: Midoni zanha aslan mikhan mard haro avaz konan. Natureshon hast. Ta ba adam dost mishan ya dastor midan ya mikhan akhlaghato avaz konan. Deroz barayeh avalin bar ba Soodabeh raftam biron...
#2: Kodom Soodabeh ro migi?
#1: Hamon Soodabeh ke to bahash beham zadi digeh!
#2: On taraf ke parteh baba, az man miporsidi ta behet migoftam.
#1: Midonam vali heykalesh ke harf nadareh. Kholaseh sham ke tamom shod behem goft: "kash ba waitress inghadar las nemizadi, jeloyeh man khob nabod". Saeed mibini, hanoz nayomadeh mikhast akhlageh charming mano avaz koneh. Vali Saeed, jat khali ajab waitressi bood taraf. Emshab ba on date daram...
#2: Ageh mikhay zan begiri biya berim Iran, man chand ta famil daram ke dokhtar hashono be khikeh man bastan ke begirameshon, yekishono tu begir.
#1: Delet khosheh ha ! Iran ageh beri bayad at least 6 mah onja bashi, ba yeki dost beshi, ageh asheghesh shodi baad tazeh bebini mikhahi begirish ya na. Agheh khob K... dad, shayad consider besheh...

At this point these two gentelman (vallah che arz konam), were laughing about Maziyar's comment.

#1: Midoni chiyeh, man ke az zan gereftan bizaram. Man aslant ahleh zan gereftan nistam. 42 salameh, ta hala keyf kardam az hala be baad ham mikham keyf konam.
#2:Vali Maziyar dari kachal mishi, mohat ke dareh khali misheh, senet ham ke dareh mireh bala, ki miyad be to hal bedeh?
#1: Pool ke daram, dokhtar ro ba hal kardanesh mikharam!

And these two laughed again...
By this time I was not only disgusted by their whole conversation, but felt sorry for them. And this conversation gets better and better...

#2: Maziyar midoni chiyeh, man fekr mikonam aslan zan Irani be dard nemikhoreh. Tamameh fekr o zekresh inkeh ke khoneh zendegi barat besazeh. Be jayeh inkeh hal koneh va free basheh, khodesho dar gireh khoneh va bacheh dari mikoneh. Ageh kareh biron ham ke dashteh basheh ke digeh vayyyyyyyyyyyy. Sobh ta shab mikhad ghor bezaneh. Zan khareji hamash ahleh hal kardaneh.
#1: Vali Saeed zaneh Irani ta ye "Ghorbonet miram" migeh, adam delesh ab misheh, na?
#2: Areh on ke dorosteh, chenan giresh miyofti ke khoda ham nemitoneh nejatet bede.

At this point I was thinking to myself, what God created these two? Does an Iranian wife deserve to put up with this mentality? Why should she be punished for caring about her family? Why should she be insulted for being a caring wife, mother, and work side by side to support her family? Who in a right mind wants to marry these two, whether Iranian or non-Iranian?
And they still go on:

#2: Az Mitra che khabar?
#1: Ey baba, bahaneh avord ke vaght nadaram bahat dost besham.
#2: Chera? Yani chi vaght nadaram? Faghat dareh ye Master Degree migireh, K... gholo ke nemishkaneh.
#1: Hamino begoo. Engar fogheh lisans ghereftan vaght lazem dareh. Rasti tu chi maleh khodeto gherefti? Yadameh chand ta kelas bar dashti!
#2: Na baba vaght nakardam. Sareh emtehan ke mishod az hang over nemitonestam chizi ro bekhonam. Tagalob ham ke nemishod kard. Man hamon Lisans ro gereftam baseh.
#1:...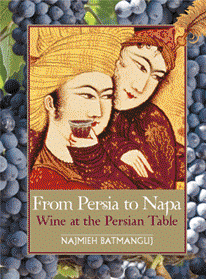 #2: Jat khali chand roz pish ba ye dokhtareh Spanish raftam biron. Ajab tikeyi bood.
#1: Chi shod? Dost shodin?
#2: Dost ke na, goft bayad aval ba dosteh pesaresh be ham bezaneh. In hafteh ham ba ham gharar darim, in dafeh mirim khoneyh oon. Hafteyeh pish shab khoneh man omad.

This conversation was still going on but I was getting dizzy listening to them. I could not hear anything else. I was about to open my mouth and ask him, "So you rather have a woman who is not yours only, and you share with a boyfriend, than an Iranian wife who is dedicated to you?" I didn't say anything because only God knows what could come out of my mouth.
Instead, I decided to say few words on how to respect a woman in general, how to treat a woman, how to love a woman. I didn't say that either, because I figured at age 42 if he doesn't know this, and is still searching for a fun relationship, he might as well stay single. That would be a blessing for women around the globe.
I walked out thinking to myself:
How many of them are out there?
Does anybody in their right mind want to get involved with these two, if they could hear this conversation?
Are they ever going to get married? And if yes, who would be that poor woman?
Should I go back and tell them,"Do us (women kind) a favor and never get married?" Comment