Is everyone a spy?
Islamic Republic's all too predictable labling of critics & dissidents
September 5, 2006
iranian.com

After four months of imprisonment in Evin, Ramin Jahanbegloo was finally released, paying a hefty bail and confessing to obscure charges. He looked thin and yet he had to go to ISNA to give an interview stating that he was not mistreated by his interrogators. Since the birth of the Islamic Republic, he is one among many who has had to go through the usual theatre: arrest, imprisonment and interrogation on fabricated charges. Because of wide international pressure, Ramin was spared physical torture.

Before him, there were many others. Nearly twenty-seven years ago, the longest held political prisoner of Iran (now on a leave of absence) Abbas Amir Entezam, as deputy prime minister faced similar charges of spying for the United States government. He told me that all these years he had refuted the ridiculous allegations, had maintained his innocence and had asked for a public trial to defend himself. The courts of the Islamic regime have refused to grant him this, for they know they are the ones who eventually will be on trial.
Saeidi Sirjani was held on charges that he had sexual and other improper materials at his home. Later, undergoing torture, he was killed by the agents of the Ministry of Intelligence who interrogated him in the Azadi Hotel and later, cowardly and in keeping with their ways, said he had died of a heart attack. Farhad Behbehani, who later wrote the book, "In the Company of Haji Agha", an account of his days in Evin, was also forced to confess and appear on TV and say that he, too, was working on behalf of the U.S. His colleague, Dr. Habibollah Davaran, who died of a heart attack at the age of 78, after spending time in Evin, was also accused of assisting the US.

The late Akbar Mohammadi was also interrogated and for forty-five days of continuous and severe torture was told to confess that he and his brother had received x amounts of dollars from the CIA and Mossad. Courageously and rightfully, he denied all the charges as they were completely unfounded. When he was released and wrote his memoirs, in which he implicated many of his interrogators and court officials by name, in which he named the killers of Zahra Kazemi, he was taken into custody and, to our dismay and total disbelief; he was tortured again and then murdered in Evin.

God knows how many agents the Islamic Regime has produced in its twenty-seven years of bloody rule!

This is all too predictable and yet it is becoming too old fashioned. Almost all the opponents of the regime are arrested and confined on false charges, forced to confess under duress and then later are either made to appear before Television cameras and to confess to "crimes" they were never involved in or released after confessions and paying heavy bail. Ramin Jahanbegloo is only the lastest victim of this vicious attempt by rulers of the Islamic Regime to discredit its opponents in the eyes of the Iranian populace. Ramin was not a political activist in the sense that we know. He was working with NGO's and was trying to promote dialogue between the people. Yet, they forced him to confess that he was used by foreign agents or worked on their behalf.

When we visited the Iranian Interest Section in Washinton, DC, to present a delegation of human rights organization on behalf of Ramin, and other political prisoners, I told their representatives that sometimes I wonder whether I am also working as an agent?! According to the regime in power, half of the Iranian people are either agents of the Mossad or the CIA. Isn't this just amazing?

I wonder, how much longer can a tyrannical regime such as the one ruling our country continue to brand every single individual who tries to work on behalf of human rights, on civil liberties in Iran or the establishment of civil laws, smear the most educated, the most honorable and those who have the highest integrity with such allegations? In the case of arrest and imprisonment of journalists in recent times, they have also been accused, facing long sentences for "working for the US?"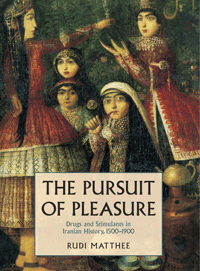 Is everyone a spy?! Will Akbar Ganji, who has been on a tour here to promote the principles of human rights and securalism, and who has ridiculed the $75 million offered by the US for regime change in Iran, when entering Mehrabad Airport or the newly opened Imam Khomeini airport, also be branded as an agent working towards the interest of the US? What is he or others going to encounter when they go back to Iran? Isn't it a cruel joke, a fallacy and purely hypocritical for this discredited regime to treat its critics this way?

The Islamic Republic dealt with the US during the Iran-Contra affair and is still dealing with the Americans behind the scene, clandestinely and away from the eye of the public, and their agents and officials come and go as they please. I had the displeasure of meeting some of them in the Watergate Hotel in Washington not too long ago. I asked them what they were doing. After refusing to shake my hands--for God forbid, I am a woman -- they said they were here for talks on the nuclear issue. I wonder how many of those people are working indirectly with the US?

Today, even more defiantly than before, Mr. Khamenei, God's representative on earth, and his gang of thieves should be told to stop maligning our fellow compatriots as spies, arresting them and charging them.

The old tricks are too old to convince anyone; nobody buys them anymore. History shows that no tyranny is everlasting. No oppressive regime will hold on to power forever; Mr. Ahmadinejad, who speaks in apocalyptic tones with a grin on his face and in his newly proper attire, who is now called the "new prophet after Prophet Mohammad," asks others "to love the people." Instead, he should start loving his own people and tell Iran's judiciary to stop the illegal arrest and detention of dozens of journalists and human rights activists in recent weeks. He should tell the regime which he represents to stop terrorizing the citizens of Iran.
Every Iranian should say to the IRI that we no longer buy your propaganda and that those who oppose this regime or are critical of its policies are not all "agents of America". The recent reactionary rhetoric of the regime's officials and clerics who, judging by the recent remarks of Ayatollah Meshkini, the Head of the Assembly of Experts, believe they are "divinely ordained," should also know that nothing in this world is eternal - including this Islamic Republic. Comment