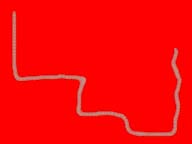 Time is precious
You truly never know what tomorrow is going to bring

By Negin Shadaram
February 26, 2002
The Iranian

The pain was killing me. I couldn't sleep away the troubles that this night brought me even though there was nothing I could do. I laid in my bed and thought about my life and how I was going to get through the rest of my life now.

For the major portion of my life I haven't really had to deal with death. I lost my uncle a few years ago. I was little and didn't understand what was going on. He was in Iran and I was here in America, so far from him that I wasn't close to him in any way. I only have one memory of him when I was in Iran. But that's all. I can't remember anything else. When he died, I saw the suffering my family was in ... and I was sad but couldn't grasp what was really going on. Why, didn't I get to know my uncle? This man that my family cared and loved and was unbelievably hurt to lose him. Why didn't I get an opportunity to be with him?

Friday night started out as a very quite night. My Mom made dinner and we sat down by the TV like we always do and eat. However, tonight my Mom turned to me and said how much she enjoys these times. She told me after next year, I'm going to be off in college and we will never get to have nights like this anymore. And I thought about that, and I realized how valuable time really is.


After we ate, I left the room and my Mom got her tea and finished watching TV. That was it! I mean, I just said to myself how precious time is ... why didn't I stay for tea? Why didn't I just stayed on the couch and talked to her?

A few hours later, everything changed. The phone rang. The conversation my Mom was having with her family was calm. The usual you could say. As I got my water and finished trying to listen in on to see what they wanted, my moms face turned pale and she started crying and while still on the phone she looked at me and told me my cousin died.

My hands were trembling, and I could barely keep a good grip on the phone. My stomach hurt like it never had before. I felt like Sigourney Weaver in Aliens 3 where the alien is about to pop out of her stomach. So finally after I mustered up the courage to dial the numbers, two rings later my cousin who lives in the same state picked up, and I said the words... "Our cousin Marjan died."

I stood there watched my Mom and my cousin cry and I couldn't help and think ... what am I going to do? I've never met her; she was only 24-years-old. All my life I've heard about her. I've seen her picture. Heard my family talk great stuff about her. Ever since I can remember, I have a cousin, and her name is Marjan. And till that night, I was determined that I was going to meet her one day, and I would be happy to have her as my cousin.

It's not fair! I was mad that I AGAIN missed out on someone who was so loved by my family. How can she be gone? She hasn't lived life yet! I didn't meet her yet! Nothing is making sense to me. I wanted to her to come back. So my grandparents would stop crying. So I know my whole family is not in pain. So I can get to know a great person, my cousin Marjan.

The phone kept ringing for the next couple of days. There was a web site with all the funeral information. And I emailed the address to family who were going to California... I found myself sitting there and looking at her name on my computer screen and thinking ... she can't be gone. I haven't met her. As I watched my Mom pack and leave for California, I couldn't help thinking that maybe I should be doing something about this.

The few days that I spent by myself really helped me think. I realized, I should introduce myself to my cousin who is now watching over my family with her father (my uncle). I realized, I'm finally close to her. She is going to be with me wherever I go. I might have not met her, but just
knowing I have a great cousin up in heaven watching over me feels great.

I don't know what life has in store for me, I don't know if this was the right decision, and I don't know if I would have changed something along the way, if things would have been different. But even though there are all these variables and things I don't know in my life, one thing I do know is that she is with me no matter how I look at it, and I will always love her from the bottom of my heart.

Also, the biggest lesson of all ... time is very precious. I hope everyone who is reading this will appreciate the time they spend with their loved ones. Cause you truly never know what tomorrow is going to bring. And even though I never met my cousin, she touched my family in a big way, a great way. She was special to them and to me she will always be special in my eyes.