Latest 2006
Archive
WINE


Godfather's grapes
Photo essay: Francis Ford Coppola's winery, Napa Valley, California
Jahanshah Javid
TRAVELERS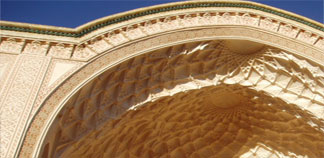 Earthy grandeur
Photo essay: Kashan architecture
Babak Nassirian
TRAVELERS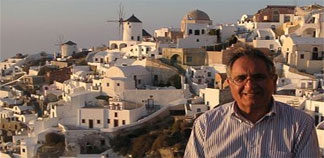 The eyes have it
Photo essay: Greece and its Myths
Keyvan Tabari
met my first Greek when I was seventeen. I had been speaking English only for two weeks. I had a hard time pronouncing his name, Chris, right. He was more annoyed, however, at my not being able to roll the word Greece correctly. I had known the country by its Persian name, yoonan. I knew next to nothing about its "Persian Wars." For Chris, on the other hand, they were important enough to become the subject of our very first conversation. Nonetheless, we became friends in that freshman year of college. Chris got good grades but his inclinations were other than academic. Every school break, he went to Chicago to work for his uncle who had a restaurant there. He made good money as a waiter. I lost track of him after I transferred at the end of that year, but Chris left a strong desire in me to learn more about his country and its ancient relationship with my country of birth. What you will read here is the report on my recent trip there which lasted ten days >>>
TRAVELERS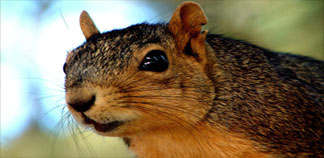 Golden Colorado
Photo essay
Parviz Forghani
TEHRAN


Highs and lows
Photo essay: Tehran from the ugly to the beautiful
Saba Parsa
BEACH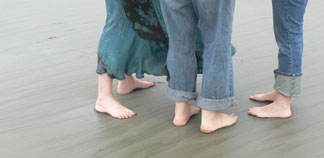 Bodega Bay
Photo essay: Day out on the beach in Northern California
Jahanshah Javid
TRAVELERS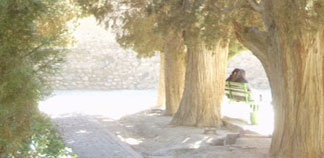 Water meets Earth
Photo essay: Kashan's Fin Garden
Babak Nassirian
FOOD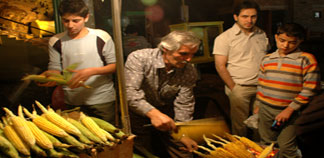 On heaven's menu
Photo essay: Food in Iran
Farah Ravon
I decided to go on a major diet before our trip to Iran this fall. I knew I'd be exposed to a lot of colorful foods that I would not be able to resist, so I lost 15lbs. I managed to gain back about 4lbs - but it was well worth it! WARNING! Viewing NOT recommended on an empty stomach! >>>
TRAVELERS


Praying for rain
Photo essay: Yazd's Dowlatabad Garden and Jame Mosque
Babak Nassirian
TRAVELERS


Home away from home
Photo essay: Phase one of the expedition in appreciation of Manchetser
Shahireh S
ICE


After the storm
Photo essay: Ice storm, Springfield, Illinois
Azita Ziaei
TRAVELERS


Baked in history
Photo essay: Sight-seeing in Yazd
Babak Nassirian
TEMPLE


Good thoughts
Photo essay: Yazd's 70-year-old Zoroastrian temple
Babak Nassirian
TRAVELERS


October surprise
Photo essay: Iran people & places
Farah Ravon
TRAVELERS


Stroke of genius
Photo essay: Kashan
Afshin Deyhim
TRAVELERS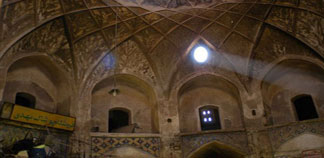 Hidden treasures
Photo essay: Kerman
Afshin Deyhim
TRAVELERS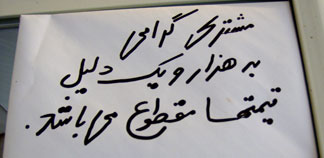 Sign of the odd times
Photo essay: Signs around Iran
Niki Akhavan
TRAVELERS


First love
Photo essay: Scenes from Tehran and Chalous Road
Sanaz Kahlaj
TRAVELERS


Looking at 3000 years
Photo essay: Choghazanbi temple, c 1250 BC
Behnam Eskandari
TRAVELERS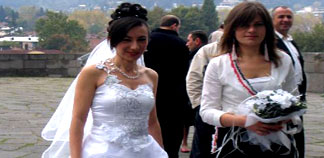 Testament to tolerance
Photo essay: Visiting Georgia
Rudi Matthee
I recently took a trip to the remarkable country of Georgia, invited to participate in a conference at the Institute of Iranian Studies in Tbilisi. Located at the eastern tip of the Black Sea, Georgia also lies at the fault line of a number of civilizations and empires that over time have dominated and influenced it. These include pre-Islamic Iran and its Zoroastrian faith, Islam in the form of the Arab invasion, Iranian control during the Safavid period, and Turkish overlordship of the western half in Ottoman times, and more recently, the Russians, first in the form of the Tsarist Empire and later in the form of the Soviet Union >>>
Photo essay: Beheshte Zahra cemetery
Afshin Deyhim
CASPIAN


Come rain, come shine
Photo essay: Trip to the Caspian sea
Farah Ravon
TEHRAN


What I saw in Tajrish
Photo essay: Shopping in North Terhan
Looker
TRAVELERS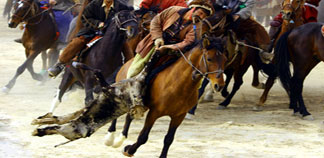 Buzkashi
Photo essay: "Goat grabbing" is the national sport of Afghanistan
Pouria Lotfi
TRAVELERS


Western heels
Photo essay: Ads, signs & symbols in Tehran
Looker
TRAVELERS


Frozen in time
Photo essay: Kashan and Abyaneh
Farah Ravon
TRAVELERS


Redville
Photo essay: Abyaneh village
Afshin Deyhim
Since 2001 when I visited Iran for the first time after 17 years, I've been back twice. Unlike many that go back to visit family, I spent the majority of my time traveling about. Enclosed are pictures I took in Abyaneh. Abyaneh is a village between Kashan and Natanz in Esfahan province. The village is probably one of the oldest surviving villages in Iran. On the outskirts of the village there are remnants of an old Sassanid era fort. Aside from its historic value, Abyaneh is also known for its red colored soil and clay houses, as well as the flowery dresses the local women wear >>>

TRAVELERS
Skirting Shakespeare's Ashland
This corner of Oregon is fast becoming a new Mecca for the food groupies from all over
Keyvan Tabari
Some 25 years ago, just after noon of a warm summer day, we stood in line to buy tickets for that night's performance at the Elizabethan theater in Ashland. I struck up a conversation with a young man who was standing behind me. He told me that he was traversing the Pacific Trail from Canada and was expecting to arrive in Mexico City just before Thanksgiving. He had come down for one night in Ashland to take in a Shakespeare play. In those days, I also did much more hiking than going to the Bard's feasts. The memory of that glorious night, however, has attracted me to this jewel of a city in Southern Oregon every summer since. The old theater has been renovated; it has lost some of its nostalgic charm for us old timers in return for more comfort. It resembles even less the recreated Old Globe in London >>>
TRAVELERS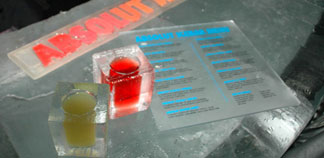 One night stand
Photo essay: London stop-over
Farah Ravon
TRAVELERS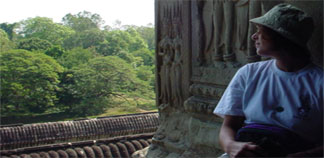 Lost city
Photo essay: Cambodia's ancient civilization at Angkor
Shahriar Nayeri
TRAVELERS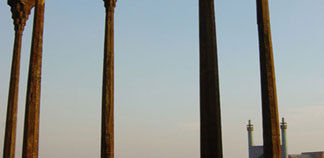 Beauty that can't be beat
Photo essay: Isfahan
Saba Parsa
OBSERVER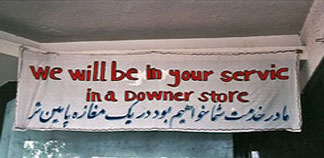 How things have always been
Photo essay: After being outside of Iran for quite some time, upon returning I found some things to be completely new and at times shocking and others quite old and familiar
G. Ali
What a strange people. They're still the same bastards. It's incredible. Lots of things in Iran have improved, but not people. They still have no regard for each others' rights. They're so porroo (does anyone have an English equivalent for this?) they put the Qazvini pumice stone to shame. They still rob you blind if they find the chance. They still stab you in the back just for the hell of it. They still lie like there's no tomorrow. And at the same time the same people can be their own exact opposite. They can give you favorite nation status without expecting anything in return >>>
TRAVELERS


Miss you
Photo essay: London's Neal Street
Parima Shahin Moghaddam
TRAVELERS


Last summer
Photo essay: My trip to Iran
Ben Bagheri
TRAVELERS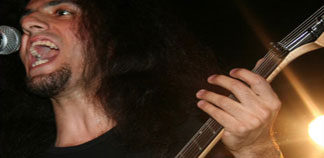 From Shiraz to Belgrade
Photo essay: Impressions from my recent trips to Iran, Switzerland and Serbia
Shirin Vazin
HOLLAND


That's what I love about Europe
Photo essay: Prince's Day royal parade in the Netherlands
Fariba Mobargheie
CHILDREN


For their sake
Photo essay: Children of Afghanistan
Pouria Lotfi
TRAVELERS


Finding Iran in Russia
Photo essay: Traveling in Russia and visitng the Hermitage museum
Shahriar Nayeri
RAMAZAN
Shab-haaye ehyaa
Spending the holy days in Tehran, reluctantly
Shahriar Zahedi
TRAVELERS


Away from war
Photo essay: Afghanistan
Pouria Lotfi
IRAN
Reading shades of meaning
Unravelling the semantic complexities of Iranian politics
Excerpt from Daniel Lafond's "Conversations in Tehran"
Iran is an Islamic republic, conceived in the image of the community founded by the Prophet Muhammed when he emigrated from Mecca to Medina in 622 to begin the Islamic era. As if that were not enough, Iranians must also contend with the startling innovation in Shi'ite tradition, devised by Ayatollah Ruhollah Khomeini.... It is a hybrid, one-of-a-kind regime, designed to perpetuate the power of the religious establishment over society. But it is also a regime that must tolerate within it other voices, other forces. These may not be completely secularist, but they are bitingly critical of the mullahs' attempts to obtain a stranglehold on power >>>
TRAVELERS


Heading south
Photo essay: Qeshm, Hormoz, Minab and Bandar Abbas
Saba Parsa
CHILDREN


The lighthouse
Photo essay: Khaneh Nasser Khosrow, home for chidlren
Samineh Baghcheban Pirnazar
TRAVELERS


The safari stories
Photo essay: Africa, the realm of visual sensation
Keyvan Tabari
I was sitting in the plane on the tarmac of the Dar es-Salaam airport that was to take me out of Africa. The security check here was based on redundancy, and the numerous inspections of our luggage had been exhausting. I felt drained. The first announcement from the crew came on the speakers in the clipped accent of the British Airways crew: "Ladies and Gentlemen, we are going to spray the cabin." Strapped in the seat belt, my mind wandered >>>
TRAVELERS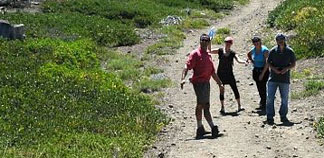 Eat. Sleep. Hike.
Photo essay: Weekend trip to Lake Tahoe
Farah Ravon
TRAVELERS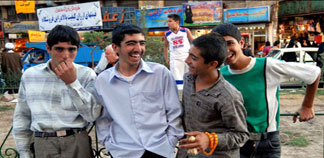 Mashhad on foot
Photo essay: People
Sasan Afsoosi
PEOPLE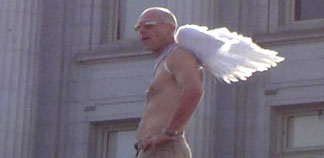 City of love
Photo essay: San Francisco's annual "Love Fest"
Talieh Shahrokhi

TRAVELERS
Money exchange in Hamadan
Rami Yelda
Hamadan is another dull and overcrowded modern Iranian city. The center of town is the Emam Khomeini meydan with six streets radiating from it. Around the square circulated hordes of horn-blowing Paykans. To the city's credit, visually pleasing old Qajar-era buildings were situated in a circle around the square. On the northeastern corner was an ugly, boxy building, new and white, ruining the whole architectural composition of the square. This was the central bank that I was looking for to change money. In the recent past money had been exchanged illegally on the black market. Now the government has legalized the exchange of foreign currencies and even publishes the official daily rates. In Tehran, I had exchanged money in the street without any difficulties >>>
TRAVELERS


Anzali to Ardabil
Photo essay: Road trip
Maziar Behrooz
CONCERT


Money buys you love
Photo essay: Top bands play for top company
Arash Mahmoudi
HOLOCAUST


History's burden
Photo essay: Concentration Camp Vught
Sasan Seifikar
Concentration Camp Vught is a national monument and important part of Dutch recent history. It was the only official SS concentration camp outside Germany and its annexed areas. The camp was built by Nazi-Germany in 1942 and opened in 1943. Camp Vught was actually a transit camp for the Jews, from where they were deported to extermination camps and their deaths. 30,000 Jews were held in prison in camp Vught and then transported to the East. The conditions in Camp Vught were so bad that many Jews died here, these included children >>>
TRAVELERS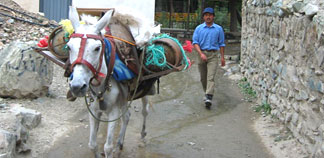 Half way to Palang Chal
Photo essay: Hiking north of Tehran
Maziar Behrooz
TRAVELERS


Persepolis & more
Photo essay: Trip to Iran
Pendar Yousefi

TRAVELERS
Story behind the pictures
Over dinner he told me that in the early 1970s he and a friend took a Land Rover and traveled all the way from London, thru Iran then Afghanistan into India down to Bangalore!
Dario Margeli
This summer I took a one week vacation and went to Portugal. It's a country I really recommend. While I was taking pictures, I asked a guy if he could take my picture so I can remmided myself that I have been to such a beautiful place. The guy turned out to be a Canadian painter called William. We became friends and talked about work in the high tech industry which is what he used to do and I still do! Over dinner he told me that in the early 1970s he and a friend took a Land Rover and traveled all the way from London, thru Iran then Afghanistan into India down to Bangalore! Talk about balls! He said Iranians where very nice to him. Near Rasht, the Land Rover broke down and the villagers came and helped them >>>
TRAVELERS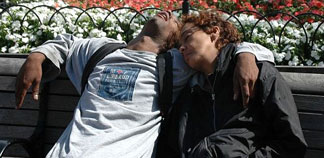 Boston in full bloom
Photo essay: Labor Day weekend in Boston
Farah Ravon
TRAVELERS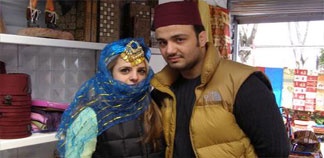 Trip for two
Photo essay: Trip to Turkey
Hooman Tavakolian

REVOLUTION
Pop Islam
Iran's Islamist and pop cultures seems to mingle by loosing themeselves into each other
Anna Mahjar Barducci
The avenues of Teheran have changed their colours. Soon after the Islamic revolution in 1979, led by Khomeini, only the austere black was allowed to decorate the streets of the Iranian capital. Since then, the colours of the revolution have developped. Blinding yellow and fluorescent pink flags wave now in the alleys of Teheran. The colours that used to be part of the profane along the last 27 years have now been incorporated into the holy, with the exception of the rigorous dark women dresses. The revolution overwhelmed the Iranian reality, without being able anymore to cleave the profane from the holy. In this way, the appearace of the Iranian republic has been changed to trasform everything into a product of the ayatollah's regimes. However, this evolutionary process gave birth to a new pop-Islamic revolution, which influences religious ceremonies too >>>
TRAVELERS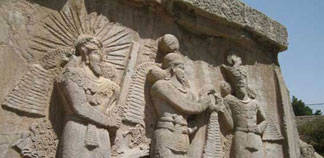 What remains
Photo essay: Road trip to Western Iran
Fathali Ghahremani Ghajar
TRAVELERS


Bare beauty
Photo essay: Iran landscap, people & animals
Riccardo Zipoli
TRAVELERS


This big Earth
Photo essay: Panoramic pictures
Asghar Riahi
FOOD FEST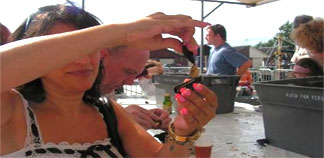 Mossel Dag
Photo essay: "Mussels Day" Dutch food festival
Fariba Mobargheie
PEOPLE


Wrapped in time
Photo essay: Iran
Mahnaz Ganji
LEBANON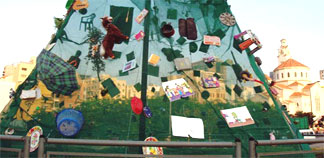 Around Beirut
Photo essay: The impact of Israeli bombardments
Hossein Shahidi
TRAVELERS
Subtle warmth and admiration
Farid Parsa
Jason Elliot's journeys in Iran in his recent book, Mirrors of the Unseen (London : Picador, 2006), is both entertaining and revealing. As he travels in various parts of the country he unobtrusively weaves the past into the present, informing the reader of the culture with a long history that has contributed copiously to the narrative of human civilization at various junctions of time. Elliot's observation and interaction with people draws a realistic picture of the Iranians today, with their proclivity for pleasure, protest and piety. Elliot has a great ear for humor as he diligently notes them down whenever he sees them, whether in the eccentric behavior of his individual guides, or the paranoia of his bourgeois hosts who believe Iranians leaders including ayatollah Khomeini are the puppets of the Western governments >>>
PSYCH
Post Iran depression
Shahireh Sharif

As part of an annual ritual this is exactly what I go through after coming back from Iran, having been there for my vacation. A severe punishment to endure particularly for such a petty crime! Talking to others it amazes me how frequently other people can relate to this. For a "silent killer", it is happening to too many of us too often. Ironically, for most of us the quality of the time spent in Iran does not have such a huge impact on experiencing post Iran depression. It seems that coming back is particularly difficult for those of us who have most of our relatives back home even if we have experienced a relatively hard time in Iran (of course, there are exceptional circumstances where this is not the case) >>>
TRAVELERS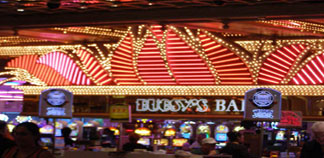 At the edge of the strip
Photo essay: Driving through Las Vegas
Babak Andishmand
TRAVELERS


Valley of the gods
Photo essay: A journey through the Utah wilderness
Nima Min
SHOMAL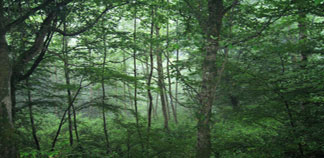 Into the Caspian fog
Photo essay: Above clouds on Caspian Sea drive
Nader Honarkhah
This file contains photos taken on a road that goes from the town of Baladeh in the Central Alborz Mountains of northern Iran to the coastal town of Royan/Alamdeh on the Caspian Sea coast (on a straight line, the distance between Baladeh and the Caspian Sea is 42 Km). The town of Baladeh sits at an elevation of 2050 m at the bottom of the Noor River Valley which runs east-west and is a major tributary of the Haraz Rive >>>
TRAVELERS
Turtle on the airplane
A brief perspective of a Young Iranian-American's journey from Tehran to Amsterdam
Farhaneh Sharghi-Dolatabai
Tehran - Wearing my light teal manteau and pink with gold and black scarf draped upon my head I stood in Mehrabad's Airport parking lot at 3:30 am wondering where my uncle had gone to get a cart for our luggage. I was still a bit dazed by the fervent pace at which we were leaving Tehran. Just a few hours earlier we were dining with most of my mothers' family members, as we had done the night before. Now we were heading back, back to the US, back home to Dallas. Many of the questions my family had asked of my brother and I were if there was any chance of us coming back to live in Iran, permanently. "No" I responded "it would just be impossible." "Why?" they lamented "We've missed watching you grow up. Don't you miss us? Don't you want to be closer to your family?" I replied "Yes, of course I do." My roots will always be there with them. I had, have, and will always love them. Regardless, tonight I was about to rediscover why I just cannot live in Iran >>>
NOMADS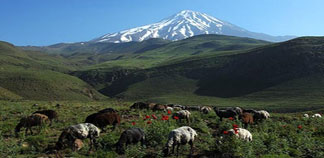 Nurtured by nature
Photo essay: Nomadic life in Iran
Hasan Ghaffari
CAMPING


Into the woods
Photo essay: Camping at Portola Redwoods, California
Farah Ravon
TRAVELERS


Don't let it be
Photo essay: Summer in Turkey
Tahereh Aghdassifar

TRAVELERS
Iran, King Kong and paradise lost
The journey across the Zagros changed Cooper forever
Ryszard Antola
Merian C. Cooper - the creator of the epic film "King Kong" - had first visited Iran in 1924 to film the movie "Grass", a documentary about the Baba Ahmadi branch of the Bakhtiari tribe. Their epic journey over the mountains between Ahvaz and Isfahan every year in search of grazing has been described as "the greatest migration in modern history". Images of tribesmen throwing themselves into the rushing Karun River (along with their livestock), and footage of them climbing the glacial face of the massive Zardeh Kuh in their bare feet, thrilled audiences all over the world. Grass became Cooper's first commercial box office success, and on the strength of it, he was given money to complete other film projects (of which King Kong became the most famous) >>>
PEOPLE
Time flies
Sholeh Ja
I was taking a 3 days trip to Southern California for pleasure. I usually take a trip any chance I get, even if it is for a day. Getting away in my case releases a lot of stress. I was at the airport few hours prior to my departure looking at people and all of a sudden they all looked similar in groups. Wondering what I mean? Well listen >>>
AMSTERDAM


Ali's treat
Photo essay & video clips: Last evening in Amsterdam as guests of an Amsterdamian-Iranian friend
Jahanshah Javid
LEBANON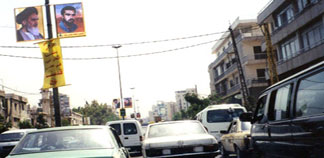 Is it still there?
Photo essay: Photo essay: Dahieh, south Beirut suburb
Ali Akbar Mahdi
Israeli Defense Forces dropped leaflets over Beirut -- especially the Dahieh area -- for the second time, asking its residents to leave their homes in anticipation of Israeli bombardment. I was in Dahieh in May 2000 (contrary to the date on the pictures: the camera's date was not set correctly) and took many pictures of this community and larger Beirut. I have not had time to share these pictures. The current Israeli bombardment of the district makes it necessary to pull them out and share them with the public >>>
TRAVELERS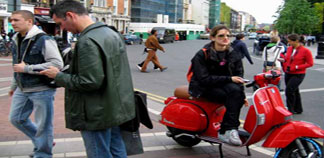 Irish Friday
Photo essay: Dublin walkabout
Sasan Afsoosi
PEOPLE


Rumba, samba, and calypso
Photo essay: Rotterdam Summer Carnival
Sasan Seifikar
The Rotterdam Summer Carnival is a Caribbean Carnival that takes place every July. It is a huge event which attracts many visitors from all over Europe and beyond who come to dance to rumba, samba, and calypso music and to look at the colorful and spectacular costumes and floats in the big street parade. It is really a three day public celebration and a cultural and music festival. On the first day, there is a pre-carnival beach party. On the second day, the warm up to the carnival, there is a battle of bands with 4 bands setting off from different locations in Rotterdam for a live stage in the city center accompanied by large crowds of dancers and merry-makers >>>
TRAVELERS


Short & sweet
Photo essay: Trip to Isfahan
Tamara Nakhjavani
AMSTERDAM


Last day, last words
Photo essay and video clips: Last day at Radio Zamaneh & group dinner in the center of Amsterdam
Jahanshah Javid
AMSTERDAM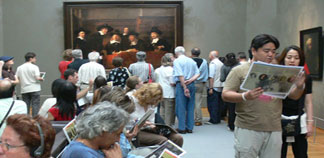 Quiet elegance
Photo essay: Visiting Rembrandt on his 400th birthyear
Jahanshah Javid

TRAVELERS
Sorry friends
Part 17: Returning to Iran: 1986-87
Sima Nahan
I went to elementary school with Neusha. I remember him as a passionate and conflicted little boy. I remember looking away from him whenever he fixed his knotted gaze at me from behind his blond curls. I never saw him as an adult but knew he had become a left-leaning writer. I suspect that his historical materialism fought a losing battle with his first-hand experience of the way in which history changes nothing. After the fire he was unable to speak and I did not write to him, knowing that he was surrounded with love and attention. I was thinking of his long, painful, and possibly lonely recovery and how his friends' support would be most useful then. Two weeks later he died >>>
AMSTERDAM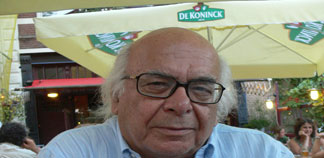 Moments to remember
Photo essay and video clip: Shahrokh Golestan and 20-30 somethings leave their impression at Radio Zamenh workshop and beyond
Jahanshah Javid
TRAVELERS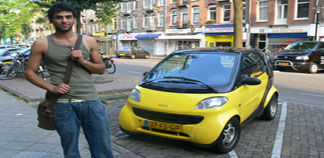 Highs & lows
Photo essay: First trip to Amsterdam for Radio Zamaneh
Jahanshah Javid
WAR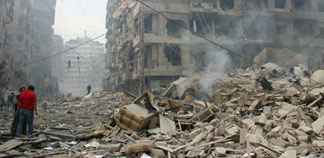 Pure death
Photo essay: Southern Beirut bombed by Israel
Saman
TRAVELERS
Survival
Part 16: Returning to Iran: 1986-87
Sima Nahan
On my last night in Tehran, an unusually humid summer evening, my uncle and I were on our way to a friend's house. Driving through the dark and deserted streets where the lights have been dimmed or turned off since the first bombing raid of six years ago, we pulled over to buy cigarettes from a blind peddler. He counted out the change without having to step in front of the headlights of the car to see what he was doing. I had been thinking of a friend of mine who wondered whether we were going to Iran that summer in order to say our goodbys. I was thinking that I should remember to tell her not to fret over having to say goodbye. One does not take leave of things; things take leave of one >>>
TRAVELERS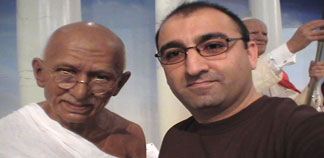 Are we better off today?
Photo essay: New York's Madam Tussaud's
Shahriar Shahabi
IRAN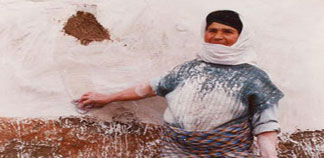 Natural life
Photo essay: Rural Iran
Homayoun Bazargan
TRAVELERS


The boy is back
Photo essay: Family and life in Tehran
Pouya Alimagham
I spent the past 10 weeks of spring in Iran for the first time since I left with my family when I was two years old. I was in Tehran mostly, spending time with family and friends and studying Persian at the International Center for Persian Studies. After the class ended, I was fortunate enough to take a trip to Shiraz and Esfahan. Here are pictures from Tehran. Stay tuned for the Esfahan and Shiraz photos >>>
TRAVELERS
Half the world
Nasrin Sasanpour
"Isfahan is half the world"; so goes the Persian saying. Isfahan is in fact a unique historical site the way it is jeweled with the most beautiful turquoise tiles and their exquisite designs, against the backdrop of the city surrounded by the Zagros mountains and dotted with magnificent architecture of arches, minarets, palaces, and mosques ... The people from Isfahan are unique as well. They possess a great sense of humor peppered with a sweet accent; warm and clever, they come across as joyful & easygoing. The following depicts some of the eternal beauty of Isfahan >>> Watch
HUNGER STRIKE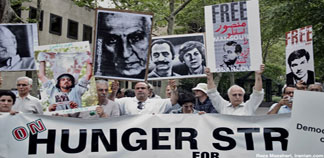 Ganji in New York
Photo essay: Akbar Ganji joins hunger strike in New York
Reza Mazaheri & Jahanshah Javid
HUNGER STRIKE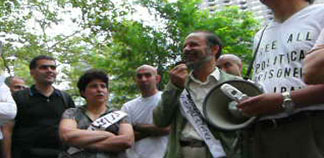 Change through civil disobedience
Video clips: Akbar Ganji answers questions at New York hunger strike gathering
Jahanshah Javid
HUNGER STRIKE


Feeding freedom
Photo essay: New York hunger strike in support of political prisoners in Iran
Jahanshah Javid
TRAVELERS


Better times in Bombay
Photo essay: A trip to Bombay (now Mumbai)
Peyvand Khorsandi
TRAVELERS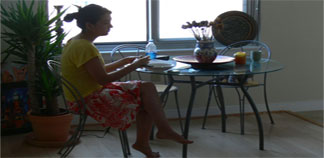 Me media
Photo essay: Visit to Washington DC
Jahanshah Javid
EYE-WITNESS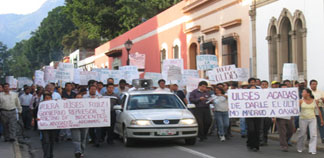 Lessons from Oaxaca
Photo essay: I have always believed that it is important to bear witness to injustice, but on that day, I did not envy Oaxacans, tourists, or anyone else for having been present when the 4 a.m. assault took place
Maziar Shirazi
Some readers probably think that whatever happened in Oaxaca, Mexico (besides Nacho Libre) is more or less irrelevant to them. It is true that it's just one of many examples of conflict in the world, and definitely not on the scale of a Sudan or an Iraq. It is possible that if I myself had only read about the strike in the New York Times online (as I later did), I would have read it over once and then forgotten about it, barring later coverage. I guess it is just different when you see something like this happen in person... One look around the city center gave us an idea of the scale and devastation of the conflict >>>
TRAVELERS


Catching matches
Photo essay and video clips: World Cup & Wimbeldon
SM

TRAVELERS
The party
Part 15: Returning to Iran: 1986-87
Sima Nahan
S.K. and his wife are at the party. It is late in the evening and as the last of the host's supply of homemade araq is being relentlessly attacked we listen to the tribulations of S.K., the famous translator, in his most recent project: translating T.S. Eliot for publication in an unforeseeable future. "And what is it that you -- daughter of a translator, come from America -- want to do?" he suddenly asks, turning to me. I say that I want to write: "I grew up on translation and have been living in translation since I left Iran. I'm tired of translations." >>>
OBSERVER
Change in Iran in me
What struck me most were the things I discovered (and discovered anew) through the eyes of an ardent feminist, almost none of which were positive or optimistic in their outlook
Jairan Sadeghi
On one of the first days I spent in Iran, I told my father that I planned to set out to explore the city by foot or by taxi. He looked at me as though in shock, stating that that was a bad idea and that "I would not be left alone". I was not totally naïve to what he meant by that. I knew that I would probably get the occasional whistle, the dirty word muttered by some passing dude, or on a really bad day, a furtive grab at my glutes. I tried to shrug off his advice and tell him more about my planned destinations and sights. He did not drop the matter though, and insisted that I wait for my brother to do the driving. "You don't know what it's like," he said. "It's gotten bad, really bad. They're going to make 'assumptions' about you." "Assumptions", I thought angrily. I had every right to waltz out into those streets. And so, the next day when I found myself alone in the house, I donned my unassuming hijab and my don't-mess-with-me scowl >>>
FANS


Viva Italia in San Francisco
Photo essay: Cheering for Italy in San Francisco
Mehran
FANS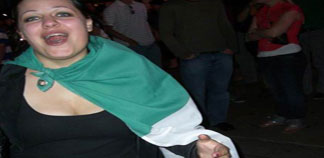 Azzurri
Photo essay: Italian fans in London
Parima Shahin Moghaddam
FANS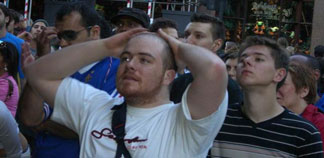 Les Bleus
Photo essay: French fans in London
Parima Shahin Moghaddam
PERFORMER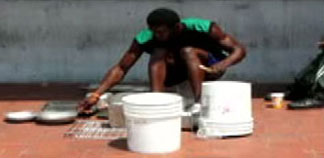 Born to drum
Video clip: Drummer performing in front of China Town metro station, Washington DC
Jahanshah Javid
CARS


More than Maashine Mashti Mamdali
Photo essay: Colorado auto show
Parviz Forghani

TRAVELERS
I come home a different person
A little more in touch with my Iranian identity
Pouya Alimagham
I've been in Iran for about two-and-a-half months now and it has been the longest time I've ever been in another country other than the United States. Ten weeks is not a short period of time, but I really didn't need that much time to feel at home here. Iran has become such a familiar place to me that just after a few weeks, I had to remind myself that I was abroad in another country. Needless to say, Iran has become my second home >>>
TRAVELERS
Lost in air space
Suggestions to Iranians who are thinking of having their parents in the USA
Shahla Hemmati
I live in Austin, Texas. I would like to have some words with the Iranians who live in the United States and want their parents to travel to this country either on a tourist visa or the parents who are getting their permanent residency. These parents looked lost and scared of the traveling issues that are tied to air traveling. My point of sending this letter to you is to let other Iranians, who are thinking of inviting their parents, to be aware of the issues that rise for their parents during the trip, especially the ones who do not speak English >>>
CHARMER


The man who steals roses from the White House
Video clip: Washington DC flowerman
Jahanshah Javid
TRAVELERS
Paris to Persia
Michael McKinley
I recently returned from a month long trip to Iran and France, spending most of my time in Tehran and Paris. During the course of my trip I had the opportunity to really put my cameras to use; here are what I consider to be some of the better photographs from my trip. I have over 1000 images but I thought lowering the number to around 100 would be sufficient. The photographs cover my travels from Tehran to Ahwaz then back via Shiraz, Isfahan (or Esfahan), Qom, and many other wonderful places before ending in Paris. As an American traveling in Iran I was awestruck by the natural beauty of the country as well as the hospitality of the people >>>
TRAVELERS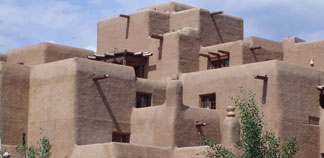 Yazd in New Mexico
Photo essay: Albuquerque and Santa Fe in New Mexico
Kamal Saffarinia
I got a chance to take few photos from two beautiful cities, Albuquerque and Santa Fe in New Mexico while attending a Water Resources conference (June 2006). The building architecture and the climate resembles cities such as Kashan and Yazd in Iran. Hope you like them >>>

TRAVELERS
Long bygone and yet so alive
Nasrin Sasanpour
Shiraz was as beautiful as ever. The air was fragrant with jasmine and roses, the nightingales sang freely, and the great poets of the city, Hafez and Sa'di stood tall in spirit besides their tombs, greeting hordes of lovers in different garbs & moods. Persepolis spoke of another era... long bygone and yet so alive, reminiscing of the glory of people 2,500 years ago. In the minds of Persians, the question, rings here and then: A civilization so great, what happened? And can it ever be resurrected. The following is a sample of what I experienced during my visit to Shiraz in April 2006 >>> Watch
TRAVELERS


Baranliq
Photo essay: Back to my little hometown in Iranian Azarbaijan
Vahid Garousi
IRAN


Far far away
Photo essay: Iran
Homayoun Bazargan
HAMJENS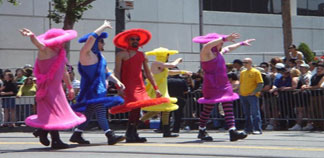 Stronger than ever
Photo essay: San Francisco Gay Pride parade
Talieh Shahrokhi
It has become a tradition for many San Francisco Bay Area residence to go out and support the Gay Hamjens by attending the Gay Pride Parade. This year was no exception and the numbers were stronger than ever! Note: if you are easily offended, please do not view these photos! >>>
PHOTOGRAPHY


One world, one tribe
Photo essay: Exhibiting photographs by Reza Deghati in Washington DC
Jahanshah Javid
Selected images from 30 years of work by internationally known photojournalist Reza Deghati will be displayed indoors and outside the National Geographic Society headquarters in Washington DC (June 27, 2006 through October 9, 2006). From Asia to Africa these photographs witness the torments of war and revolution and express the power of beauty and hope behind human tragedy >>>
TRAVELERS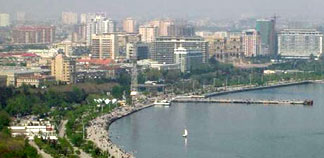 Basking in Baku
Photo essay: Capital of Azerbaijan Republic
Vahid Garousi

TRAVELERS
The new oral tradition
Part 14: Returning to Iran: 1986-87
Sima Nahan
Underground and without paper to write on, the Iranian intellectual community has been forced into a new oral tradition. Private gatherings -- parties, dinners, and all-night sessions of poetry, music, discussion, or instruction -- are the medium for the realization of this tradition. It is typical that the most personal thoughts and the most rigorous learning are imparted by the same person and in the same sitting. To describe these exchanges I can conjure up memories of steaming inside my Islamic uniform in the heat of a July afternoon in a bare classroom of one of the universities where I talked to a professor of Persian literature >>>
TRAVELERS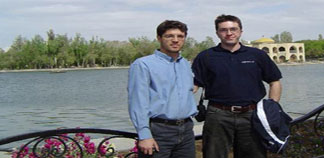 Taken by Tabriz
Photo essay: My recent trip back home
Vahid Garousi
WORLD CUP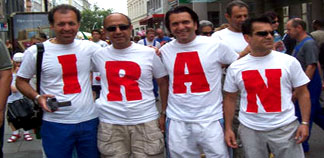 I got that Angola feeling!
Photo essay: A day in Leipzig
Sasan Seifikar
CAMPING


It was magic!
Photo essay & video clips: Two nights and three days in the California Sierras
Jahanshah Javid
TRAVELERS
Being there
Part 13: Returning to Iran: 1986-87
Sima Nahan
As Sheikh Ishraq would have it, the community of arts and letters, for one, has transformed itself into a zoo of sorts in Iran. Were I to describe any one creature to any degree of accuracy, however, I would blow his or her cover. I cannot relate the opinion of a particular scholar, or the style of a poet, or the generic nuances of the latest work of a short-story writer, or the timbre of a singer's voice, or the background of any of them, without taking a risk at their expense. In a tightly knit community each one of them is well known. Let us just say that some of them are men, some women; some have work, others no longer do; some ancién régime, some "left," others neither; some with prison experience, some not; some hopeful, some in despair >>>

WITNESS
Tehran 2006
Nasrin Sasanpour
I recently saw Iran after a twenty seven and half years hiatus. It was an exquisite trip and a beautiful experience. After all these years, I felt like I had never left... I saw Iran the first morning after my arrival when I came face to face with the magnificent Alborz mountains and its awe inspiring beautiful snow covered peaks. I saw Iran and its heritage through the handsome faces of old men; its culture through the wondrous monuments here and there. I witnessed Iran and its beauty through the eyes of its children; its momentum through the faces of its youth filled with energy and vibrancy. I saw Iran and its culture through the minute interactions between ordinary citizens. During my stay in Iran, I visited Tehran, Isfahan, and Shiraz. The following link is for Tehran 2006; there'll be links to the other two cities soon >>>

TRAVELERS
Sheikh Ishraq
Part 12: Returning to Iran: 1986-87
Sima Nahan
A long-standing National Front member -- blindfolded, his hands tied behind his back, in solitary confinement for eight months -- knows this. He is close to seventy years old with much prison experience during his lifetime, and while his body may not take severe beatings, his spirit is virtually indestructible. The effort to break him takes all the ingenuity the prison system of the Islamic Republic can muster. They work on disrupting his psychological balance by tampering with his visual and auditory senses and his perception of time. No sound reaches him but the Nuha, on and off erratically for hours or just minutes at a stretch. "Lunch" is not brought to him for a good twenty-four hours after "breakfast," but is followed immediately by "supper." Or breakfast may follow lunch and lunch supper. This goes on in a calculatedly unrepeated pattern. But pattern is not something that can be erased from a developed human brain so easily. Sensory awareness and memory discern patterns >>>
TRAVELERS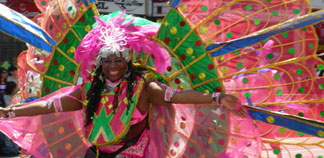 Dancing under the sun
Photo essay: San Francisco carnival
Shahin Alborz
TRAVELERS


Wrong guy, wrong place
Photo essay: Egypt
Dario Margeli

TRIP
I love this place
My first 5 weeks in Iran
Pouya Alimagham
The Persian language class at Dehkhoda Institute has been integral to my Iran experience and I think all Iranian-Americans travelling to Iran should attend Dehkhoda. About the center: Dehkhoda Institute is a language center sponsored by Tehran University and is located on Vali Asr Street halfway between Parkway intersection and Tajrish Square. Three days before the class began, I went to the instititute, registered, took a 45-minute placement exam and qualified for the advanced level class (advanced for foreignors). They have beginning, intermediate, and advanced classes for a duration of either five weeks, three and a half months, or seven months. My course is the five-week class that begins at 9:30am and ends at noon. At 10:30 we get a twenty-minute break where we go downstairs and have Pomergranate juice and tea. At noon we have an Iranian lunch which varies by the day >>>

TRAVELERS
The color black
Part 11: Returning to Iran: 1986-87
Sima Nahan
The entire country is pervaded with the color black. This is not the solitary and sorrowful black we are accustomed to see worn in mourning for forty days or a year. Nor is it the dramatic black of the banners of the Tasu'a and 'Ashura mourning processions, flying against a backdrop of white cotton and green silk, bringing to life the massacre of the Seventy Two Innocents and drawing tears from the great Lion of Persia. This is a new color. It can be the color of lead -- opaque and massive -- as in the paint on the windows of the whitewashed building of Chalus Hotel turned interrogation center and prison >>>
TRAVELERS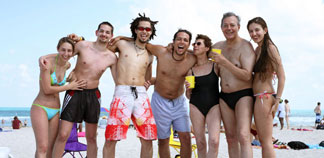 For Rudolph, Miami 2006
Photo essay
Ali Mobasser
To all the people pictured in these photos, thank you for welcoming me as one of your own and allowing me to celebrate the life of a wonderful man and the father of the one I love. A week that will not be forgotten >>>

TRAVELERS
On a roll in Tokyo
I am jet lagged but the excitement of being here is too much. Let's start with the toilet
Siamack Salari
I am jet lagged but the excitement of being here is too much. Let's start with the toilet. The seat is heated. I also have an array of digital controls next to the seat which will spray, squirt a jet or simply blow warm air from underneath. And it feels magnificent. The thought of a toilet which does everything short of taking your trousers off amazes me. Later today I am going to see if the squirt jet shoots high enough for me to use it like a drinking fountain. Hey, why not? >>>
TRAVELERS


North by south
Photo essay: Traveling in Iran
Saba Parsa
TRAVELERS
Repent, repent...
Part 10: Returning to Iran: 1986-87
Sima Nahan
Taba is the Arabic root for "to repent." Tavvab, in the Persian pronunciation, is "the repentant one." In the vocabulary of the prisons of the Islamic Republic, tavvabs are those prisoners who repent their "counter-revolutionary" and "divisionist" pasts and see the light of God on pain of death. Depending on the degree of their cooperation, tavvabs enjoy privileges and authority within the prison system. They may be given the responsibility of distributing food, rationing the tea, or keeping an eye on the activities of fellow prisoners. They may be chosen by male guards as mates for siqeh (temporary marriage) and occasionally rewarded with frivolous contents of confiscated handbags >>>
TRAVELERS


Every color you can imagine
Photo essay: Keukenhof flower garden, a genuine Dutch treat
Sasan Seifikar

NEPAL
Long live the king!
You have to be a perfect ignoramus or an astoundingly grand idiot to assert that Maoists in Nepal wish to impose a democratic republic
Alidad Vassigh
I do believe the media manipulate people, though probably there is no grand plot. Check the images from Nepal, and you will see the usual riff-raff in the street, and doubtless members of the middle class (in scenes reminiscent of events almost 30 years ago in an ill-fated country not a million miles from Nepal), shouting and waving red flags with the hammer-and-sickle. These are the democracy protesters, and no news agency or website mentions any communist agitators and sympathizers among them. An AP or Reuters report explained recently in the background verbiage that concludes every report that Nepal's government has for years been fighting against Maoist rebels who want to replace the monarchy with a "democratic republic." >>>
AMERICA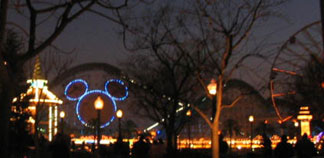 To Disneyland and back
Photo essay
Jahanshah Javid
TRAVELERS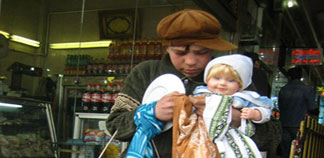 Happy mayhem
Photo essay: Trip to Iran during Noruz
Shadi Bahar
TRAVELERS
Eh eh eh
Outsight and inside out, Part 4: A travelogue on an outer and the inner landscape
Vida Kashizadeh
Interestingly the stronger characters in UK - lets say amongst politicians - know that they should not come out strongly or even sound too sure of what they are talking about if they are to survive in their profession. When these are interviewed on the radio they always start with a consecutive sound of eh eh eh... before each sentence, which means I have a strong opinion about this but I don't want to put it strongly or be seen as too strong or too sure, because I know it would mean I could end up needing your help desperately, which of course would please you, especially if there was nothing you could do about it but nevertheless made you feel needed. Now this eh sound before each sentence might work on the TV with the help of non verbal communication -- that is body language -- but on radio it is damn irritating; it sounds like they are sitting in the toilet while the interviewer is handing them the paper (toilet-paper or newspaper, depending on the question or the answer) impatiently without listening, while busy thinking how and at what moment of a chance given for an interruption to shove the next question in.
TRAVELERS
The martyr and his creator
Part 9: Returning to Iran: 1986-87
Sima Nahan
Payam-e Shahid (Message of the Martyr) is an everyday tribunal for the rhetoric and politics of the Islamic Republic. A clever propaganda device, it reiterates stock sentiments and injunctions in a new context each time. When it actually is the words of individual men, it also provides a first and last chance for a great number of faceless sons of poverty to claim existence and, however prefabricated and short-lived, a voice. It is a tribunal for Man-as-Martyr-of-the-Islamic-Republic... In the "Vocabulary of Martyrdom" we are given "love," "quest for purification," and "desire for perfection" to substitute for "pain, suffering, and poverty" which, according to the teacher who celebrated the martyrdom of his student, constitutes the vocabulary of the slums of Tehran. But the stock phrases that are endlessly repeated in a sampling of Payam-e Shahid seem to strengthen the suspicion that the vocabulary of man-as-martyr is infinitely more limited than the vocabulary of the slums of southern Tehran, rich with humanity as that is.
PHOTOGRAPHY


Sweet dreams
Photo essay: Life in the Alamut region
Jafar Nasiri Shahraki

TRAVELERS
Biaow
Outsight and inside out, Part 3: A travelogue on an outer and the inner landscape
Vida Kashizadeh
Those were important days within the two years of my life when aged 9 and 10. For one I believed I could speak to cats and so I could. There were about seven young and ugly cats around the house in the garden that would react to everything I said while meaning it (in Iran most cats don't belong to anyone; they hover around on the walls and gardens and get fed by various neighbours who happen to be in their territories). I can't remember holding the cats and as for touching, I remember only one or two scenes of having stroked a couple of them who had made it clear that they wanted me to touch them. They were not used to being stroked as house pets do and were usually in the back of the garden.
TRAVELERS


The old man and the sea
Photo essay: Bandar Lengeh
Fatemeh Farajmandi

TRAVELERS
On the run
Part 8: Returning to Iran: 1986-87
Sima Nahan
Boys over the age of fourteen are prohibited to leave the country. By the age of eighteen those who have not already volunteered for Basij or joined the Sepah-e Pasdaran are drafted into the army. The Basij -- dubbed yek bar masraf, the "disposables" -- is a volunteer militia corps ranging in age from the very young to the very old. It recruits among the poorest segments of urban and rural populations and provides minimal military training before dispatching volunteers to the fronts. Sepah-e Pasdaran (Revolutionary Guards Corps) is in command of the Basij. The Sepah, also a volunteer corps, is privileged with material comforts and a good deal of much feared authority.
TRAVELERS


Spring in Beijing
Photo essay
Kourosh Salehi

DIASPORA
The journey of a lifetime
Traveling to Iran, which is in a way, my pilgrimage
Pouya Alimagham
For the past 4 years, I've been yearning to make a trip to my homeland that I've only dreamed and read about and this spring I am making my dream a reality and visiting Iran. I'm sure for many it may seem silly to group a journey in the same playing field as such monumental occasions like childbirth, but if you give me a moment to explain, I will show you why it's such grand occurrence for me. I left Iran with my family as a baby. The only memory I have of Iran is of being in a room with the lights off while the town siren was sounding. It was a piercing noise that brought to bear the urgency of the occasion - Tehran and other civilian cities were being bomb during the notorious Iran-Iraq War. The room I was in included many people; I'm sure most were family, but I don't remember exactly who was there.
TRAVELERS
The forbidden flower
Outsight and inside out, Part 2: A travelogue on an outer and the inner landscape
Vida Kashizadeh
Whereas most people had to come to terms with the existence of a forbidden fruit, I as a child had to accept that there was a forbidden flower called khar-zahreh (oleander). Well what I mean is that there was probably no species of flowers growing in Abadan that I had not tasted except for oleander. I only remember a few occasions of being conscious of the fact that I was eating flowers while standing alone facing plants in the garden. But this was only when I was already 9 or perhaps 10 years old. I can say this, because this was my age during which we lived in a different house with a large garden full of flowers and also a vegetable garden in the back of the house before we moved subsequently to Tehran, where most our relatives lived and the climate was not as unbearable for my parents as it was in Abadan during the Summers.
TRAVELERS
Evin, Qezel Hesar, and milk for the baby
Part 7: Returning to Iran: 1986-87
Sima Nahan
One woman who had spent four years in Evin said that she had begun to get a feeling for the architecture of the place: the bands (communal units) each consisting of one room, one hallway, one communal washroom, and the guards' quarters; the infirmary; the yard; the solitary cells; and the approximate distance and relationship of these spaces to one another. Another woman who was released after only one year had a much vaguer notion of the design of the build ings. To assess her direction she studied the light coming through a barred window high up on the wall in the hallway. At one point, she discovered shadows of leaves playing on the wall or on the floor, by which she concluded that the building must have multi ple levels. But before she could map it out more clearly, and as other prisoners also discovered the little display of the outside world and spent time hovering over the play of light and shadow, one day they found the window draped with a piece of cloth.
TRAVELERS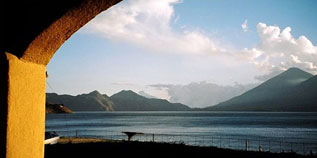 Soul of the earth
Photo essay: Peeking into Guatemala
Keyvan Tabari

TRAVELERS
Outsight and inside out
A travelogue on an outer and the inner landscape
Vida Kashizadeh
Landing in Crete was smooth with my long term flight protector the ragged clothed Goddess (Elaheh zhendeh poosh) manoeuvring, while standing on the plane. She gets into all kind of positions; a surfer on the air. This is my third time in Crete within the last 14 years... My first two journeys in the 90's were with my daughter who was a teenager at the time. The second time we went to south western area but we ended up in Loutro again, which was the place we had spent 4 weeks during 1991. We travelled eastwards because the wind further west was too strong, and Loutro was calling us back as my daughter had good memories of playing with Cretan friends she had made. But when we had arrived there all the local kids her age had already left for the city. They usually spent the holidays with their grand parents, who live and work in Loutro. But this time I am alone and will not end up somewhere I already know. Well, hopefully not.
Part 6: Returning to Iran: 1986-87
Sima Nahan
Photos by Fariba Amini
The vantage points from which Evin Prison compound has such a panoramic display used to be guarded and kept off-limits by the university guards before the revolution - a situation that provoked the students even more and drove them to despise and abuse the perfectly groomed soccer field and the shining sports equipment that used to fill the various halls of the building. But the Islamic Republic does not insist on keeping secrets. The Imam, addressing his Cabinet during the Week of Government in the summer of 1986, declares: "It does not matter if our economy is bankrupt. The important thing is that Islam is not bankrupt." It is in the same no-secrets spirit that the Republic exposes people to the graveyard of its executed victims and students to the sight of its prisons and even to the sounds of its firing squads.

TRAVELERS
Saturday on the strip
An evening in Miami Beach
Maziar Shirazi
The plane fills up and takes off at 3:30 pm. The back of this Miami-bound airplane has all kinds of people in it, but the only ones drawing real attention from the other passengers are the drinkers. Everyone knows about the magical things that the number 21 makes possible. Two rows ahead, formerly pink faces are beet red, first from the tanning salon, then from the airplane liquor. Boston Red Sox baseball caps have been set to backwards; abdominal muscles are strategically accentuated by tight polo shirts. Check, check, check. Badabing, badaboom. With these crucial tools in place, they let loose their 2006 spring break motto: "Gametime, baby, gametime!"
Part 5: Returning to Iran: 1986-87
Sima Nahan
Behesht-e Zahra (Paradise of Zahra) is the name of a huge cemetery outside of Tehran, on the highway to Qom. Conceived and partially constructed before the revolution, it is being rapidly filled, while not yet quite finished, as if testifying to the fulfillment of a grotesque prophecy. Entering the grounds very early on a summer morning, having left home at dawn in order to avoid the mad traffic of downtown Tehran and the scorching sun of midday in the desert, we are relieved by a gentle breeze drifting our way from a generous stream of fresh water running through the main boulevard.
Part 4: Returning to Iran: 1986-87
Sima Nahan
Iranian women -- those who "even here have demonstrated that they are equal to men" -- are not allowed a categorical denial of the veil. They have been forced to learn to swallow their modern rage against the "medieval rag" by perceiving it as the social/political phenomenon that it is, and trivializing the thing in itself. In fact, one could say that the most pervasive and systematic act of everyday rebellion against the Islamic Republic has been the untiring experimentation of Iranian women with maintaining feminine dignity and, indeed, beauty in the face of the humiliations of the hejab.

LIFE
Everyday journey
Watching, waiting and wondering in Tehran traffic
Najmeh Fakhraie
197 seconds; 197 fucking seconds. And that's if they got to the intersection during the next green light. Sitting behind the wheel of that archaic red Paykan, looking up at the misty, smoke driven sky, he was tiredly watching the counter beside the red light. 197, 196, 195 ... Sometimes the timers they'd placed beside the traffic lights would jump down to 0 seconds ... But he doubted it would happen this time. That last ride of the day was always the longest. Every bit of it was hard to swallow. Heading home, pulling up along the way to count the bills stashed away in the dashboard and in his jeans pocket. At the end of the day, it was even harder to be polite to the passengers as they heavily slammed the door or gave him another bill he had no change for.

NEW YEAR
Booyeh Bahar
Photo essay: Colourful Norooz in Tehran
Mahsa J
Going back to see the beautiful historic city of Shiraz was a dream come true, one which brought back many memories >>> Photos
Fariba Amini
When I returned this last time to Iran and had a chance to travel the country a bit after a decade, I wanted to go back to the city of my childhood and teenage years, where I always wished to ive there permanently. Yes, Shiraz was a dream to me. I remember going with my parents and four brothers, and our driver, Mammad Agha as we called him; my father used to say you must know your own land before you conquer another so in the spring time we would embark on this journey throughout Iran, in our old black Mercedes, from north to south, from east to west, stopping in every city and many villages. My father knew many people, almost one or more persons in one the major cities of Iran.

DUBAI
al-Iranian
Photo essay: Iranian community in Dubai
Parviz Forghani
Part 3: Returning to Iran: 1986-87
Sima Nahan
In September of 1979, Oriana Fallaci was granted an interview with Khomeini, excerpts from which were published in the New York Times Magazine. It is a rare and symbolic audience: the emerging leader of Islamic Patriarchy vs. Modern Man qua Emancipated Woman (donning an obligatory veil in professional accommodation). It is a revealing instance of the intellectual and emotional impasse that has come to overpower so many attempts towards establishing an "East/West" dialogue. Khomeini's definition of freedom emerges in response to Fallaci's assertion that "many in the country say that the revolution did not bring freedom." Khomeini: "You saw very well how after the death of Ayatollah Taleghani millions of persons went into the streets without the threat of violence. This shows that there is freedom. It also shows that the people only follow men of God. And this is freedom."
There is no doubt that Dubai is a friend of America, as the Shah was thirty years before, but the question is the forces that are beyond their control
Mahmoud Ghaffari
In 1976, the Shah of Iran out of good faith and support for United States, decreed the Pahlavi Foundation to probe into purchasing the controlling rights of Pan American World Airways. PanAm had been struggling for a few years as once-lucrative routes, mostly to Europe and South America, had not been generating the kind of cash they had projected. Coupled with some high level purchases from Boeing, namely 747 airliners, the airline had placed itself in a precarious cash poor position. Not surprisingly, Congress got involved and stopped the attempt by legislating the ownership of an airliner by a foreign entity as illegal. Does this sound familiar?
VIEW
Honey and Vinegar
Attitudes toward Iran's Assyrian Christians
Eden Naby
Even as the number of Assyrians in Iran diminishes toward the point of extinction, the attitudes about them appear to harden into chauvinistic prejudice. The recent remarks of a high cleric in Urumiyah NOT to buy Assyrian property because they are all leaving and then the property will be free, symbolizes the latent prejudice against non-Muslims. To see similar sentiments expressed by Muslim Iranian émigrés is nothing short of disgusting. The review of Dr. Rami Yelda's book, A Persian Odyssey: Iran Revisited (New York, A. Pankovitch Publishers, 2005) is particularly replete with assertions based on a clear inability to read a well-written and sophisticated book. Indicative of this tendency is the misspelling of the author's name, "Yalda" for Yelda, and then a play on the Persian borrowing of an Aramaic/Syriac word referring to "birth."
Photo essay: The city of roses, poets and nightingales
Dokhtar Shirazi
Photo essay: Breda Carnival, Netherlands
Sasan Seifikar
REVIEW
Cold & dark
Writing journey to Iran with chip on shoulder
Zohreh Khazai Ghahremani
In A Persian Odyssey, Dr. Yalda, an Assyrian-Iranian-American, pays a visit to Iran, his place of birth and where he grew up. Had the author been less partial, A Persian Odyssey could have been the ideal guide for those who know little of Iran. Since the Islamic revolution, not too many writers with Dr. Yalda's impressive background have attempted such a daring tour. He takes us from the shores of beautiful Caspian to the mountains and down to the arid desert while telling historical tales along the way and describing the ancient architecture in a most eloquent fashion. Unfortunately, he goes through his journey with a chip on his shoulder and a heart as cold and dark as his namesake, Yalda – the longest night.

TRAVELERS
That modernization stuff
Part 2: Returning to Iran: 1986-87
Sima Nahan
To narrow down my particular standpoint even further, I might trace my lineage through the "westernized" intelligentsia of Iran -- that, in turn, part of the "modernized" Iranians who were most severely outcast by the Islamic Republic. But I won't talk here about the political defeat of the Iranian intelligentsia. They have long since made the bitter admission, and the complex history of it is quietly being penned and stored underground until the time comes for its surfacing. The notion which by virtue of being simplistic is more readily taken up is the idea of the "cultural" defeat of the Iranian intellectual community -- a point on which both the Islamic Republic and a good deal of latter-day Orientalist scholarship insist.

TRAVELERS
London on a dish
Photo essay: A weekend trip
Farah Ravon
WOMEN
It's a bird ! It's a plane! It's Iranian women!
Iran is run by women in mnore ways than the world realizes
Jalil Mortazavi
Recently I had the chance to visit Iran for a couple of months. I spent much of my time with females from all walks of life, who work inside as well as outside of their homes. It has dawned on me that if these women decided to quit what they were doing, Iranian society would collapse. Here is what I found out about Iranian women: they come in all shapes and sizes. They drive, they fly, they walk and they run. Iranian women will email to say how much they care. The hearts of these women are what keeps Iran running, bringing joy and hope, compassion and ideals to their society. In the meantime, they also give moral support and love to their families and friends.
TRAVELERS
Tense days
Photo essay: Ahwaz, capital of Khuzestan
Daniel Zang
SAN FRANCISCO
Nice day for a walk
Photo essay
Jahanshah Javid
TRAVELERS
Crossing Kyrgyzistan
Seeing as much as possible in 24 hours >>> Photos
Keyvan Tabari
We had to cross the Kyrgyz Republic on a rutted segment of the Silk Road to get from China to Uzbekistan. Short of material comfort, Kyrgyz, with its stark beauty, is best suited for the more adventurous visitors. Along with majestic mountains and roaring river streams, it shows the scars of neglect that followed the failure of the Communist experiment in the medieval setting of a poor Central Asian country. Traditional nomadic tents dot the landscape outside of towns, while urban life here evokes images of centuries past...
TRAVELERS
An American in Kandovan
I joined the boys throwing rocks into the muddy stream, cringing at each mud-laden splash
Sara Nobari
They were like a stone rendition of Edward Munsch's The Scream, the caves lined up along the hillside with empty sockets for windows and a long gaping hole of a mouth opening to the close rooms inside. Ali, my husband's cousin, told me that it was tradition for a bridegroom to spend two years carving out a home in the rock for his bride to be; it seemed an impossible task, one designed by a father from a fairy tale, overcome only by the will of the suitor -- metaphor for surpassing all to achieve one's desire. Kandovan, known for its embankment of inhabited caves carved into the hillside, could have been idyllic; a river turned to stream under the protection of hills and trees, chickens scratched and donkeys ambled steep rocky paths; a bridge arched gracefully, connecting the village to a stand of rocks and small park. But...
TRAVELERS
The joke is on us
Part 1 of 17: Returning to Iran: 1986-87
Sima Nahan
The unspeakable reality of Iran still looms above any celebration of harmony. I spent the summers of 1986 and 1987, mostly in Tehran, taking notes almost reflexively, if only to be sustained through the horror of what I saw by some cathartic satisfaction of scratching the blank pages of my note pad with the thin tip of my pen. To search for identity and reasons in what is left behind by revolution, terror, and war became almost secondary to momentary escapes into note-taking. Taking notes is a familiar escape for me. Boarding the plane in New York I automatically resort to my little techniques of avoiding eye contact with the passengers next to me. I adopted this attitude after the hostage crisis, in avoidance of the dreaded question: Where are you from?

MAN
Hope
A road trip with student leader Amir Abbas (Siavash) Fakhravar
Sahari Dastmalchi
Next to me on the backseat a long haired young man is sitting, a few hours ago he was introduced to me as Siavash. Siavash is a very likable young man very sociable and down to earth, at the same time polite and gentlemanly like with remarkable green eyes. The color of the eyes is not what makes them remarkable, his eyes are unusually communicative. One look in this mans face and I couldn't help feel like I was naked, with one handshake this man knew all my deepest darkest secrets. To be quite honest it felt like he knew things the rest of us had missed. The face was some how familiar but I couldn't put my finger on it.
TRAVELERS
Tulips from the blood of martyrs
I'm an anthropologist and specialist on Iran, and lived there in 2002 with my two sons
Diane Tober
I took a long hike up to the top of Isfahan's mountain, Koo-ye Soffeh, to visit a monument of unmarked graves. At the top there were about twelve coffins arranged in a circle, like a clock without hands. In the middle of the circle stood a tall pole. Whipping in the wind at the top was the flag of Iran, with the name of Allah written in the center in the stylized form of a red tulip. Below it were several green flags that had been tattered by the wind and faded by the sun. The sun was setting behind the mountain and the last few rays left a faint shadow across one of the graves, resembling a sundial. "What does time mean to the dead, or to those who are left behind?" I wondered.
TRAVELERS
From Shanghai to Kashgar
China is Seventy-Thirty >>> Photo essay
Keyvan Tabari

TRAVELERS
Parseh
Photo essay: Tehran bazaar & mostly Masouleh
Nima Sheikhy
TRAVELERS
Educated relief
Photo essay: Schools in Parwan and Kapisa provinces of Afghanistan
Roozbeh Shirazi

TRAVELERS
Unforgettable
Photo essay: A journey through Iran
Kodi Khadivar
This is a short story about a few of my experiences during my first trip to Iran (November 21 – December 16, 2005). During my trip, I kept a journal of nearly 70 pages. This article captures only a small portion of the amazing culture and emotional roller-coaster I experienced.
NEW YORK
Life on ice
Photo essay: New York's Rockefeller Center
Jahanshah Javid
TRAVELERS
Emshab che shabist...
Photo essay: Paris at night
Mehrdad Aref
>>> History archive