Into the Caspian fog
Photo essay: Above clouds on Caspian Sea drive
Nader Honarkhah
August 24, 2006
iranian.com
This file contains photos taken on a road that goes from the town of Baladeh in the Central Alborz Mountains of northern Iran to the coastal town of Royan/Alamdeh on the Caspian Sea coast (on a straight line, the distance between Baladeh and the Caspian Sea is 42 Km). The town of Baladeh sits at an elevation of 2050 m at the bottom of the Noor River Valley which runs east-west and is a major tributary of the Haraz River.
Noor Valley starts in the west at the 3170 m Labashm Pass and heads east down to an elevation of 700 m where it joins the Haraz River Valley. The bulk of the high peaks of the Central Alborz sit to the south of Noor Valley. To the north of the valley, you will find a 100 Km long ridgeline that goes from the Haraz Valley to the east, to the Chalus Valley to the west. Most of the peaks of this ridgeline have elevations in the 3300-3500 m range, except on the far west where the elevations exceed 3600 m and culminate in the 4030 m Veravasht Peak.
From Baladeh, the road makes a long series of switchbacks going up slopes that are covered by yellow grass to reach the 2970 m Tash Pass which sits between the 3365 m Felook Peak to the east and the 3435 m Siah Sang Peak to the west. From Tash Pass, you can look south to see some of the 4000 m peaks of Central Alborz. To the north, you will find yourself standing above the clouds from the Caspian Sea. The road then turns and twists going down the slopes into the Galand Rood River Valley where you will encounter the Into the Caspian fog that start at elevations of 2000-2400m and continue all the way onto the coastal plain.
Click on photo to see 41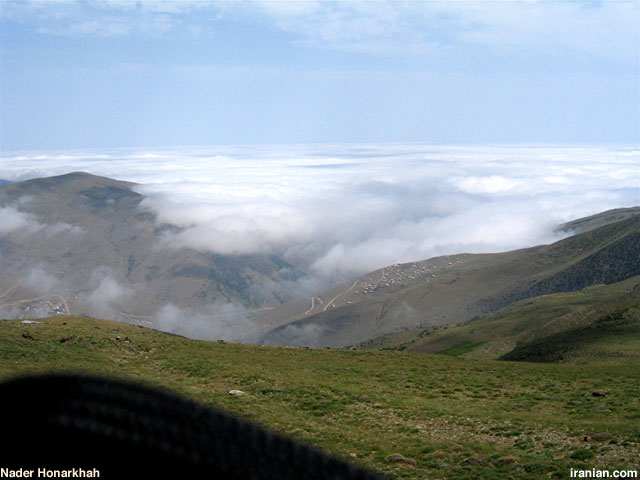 Click on photo to see 41