King of damboli dambol
Shahram Shabpareh
August 16, 2001
The Iranian
Most of the Tehran-Gelessi "singers" I can't stand, but I've always liked Shahram Shabpareh, even though he's been singing the same song for twenty years. (Come on you know it's true: It's the same musical arrangement, he just changes the lyrics once in a while). No matter. As far as damboli-dambol music goes, I would take Shahram Shabpareh over anybody else. I mean, you only have to look at him and feel better about yourself: He is just the kind of guy that instantly makes you want to smile no matter how bad of a day (or month or year) you've been having. And god knows we all need more people like him.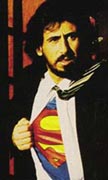 But more than the fact that he is a performer who gives 200% to his audience every time, I love Shahram simply because he is so real. I mean this is a guy who is completely comfortable with himself, and it shows. He knows who he is and what his purpose is: To entertain the mardom for a few moments, make them get up from their chairs, forget their troubles, and gher their little asses off. Shahram doesn't put on airs unlike some of his colleagues who act like they are the second coming of Caruso at the same time that they're lip-synching lyrics like "Man to ro kheili dooss dAram/BiyA barAt pizza bekharam." In fact, every morning there seems to be a batch of newcomers to the Tehran-Gelessi scene, each one more haughty about their "artistry" than the last. These people usually have a short expiration date. But Shahram has been around for more than two decades after leaving Iran and he already had a career before the revolution.
I love everything about Shahram Shabpareh, even his giant gold "SS" necklace. Mmmm... Come to think of it, Shahram started sporting that necklace in the 80s, same time these giant chains and pendants became popular around the neck of such notorious LA rappers as Flavor Flav. Coincidence? I'll let YOU decide the extent of Shahram's avant-garde influence.
And let's not forget Shahram's all-girl band, with their slicked back buns and tight black dresses. Mmmm... Can't help but notice again some similarities with certain female musicians featured in that staple of 80s MTV video, the Robert Palmer number "Simply Irresistible". Again, I'll let YOU be the judge of who holds the patent over that particular invention.
But all kidding aside, the great thing about Shahram is his universal appeal. Everybody likes him, from three-year-olds to people who have three-years left to become centenarians. I once saw Shahram perform at a private mehmooni where this frail tiny octogenarian dressed in white sneakers kept dancing in front of him the whole night. Now mind you, this lady seemed so fragile, had I seen her walking around the streets I would have thought the wind could have snapped her in two. But here she was, transported by Shahram's infectious energy and warm smile, hopping to and fro like a featured dancer on American Bandstand. But you find the same kind of enthusiasm for Shahram in all age groups. At the same mehmooni, there were kids and young singles, as well as middle-aged family types all basking in the glow that is Shahram.
Now as for my "personal" experience with Shahram, sad to say it exists mostly in my imagination. I remember my sister was adamant that she wanted Shahram Shabpareh to perform at her wedding. We all got so excited thinking of how to make it possible, from the grandparents, to the parents, to us "kids, to the neighbours! Continuing in this fantasy we tried to figure out ways to trick him into staying at the house instead of a hotel so we would have the benefit of his company for the entire wedding weekend. For some odd reason, we all found it impossibly funny to have Shahram show up in the morning in his bathrobe and sit around the breakfast table telling jokes to all the assembled people. Of course we had no source to believe why Shahram would be particularly khosh-akhlAgh first thing in the morning in front of a bunch of strangers. But that's just the kind of image he projects! That of a genuinely happy go lucky no BS guy next door. (If it's all an act he should get an Oscar. I sincerely hope that isn't the case. I would hate to think of the real Shahram, backstage after another smashing performance, taking off his mask like Tom Cruise in "Mission Impossible", to reveal a dour-faced man!)
Eventually I did meet Shahram in person when I was a teeny-bopper and my family happened to be staying at a hotel in Orange County. They were having some sort of prom in the hotel ballroom for what looked like all the hyphenated-Iranian teens in California! Well, my dad was walking in the lobby when he spotted Shahram, who was there to perform for the prom kids. Turns out, my dad and Shahram knew each other from the cabaret days in Tehran. They started chatting about the good old days etc. I am pretty sure Shahram was only being perfunctorily polite as how would he remember my dad after 20 years but that's just the kind of guy he is! Anyways, my dad ran upstairs and told me Shahram is here, do you want to meet him? I certainly wasn't going to let that occasion go by so we rushed back downstairs after an agonizing few seconds trying to fix my hair as best I could. I thought of all the things I would tell him, all the songs that cheered me up, all the videos that made me roll on the floor laughing, all the old movies that he brightened with his presence.
Well, once I got in front of him, all I could do was smile like an idiot and nod at whatever he was saying (Bah bah che dokhtare nAzee or some similar polite lie to my dad!). So now he will never know how I truly feel, oh well! (sigh)