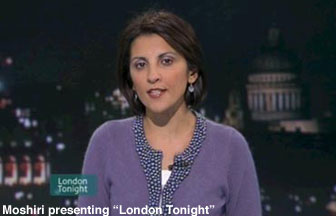 Mac friendly
Nazanine Moshiri, newscaster, ITN, London
Peyvand Khorsandi
September 13, 2006
iranian.com
"Has my friend checked your bag?" the old security guard says. "Yes," I reply. His colleague, a young Asian chap wearing shades, has indeed perfunctorily inspected one pocket of my laptop holder, not the one where the bomb is. A software quirk means the interview with ITN newscaster Nazanine Moshiri takes place on my mobile phone. (She has one too – identical. "They're great," she says.)
We are an atrium café where, if you look up several floors at Sir Norman Foster's glass roof at the news organisation's headquarters in London, converse vertigo might take hold. Moshiri is exceedingly cordial, and relaxed. My first question backfires, though: "So you're into financial journalism". "No that's my sister [Mariam]," she says. "Maybe you want to interview her." The air con seems to switch off. I apologise profusely. She is wearing white. Not very good at describing attire, but yes, light and white, smart, like my Mac, with its dinky camera, only it's refusing to work.
"Have I got ten minutes?" I ask.
"You've got 20," she says, generously, and gets on the phone. It's a light row with a friend over an appointment at eight' o'clock.
She leans across to examine my Mac; no airs and graces, she is ready to muck in. But it'll have to be on my phone. The sound quality is poorer. And the battery low (when she asks for a playback I'm embarrassed to say the power might go. But she understands). Watch:
Comment
-- Peyvand Khorsandi's blog, Soul Bean Café