An Iranian American woman writes an article for Iranian.com [
Today, I am a Palestinian
] renouncing freedom & liberty in protest to continued US support of Israeli atrocities against the Palestinian People.
Secular feminism is tossed out alongside a brand new pair of Chino's from the mall ...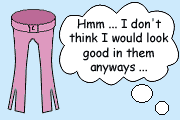 Defiantly, she quits her job in protest!
As promised ... citizenship papers, passports & tax forms are burned in protest during a weekend backyard barbecue.
Ey Baba ... She embraces the Chador (Veil) ...
Emails are fired off to the 3rd Force of Iran, demanding that they give up their struggle for freedom in protest to the oppression of the Palestinians!
New Logos are designed for the campaign to protest the Palestinian oppression.
Suddenly in a divine flash of inspiration, she understands how the Mullahs of Iran in their infinite wisdom, successfully brought such suffering to the Iranian people in solidarity with the Palestinians. All the sacrifices, poverty, misery, torture, executions, amputations, imprisonment, floggings, stonings, whippings, and the oppression of women in Iran finally make perfect sense ... All freedoms, prosperity and liberty must be renounced in order to help the Palestinians ...
Meanwhile ... 2 quirky Iranian American girls surfing the web, come across this gem of a renunciation of freedom & liberty ...
The evil voice of secular feminism responds from the great chromosomenol beyond ...
The Girls have a profound breakthrough ...
And so it is Bache ha ... that somewhere in chromosome land a new understanding is born ...