Khomeini's Fatwas From Beyond the Grave
Norouz Sombol Fatwa
Fatwa #: 987,558,471,894,658,729,666,999,123,456,789,374,211,534
The Sombol is a 'Najes' flower that radiates 'Haram' beauty.
The 'Haram' beauty can incite evil in the hearts and minds of men.
Therefore the Sombol must be covered with 'Hejab' at all times.
If the evil persists, then immediately seek relief from the goldfish ...
... as you would from a sheep.
[Note: See Fatwa #1 for sheep Intructions]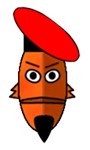 End Notes from Old Style Toodehi Goldfish: "This Fatwa is obviously a Monarchist, US/Zionist conspiracy."
Just Anonymous
More here

Are you a cartoonist? We want to publish your work.
Contact us at Times@iranian.com