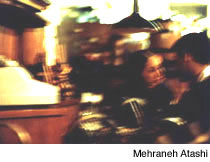 March 2005
March 31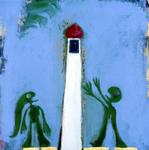 * Behroo Bagheri wins 2005 EP art award
March 2005 - Evolving Perceptions (EP) is proud to offer the only scholarship for Iranian-Americans studying fine arts in the United States. Since 2001, EP has awarded a $1000 scholarship annually.
In February 2005, the fourth annual Iranian-American Scholarship was awarded to Behroo Bagheri. She writes in her artist statement, "The emphasis in my work is to generate a social narrative, which deals with the repressed feelings and frustrations of those who have under gone compelling circumstances in the contemporary Middle East."
In 1998, Behroo finished law school in Iran, soon thereafter she decided to move to California. Behroo decided that the paintbrush would be a more effective tool in exposing the exploitation, corruption and injustice that she observed and experienced. She shares, "It was painful to observe my fatherland going down, and not being able to speak out." Turning to art, has been a double edge sword- it's a respite for her internalizations of the injustices and corruption she has witnessed, at the same time exploitation the emotions and experiences."
Behroo's works are on-line at absolutearts.com [and iranian.com].
EP is expanding the scholarship program and is seeking generous sponsors to donate to the fund. Naming opportunities are available if interested in honoring family member. If interested in donating a tax deductible gift to Evolving Perceptions, a 501(c)3 organization, please contact EP at [email protected] or at 202-607-0754.
Please visit EvolvingPerceptions.com to find out how to apply to the 2005 scholarship award
March 29
* Momeni Foundation scholarship
Dear friend:

Eid e Shomaa Mobaarak!

It is my great pleasure to announce that Momeni Foundation is now accepting scholarship applications for Year 2005. Last year over $7,000 were awarded to students of Iranian descent. In line with our mission, this year we are looking to increase that amount.

With your help we can reach more eligible students throughout the world. So, please take a moment and forward this note to anyone who you may think can reach our deserving students.

Momeni Foundation is dedicated to providing scholarships to graduating high school students and full time college students of Iranian descent anywhere in the world.

The deadline for receiving applications is June 30th of each year.

Thank you,
Moji Momeni
President
Momeni Foundation
www.momenifoundation.org

* Mansour Farhang in Berkeley
On the Occasion of the 12 Farvardin: "The Week of Campaign of Yes to Republic, No to Islamic Republic", Iranians for a Democratic and Secular Republic in Iran (Northern California) present: "The Nuclear Program of the Islamic Republic and the Relations between Iran and USA" a talk by Dr. Mansour Farhang, Professor of International Relations, Bennington College.

MANSOUR FARHANG has a PH. D. in political science from Claremont Graduate School. Following the 1979 revolution in Iran, he served as an advisor to the Iranian foreign ministry and as Iranian ambassador to the United Nations. He resigned his ambassadorship in protest when his efforts to negotiate the release of the American hostages in Tehran failed. In the early months of the Iran-Iraq war, he worked with international mediators to settle the war. During this period, he wrote and spoke about the threat of religious extremists who had come to dominate the course of the Iranian revolution. In June 1981, following the violent suppression of political dissidents, he was forced to leave Iran.

He returned to the United Sates in September 1981 and became a research fellow and lecturer at Princeton University. Since 1983, he has been teaching international relations and Middle Eastern politics at Bennington College in Vermont. He is the co-author of "U.S. Press and Iran: Foreign Policy and the Journalism of Deference" (Univ. of California, 1987) and the author of "U.S. Imperialism: From the Spanish-American War to the Iranian Revolution" (South End Press, 1981).
Currently, he serves on the advisory board of Human Rights Watch/Middle East and is a designated speaker for the Vermont council on the Humanities.
Lecture in English
Date: Saturday April 2, 2005
Time: 6:00 P.M.
Place: 2050 Valley Life Science Building
University of California, Berkeley (Directions/Map)
Suggested Donation: $5.00
For more information: [email protected]
March 20
* Persian Google: Nowruz
Google's Persian page carried this logo on Nowruz:
March 18
* Beautiful
Norooz card by Sadaf Kiani:
March 17
* Noroozi Google
Moe writes: Should these be sent for Google to notice Norooz? I don't think the Irish out number those who celebrate Norooz not just in Iran but many other nations who celebrate the first day of spring.
March 14
* Lobby Google for Norooz logo
Hazhir Rahmandad writes:
Dear Fellow Iranians,
Please consider copying and sending the following text to Google here:
Google, as a premier media with customers of different cultures, can play a valuable role in promoting cultural awareness and tolerance across the globe.

One suggestion is to put a small logo with a link to some more information at the occasion of different new years from different traditions (as is currently done with Christmas and new year at Gregorian calendar, when Santa joins Google logo).

For example Chinese new year, a few weeks ago, and Persian new year, less than a week ahead, are valuable opportunities to let the global message of Google be heard and appreciated everywhere: that Google cares about its audience and its customers regardless of their country of origin, their ethnic background, and their religious beliefs.

The number of these occasions is few, but the impact of such recognition on global image of Google is tremendous. The value of this initiative is further highlighted in the light of all tensions between the U.S. and the global community following the Iraq war.
* Keeping Bazoft's memory alive
From: Sultan Mehrabi
To: Whom it may Concern,
Sub: Farzad Bazoft
Dear Sir/Madame,
Today while checking the news, as I do so daily in the mornings, I came across
this page on the British Broadcasting Corporation. This page displays events that occured on March 10th in past years. The event on March 10th 1990 that is covered is the execution of Farzad Barzoft by the regime of Saddam Hussein. Barzoft was an Iranian-born British journalist accused of spying for Israel.
I remember this event from when I was 13, in 1990. My father was following the news of his arrest and execution very closely. The sentiment was that he was executed for being Iranian and that the British government had really not gone far enough to fight for his case.
The truth I don't know, but it is a certainty that Barzoft was doing his job and he was an innocent victim left to die for doing a good job. His death should be part of the crimes listed against Saddam in the upcoming trial.
I would really appreciate it if Iranian.com covered his story and brought Farzad Bazoft to the attention of the many thousands of Iranians who read the site. I think it is very important for us to keep his memory alive.
March 12

* Bush appoints Goli Ameri to UN Human Rights Commission
Office of Goli Ameri, the Iranian-American who ran for Oregon's district one congressional seat last November, announces that she is being appointed as one of 3 U.S. delegates to the U.N. Huamn Rights Commission mtg in Geneva to start next week.
She will be working under the U.S. ambassador to that commission former Senator Rudy Boschwitz who has been nominated by the White House for the position of Ambassador to the U.N. Commission on Human Rights (UNCHR). Senator Boschwitz served in the U.S. Senate from 1978-1991.
Goli Ameri ran on a republican ticket in an unsuccessful bid to us-congress with the financial support from Iranian communities in the U.S. .
Whether this is just an appointment of an ally that supported President Bush in his re-election, or was made on a political agenda to pressure Iran remain to be seen. Ameri in his campaign however portrayed herself as someone who had scaped the authoritarian regime and has found refuge in the U.S., (although she has moved to U.S. in early 70s and has been back to Iran several times since including one in late 90s). A solid supporter of Bush's war strategy in Iraq and democracy building in the Middle East, she appears to support a hawkish approach to Iran(at least during the election campaigns).
-- Goudarz Eghtedari
Portland, OR.
* Bay Area Iranians against military intervention
Dear friends,
March 19th 2005, marks the 2nd anniversary of the military occupation of Iraq by the United States. In finding a united voice against this bloody occupation and the aggressive course of actions voiced by the Bush administration against Iran and the Middle East, ANSWER Coalition has organized a day of protest on Saturday, March 19th.
As Iranians living in the US in these troubled times, this march presents us with an opportunity to come together as a community to form an Iranian contingent with a united voice against war and military occupation.
Join the Iranian contingent by locating the following banners at Dolores Park (18th and Dolores, San Francisco)
Iranians Against Military Intervention And Occupation
U.S. out of the Middle East!
No to U.S. Aggression Against!
Iran's National Sovereignty!
No To Theocracy In Iran!

Date: March 19th 2005
Place: Dolores Park, San Francisco
Time: 11 am
March 9
* For Googoosh's Jordanian fan (and others)
I read the touching story of the Jordanian gentelman ["Ocean of emotion"] and thought I could send him the Arabic song of Googoosh ZOROONI but on second thought I decided to send it for you and let all your readers enjoy it the song was never released on record. so this tape is RARE and it belongs to a live performance and was among the things that one of my relatives recovered from radio iran a few months after the revolution.

* Judge Mansour Mansouri Ravandi
With my deepest regret and a broken heart I should announce my father, Mansour Mansouri Ravandi, made a journey to eternity last night [March 5th]. His loss is most devastating and difficult for my family and me since he was our beloved father, teacher and best friend. He was a fine judge who always fought for justice and fairness for everyone with all his heart and sole in spite of all difficulties. His love for humanity and justice will always be a guide in our lives.
With his love, wisdom, support and sense of humor he has thought me so many lessons in life that I will always be devoted to him and his memories. His continued support, encouragement and believe in me has always given me much strength and courage in life to overcome many obstacles and difficulties. Without him, I would have never been where I am in my life. I owe him so much...
Rest in peace my dearest, my father. You will always be alive in my heart and memory.
Farnaz Mansouri Ravandi
March 6, 2005
March 3
* Iranian Diaspora Conference
Iranian Alliances Across Borders
7764 Brandeis Way
Springfield, VA 22153
IAAB Opens Registration for Second Annual International Conference on the Iranian Diaspora
WASHINGTON, D.C., February 28, 2005 -- Iranian Alliances Across Borders (IAAB) announced last week the schedule and opening of online registration for its 2005 Conference on the Iranian Diaspora, to be held April 23-24, 2005 at the University of Maryland, College Park.
The conference, which will be hosted by the Iranian Students' Foundation of the University of Maryland and sponsored by the University's Center for Persian Studies, will bring together scholars, journalists, politicians, artists, young professionals, activists, lawyers, NGO leaders, and students from across the United States, Canada, the United Kingdom, and Iran to address issues relating to the international Iranian diaspora community.
Building on the stimulating discussions and pivotal issues raised during the 2004 International Conference on the Iranian Diaspora, the 2005 Conference presentations will address questions such as: How do we express, and thus reconcile, our immigrant experiences in our new societies? What issues do we face as hyphenated Iranians in a post-September 11th world, and what are we doing about the infringements placed upon our civil liberties? In what ways are members of the second-generation acting as a bridge between Iran and the Western societies in which they now live? What issues does the second-generation face in terms of sexuality, gender relations, dating/marriage, and ethno-religious identity? How important is (and should be) the knowledge of the Persian language for the second-generation? How do we fit and place ourselves on America's political map?
Additionally, the conference will be enriched by an on-going art exhibit displaying works by members of the diaspora, and performances by members of the Iranian-American community. On Saturday night, highly-acclaimed comedian Maz Jobrani will perform at Dream Nightclub in Washington, D.C., followed by a band and D.J. performance. This event is open to all conference participants as well as to the Washington, D.C. community at large. Tickets for this event will be sold separately.
To find more information, registration forms, and a complete schedule of speakers and events, please visit IAAB's website, IranianAlliances.org, at or contact us at [email protected] . All are encouraged to attend, but please note that registration is limited, and on a first-come, first-served basis.
-- Amy Malek
* Anthology: Contemporary women poets
The rich poetic heritage of Persians has throughout history enabled them to be notable in the literary world. However, the voice has often been of the male Iranian poets. With The Poetry of Iranian Women: A Contemporary Anthology, I intend to present the works by some of the most invisible yet most interesting groups in the world poetry circle. To learn more about the project please visit PoetryOfIranianWomen.com .The money earned from the first publication of the book will go to the Breast Cancer Foundation. The deadline is March 25th 2005. For your submissions and/or further information please contact me at [email protected]
Sincerely,
-- Sheema Kalbasi,
Director
* The Whale and the Watermelon
My book has finally been published under the name The Whale and the Watermelon. I have also put together a slide show of the book. The slide show was narrated by my daughter Yara, when she was 6-years old.
Previous shorts
Archives
* *