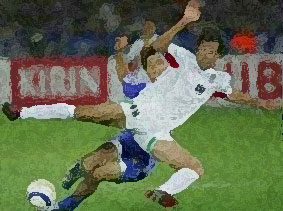 Goooooooooooal or no goal
What makes football incredibly exciting, for me
Saman Ahmadi
June 27, 2006
iranian.com
I grew up playing football, or soccer, as it is referred to in the U.S. We played it mostly with a plastic red and white ball that was smaller than a regular football -- I don't really know why. It may have had to do with the fact that a real leather ball was expensive or thought to be dangerous if kicked aound in narrow streets and inbetween cars.
At Mehran, my elementary school in Tehran, we were not even allowed to use the plastic ball and had to settle for playing with a tennis ball. Our school did not have a field -- we had a large paved courtyard that was used for all outdoor activities.
My favorite team was Persepolis, its arch-rival was Taj. Every boy in school was either on one side or the other. After the 1978-79 revolution, Persepolis, the name given by the Greeks to the capital of the Persian Empire in Pasargade, was changed to Pirouzi, meaning Victory. Taj, which literally means Crown, was changed to Esteghlal, or Independence. Some years later Pirouzi reverted to Persepolis.
At that time, in the mid 1970's, the Iranian football league was a semi-professional one. All the players had regular jobs and also played football. In Iranian culture there is an understood rule that one must not pursue his passion in full if it involves something other than what is considered a "real" job -- "first you must become a doctor and then you can play the violin". Paradoxically, those who are quite accomplished in the arts or in sports are revered as heroes.
I actually don't remember watching any of the club games in Iran but I must have kept up somehow. My favorite player was number 7 on Persepolis, Hossein Kalani -- he was an architect in real life, I think. I had the kid's version of his red jersey, white shorts and socks, which I remember wearing around the house -- I don't know what happened to it.
In 1978 Iran was the lone representative of Asia in the World Cup held in Argentina. The team of Nasser Hejazi in goal, Ali Parvin in midfiled, the speedy Hasan Roshan as striker, and the teenager Behtash Fariba headed to South America. Back then there were only 16 teams in the final stage of the tournament. Iran lost to the Netherlands, surprisingly tied Scotland and had to beat Peru by 3 goals to advance -- Iran lost 4-1 in the face of the powerful shots of Cubillas who had three goals all by himself. I remember watching those games on our new color television, the technology having arrived in Iran on a limited scale a couple of years prior.
For the world, the World Cup is "the" event -- nothing comes close. People get up in the middle of the night to watch the games live. In the 1970's watching something live from abroad was a big deal. Some years earlier, we had gone to the Caspian Sea for summer vacation. I remember my father getting up after midnight to watch World Cup games in Munich.
That's why I thought it was weird that during the last World Cup in 2002, the U.S. networks would show the games tape-delayed because of the time difference. I think they got that from NBC's decision to show the Olympics in Australia taped-delayed -- real dumb in my view.
Watching the games as they happen is part of the experience -- in some ways sharing in a joyous event with the rest of the world. Some of my friends and I watched everything on the Spanish channel live -- even though I don't understand a lot Spanish, I got the feel of the game with their announcers where the ones on ABC or ESPN have no idea about how to call a football game.
It took Iran twenty years to make it back to the World Cup in 1998. They clinched their spot by dramatic tie against Australia in Sydney. They lost to Germany and Yugoslavia and beat the U.S. - Iran's greatest achievement in football to date. For 2002, Iran had to play home and away playoff games against Ireland and were not able to qualify.
In 2006, Iran made it to the World Cup and was eliminated in the first round -- losses to Mexico and Portugal and a tie with Angola put them in last place in their group.
Football is the beautiful game. Brazil at its best is a thing to watch -- some say that the ball moves like a stone skidding across the water. That is the level to which every team aspires. Having watched only a few games this year, I like what the Ghanaians are doing -- their game against the Czech Republic was almost perfect.
I think one thing that people unfamiliar with football do not understand is how the game could have been interesting if the final score was 1-0, or worse yet 0-0. What they miss is the fact that a near goal is the second most exciting event in all of sports -- furious agony for some, desperate relief for others.
What makes football incredibly exciting, for me, is the near constant feeling of almost certainty that the opposing team is going to score at any moment, spliced with the improbability of my team ever scoring - when the latter does happen, it's euphoria.
I have picked Argentina to beat the Netherlands in the championship game this year -- the two met in the 1978 and Argentina won the World Cup.
I hope Iran fairs better in South Africa in 2010 when, hopefully, I will be there to cheer - but "beh peer, beh phayghambar", PASS THE BALL!
Saman Ahmadi is currently getting dressed to go play football on a Sunday afternoon in Houston.