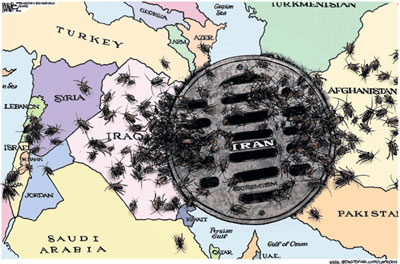 What do you do with a cockroach? You kill it, most likely. How
guilty do you feel if someone dropped one of those exterminator bombs
in a hole infested with roaches? Not really guilty, you may even thank
them or at least feel relieved. Well, Iranians are now cockroaches and
Iran is a roach infested sewer.
This cartoon appeared in both Investor's Business Daily and The Columbus Dispatch.
What really gets my goat is not the racist, stupid nature of the
cartoonist, Michael Ramirez. No, not at all, I expect that such
individuals exist. The real tragedy here is born of us, Iranians.
When
we don't speak up, we ought not to be shocked that we are compared to
roaches. And many Iranians don't. They trust the good nature of Western
media. They see only extremism coming from Middle East, while they turn
a blind eye to the most blatant displays of Western extremism.
This
brings to mind the whole debate about the movie "300."A good number of
Iranians saw "300" as just a fun flick, while in some parts of US
people watched it to "brush up on their history."
I only hope
that one of these days that naiveté is finally gone.
If Sheller and Ramirez feel so comfortable that they can flaunt their
racism, it is because we allow them that freedom. Today we are compared
to cockroaches; tomorrow we WILL be treated like cockroaches.
Meanwhile, Dick and George are busy preparing the roach bomb for the
infestation.