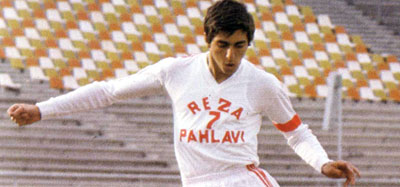 …The mind is like a parachute – it works only when it is open…
Don't ask me why I decided to interview Reza Pahlavi and talk about Iranian football, but I am glad that I did. I always had a fascination to get deep inside of that nostalgic road and question Prince Reza Pahlavi about Iranian football and his recollections of pre-revolutionary Iran.
Truthfully, I also wanted to know what it was like to be the prince of Persia and have unlimited access to A to Z of Iranian football.
So, I finally decided to email his secretariat and send a request. But that was the easy part. The difficult part was my inner instinct preventing me from going through with this. You see, I never told you this but I am against Monarchy all together!
However, my inquisitiveness and curiosity got the best of me and went through it.
I found Mr. Reza Pahlavi to be a passionate, educated and very well informed individual.
And to be very frank with you, even though I may "never" change my mind about monarchy, but as a fellow Iranian and a nationalist, I was genuinely honored to be speaking with such personality!
At least we found one common ground on all this and that is unconditional love for our country.
So, without any further delay I present you with this exclusive interview with the Prince of Persia! (Note: Originally this interview was conducted for another site; however, due to its "sensitive nature" no one wanted to touch it! Finally the interview found a home in iranian.com!)
Arvand,
Ba Salam. Mr. Pahlavi, please talk about your early school days, football, Heshmat Mohajerani, your favorite club (local or foreign), and whatever that comes to mind related to your passion to Iran, Iranian football, and the fans.
Reza Pahlavi,
I have to say that football (or soccer, as it is called here) was definitely my favorite team sports. I played the game, along with my classmates, during most of our school years. I would not be exaggerating if I said that we played over 250 days a year! I have many good memories of playing; not only with my classmates, but also joining an impromptu game with people I would meet during my travels around the country. For instance, playing with locals on Kish Island, our in an Air Force base in Ahvaz, or some village kids in Kalardasht.
The best memories are from the practice sessions we used to have in Sa'ad Abbad with members of the Iranian National Team! This was at the time Heshmat Mohajerani was also coaching my school team. He would bring along players from the national team to play with us. What a treat! How many Iranian teenaged boys would dream of playing with a Hassan Rowshan, Ali Parvin or Nasser Hejazi! I knew how blessed I was to have the opportunity not only to meet our football stars in person, but to actually play with them!
I would often go to various stadiums and watch football games; be it a classic league rivalry game like Taj – Persepolis, or a national team game in friendly or international matches. I would also be present during final matches, be it the youth tournaments, or international events such as the 1974 Asian Olympic Games when Iran faced Israel in the final game.
Arvand,
Your best memory related to the national team. Please explain!
Reza Pahlavi,
This would have to be the game in Aryamehr Stadium in 1977, when Iran faced Kuwait in the preliminary games for World Cup '78 in Argentina. Wow! 125.000 people in a 100,000-seat stadium!!! The atmosphere was explosive. "Mamad Boughi" outdid himself that day. I could still hear the exhilarating voice of Habibollah Rowshanzadeh shouting: " Iran yek – Koweit Sefr, Iran yek – Koweit sefr…" when Ghafour Jahani scored. We were one step closer for qualifying for the World Cup for the first time ever.
Later on, when we won against Australia and secured our trip to Buenos Aires, I was elated. I remember an emotional meeting with our squad in Niavaran when I greeted our players and send them off along with our best wishes for success. I also remember that we had to watch the World Cup games, late at night, right in the middle of our final exams, the summer of my high school graduation!
Arvand,
Did you watch the games of 1998 World Cup in France and 2006 World Cup in Germany, and if you did, could you please intricate and compare the two World Cups and Iran's performance in them? I like to have your detailed emotions and reactions to both events please!
Reza Pahlavi,
Yes, I did. Clearly, we had two different teams in 98 and 06; not in the sense of having many different players, but more in the sense of team chemistry. The 98 team was young, and new stars in the team (some with gained experience from playing in foreign league teams) such as Ali Daei and others where mentally prepared to face their adversaries. Playing in a German league team helps one not to be intimidated when facing the overpowering German National Team, for instance. Anyhow, I sensed much more chemistry in that team. Despite the fact that the team "handlers" had forced our players to stay up late for "prayers" on the eve of the first match against Yugoslavia (if memory servers me right), our boys did pretty well. One successful free kick and the misread of our back-up goalkeeper might have been the difference in qualifying for the next round.
As to the game vs. the U.S. National team, I thought our team maintained its composure throughout the game. I was definitely one of the best games ever played by any Iranian National Soccer Team.
2006, however, was very different. Some of our star players were 8 years older. The chemistry was almost non-existent. They had been rumors of internal dissensions. Not to mention the fact that the overall state of affairs back home had no doubt a lot to do with the moral and spirit of our players. As I watched the first half of our first game against Mexico, I thought we held up their offense pretty successfully, almost to the extent of frustrating them. However, the second half was a disaster. It is as if another team had showed up, or I should say didn't show up. You could have instructed the players to "throw" the game, and they could not have done any better! I knew right then that there would be no chance for success….
Arvand,
What is your overall opinion on how our national team is being handled right now?
If you were in charge, what would you do to improve the conditions (if any)?
Reza Pahlavi,
It would be impossible to address this question without bringing the country's political situation into it. I spare you what many Iranians already know. Let me just say that the question is not isolated to the national team, and the staff handling it.
You cannot have many flourishing artist in a country where uninhibited artistic expression is muzzled and severely repressed. The same goes for sports. If the proper infrastructure is not put in place – such as athletic facilities in school and public areas – if economic restrictions makes it very difficult for people to afford the kind of nutrition that any athlete would require to be physically in shape, you cannot expect to have a high quality performance or results. Many countries spend millions of dollars supporting or sponsoring their athletic programs. The clerical regime prefers to spend it on other things… You could have a Franz Beckenbauer managing the Iranian National Team: with limited resource, even he could not work any wonders…
Arvand,
In your opinion, what is the most single important factor in improving the overall state of affairs in Iranian sports in general?
Reza Pahlavi,
Money! Obviously, you should have a combination of:
1) A well organized Ministry of Sports (allocating the necessary budget to various programs and watch for a fair distribution of such funds across the country.
2) Various Federations overseeing their respective sports
3) Private clubs, again in various sports that bring in additional assets via private resources and;
4) Various non-profit or charitable organizations that can subsidize various sport related programs as well as infrastructure, particularly in rural areas and financially restrained communities.
I have left many other things out, but in my view, these are the obvious priorities. I would like to add, however, that no sport program could be successful without the educational and health institutions collaborating. The youth constitute the bulk of one country's sportsmen or athletes. Our young compatriots would thus have opportunities and a better choice to live healthy and constructive lives. They should dream of success; many of them even of Olympic medals, not wonder about how to get their next fix of heroin in some dark alley…
Arvand,
Please name few of your favorite players who performed for our national team before and after the revolution. I like to know why you have chosen these players to be your favorite.
Reza Pahlavi,
Admittedly, I know more about the players during my youth in Iran than many of our current players. In terms of personal skills, energy level and overall attitude and composure, I remember some of the names that shined the most back in the late sixties and seventies, at least for me: Parvin, Rowshan, Nazari, Hedjazi, Ghelichkhani, Ghassempour, Rashidi, Danaifard, and many more are in my thoughts.
As for the more recent teams, I liked players like Daei, Mahdavikia, Karimi and Hashemian, amongst others.
Arvand,
What is your biggest disappointment associated to Iranian football?
Reza Pahlavi,
Under the circumstances, it would be unfair to place the blame on our athletes. I know they are trying to do their best they can despite all adversities.
Arvand,
Many believe that Iranian national team of 1998 reunited Iranians all over the world and brought them closer to one another. Do you acknowledge this declaration, and if you do, please talk about the encouraging impact of it.
Reza Pahlavi,
I do. It is amazing how sport is the greatest unifier of people, regardless of where they are on our planet. In the case of our soccer team in World Cup 1998, we had two common as well as two different reactions between Iranians abroad and at home: Iranians abroad celebrated the team, showing solidarity with the people, and not the political establishment. It was so obvious the way TV cameras carefully avoided showing Iranian fans in the stadium on the International live feed, in order not to upset the clerical regime!
As for the people inside Iran, what an opportunity to celebrate while at the same time sending a message to the same establishment: the most graphic image was that of Iranian girls and women taking of their chadors and veil while dancing on top of cars and in the streets, in complete defiance as well as in joy – I am sorry to say one of the few things they get to "genuinely" celebrate these days…
Arvand,
Could our country gain International respect through sports? If your answer is yes, please explain how we can achieve it?
Reza Pahlavi,
Absolutely. We have done it before. At the very least, Iranian athletes were celebrated in various Olympiads in the past, and even in present day. The rest of the answer would be what I explained in my answer to Q 5. World observers could only be more impressed if, as a country, we were able to address our health, education and sport issues beyond just farming athletes.
Arvand,
If there were a possibility of meeting Ali Daei face to face some day, what would you tell him?
Reza Pahlavi,
The same thing I would tell any prominent Iranian athlete: Remember that you do not only represent yourself, but your country. You are by definition a role model. Let the youth be inspired by your example. You should hold yourself at a much higher standard at anytime, on or off the field.
You could be a Joe Montana or a Michael Vick; the choice is yours…
Arvand,
Please talk about Iranian football, women, and all the restrictions surrounding the two in our beloved land! I like to know about the pros and cons of it.
Reza Pahlavi,
I think I already have shared many thoughts on this subject. But on this specific issue, especially about women, how could there be any pros? I hope to see the day, I hope in a much nearer future, where the Iranian Women National Soccer Team would be representing our country in world sports events. This goes for all other sports. Let's face it, and at the risk of politicizing my answer once more, only a secular future could give our country the guaranties of equality and liberty for or women, whether in sports, arts, politics, and society as a whole. So long as they are treated as second-class citizens and have to endure an archaic theocracy, there will be neither hope nor choice; only forced "Hejab" and stoning…
Arvand,
I have a hypothetical query for you. You have indicated several times in the past that you are always ready to serve your country. Suppose, the conditions were right for you to go back to Iran tomorrow, and you had a job offer to lead Iranian football, would you accept to become the head of Iranian Football Federation or not? Please tell me why or why not?
Reza Pahlavi,
As you have indicated, I have always told my fellow compatriots that I stand ready to serve them in whatever capacity that they see fit. Having said that, the question in front of me today is not a hypothetical, but a real one: how to liberate Iran from the yoke of this archaic clerical dictatorship?
God willing, when we shall succeed, I will have to evaluate the exact situation at that time. Only then will I be able to ascertain in what way I could be most productive. If it happens to be what you have addressed in your question, so be it!
Arvand,
What is your non-political message to Iranian football fans?

Reza Pahlavi,
Your celebration of and support for our athletes is their only bastion of moral support and faith in themselves. Solidarity goes a very, very long way!
Arvand,
Mr. Pahlavi, I thank you so much for accepting my request for his interview and I also wish the best for Iran and Iranians all over the world. I was honored sir!