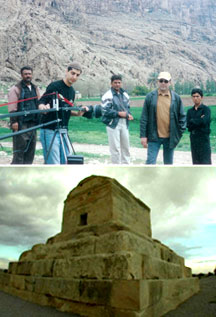 Iran is suffering one of the darkest cultural periods in its history. The old fruitful tree which once survived the coldest seasons is slowly withering away, her roots invaded by internal and external diseases. Our national identity is invaded by cultural agents of Arabs making us alien to ourselves as a nation.
But there are always Iranians who endure the difficulties to remind us of who we are, and connect us to our roots and make us proud of ourselves, as a nation which has  influenced world culture throughout history. Those are the organizations, institutes, academics, historians, linguists, writers, artists, sponsors and those unknown who help in this cause. In my opinion, "Iran the Forgotten Glory" is a very well crafted and innovative documentary film which serves this purpose.
Film director, Makan Karandish, begins a challenge on behalf of all Iranians, producing a four episode documentary film titled "Iran the Forgotten Glory" which narrates the history of Iran before and after the Arab invasion in a very original and artistic way deserving high regards.
This documentary has been selected this year among hundreds of films sent to the Bogota Film Festival October 1-9, 2008 and will premiere in Farsi, English and Spanish versions. Information about this project can be found at farsmovie.com.
I had a unique opportunity to see the project closely and interview Makan Karandish:  
Mr. Karandish Please tell us a little about your self?
I am from shiraz. Before I emigrated to the United States, I lived in Shiraz until the age of fifteen. Once I finished high school I started studying Astrophysics but after a year or so I became interested in philosophy and changed my major, later I became curious in Psychology, and finally the art world attracted me and I began studying film in Cal State Long Beach. In 2001 I took a short trip to Iran and directed and produced a semi documentary semi narrative film called "Don't Dance with Fire" which depicts the life of a traditional baker who's work is replaced by the bread making machine. The movie was premiered in the Miami Film Festival in 2002 and won the Jury Prize Award. After that I directed a few short films called "Black and White", "Color", "Edge of Perception" and "Entropy" until I began to undertake this great cultural project "Iran, The Forgotten Glory"
How did you decide to make this film?
I was always interested in history. After I graduated from the University I took a trip to Iran. Revisiting the ruins of Persepolis reminded me of the once glorious ancient Persian Empire and made me feel proud of my history and think how is it possible that a land which was once the center of civilization, today is looked upon by many westerners and even our own young generation as a backward and primitive nation…this created a chain reaction of thoughts in me which eventually led to the decision to undertake this project, but 5 years ago I didn't realize what a long road lay ahead…
Tell us about the making of the film and why it took so long?
The making of this film had several dimensions for me, firstly I had to become familiar with the history of the Fars province which required an enormous amount of research and consultation with historians which was a huge task in itself. Secondaly, finding the budget, planning and cinematography and other pre-production details was tedious and time consuming. Moreover, since my goal was to produce a film with the highest resolution, I brought many film equipments directly from the United States. Thirdly, I wanted to make a film that would be able to communicate with the western audience as well, and I took this point into account while collecting the information and choosing the style of the film. For the cinematography of the film I had to travel to Iran three times and since we had to rely mostly on our own means to make this film happen, and with the large volume of history we wanted to cover, and formatting the film for different languages and other factors, it inevitably took more than 5 years.
In what phase is the film currently and includes what parts?
This film includes 4 episodes which are around 1 hour each. The first episode deals with the emergence of civilization in the Iranian plateau and the rise and fall of the Achanemind Empire. The second episode depicts the rise and fall of  the Sassanid Empire and the third and foruth episode belong to the post-islamic era of iran in the Province of Fars. Currenly the first part of the film has been completed and has been selected by the Bogota film festival among 700 films received this year, which will premier in Oct. 1-9, 2008 coinciding with the Mehregan Festival.

With whom have you consulted in relation to this film?
In addition to the extensive research in crediable historical sources that we undertook in relation to the film, specially the works of the late Dr. Ali Sami, I consulted with several historical academics in Iran and US such as Dr. Mostafa Nadim from the University of Shiraz and Dr. Touraj Daryaee from UC Irvine, and others whose opinions and views have been depicted in the film.
You mentioned that you took some equipment from United States, what kind of equipment did you take?
Because I wanted to make a film that would be acceptable by world standards, I took equipments like professinal grade Crane and Dolly and a camera with the capability of shooting in 24p which was difficult to find in Iran.
In which locations did you film?
In making of this film we shot over 60 locations which included Pasargadae, Persepolis, Naqsh-i-Rostam (Valley of the Kings) and ruins in Firoozabad such as Ghale Dokhtar, Palace of Ardeshir Babakan, Ruins of Bishapur such as Temple of Anahita, Palace of Shapur, Cave of Shapur, Reliefs of Tang-e-chugan and ruins in Darab such as Stone Mosque, and relief of Shapur and other remains which belong to the post-isalmic section of the film which will be mentioned in the second part of "Iran, the Forgotten Glory"
What is the main focus of the film?
In addition to our attempt to create a high quality film, my main goal was to narrate the history and culture of Iran within the context of these ancient ruins and locations, rather than just depicting the locations themselves. I believe that these locations only become significant and interesting once you know the stories behind them and the historical context in which they were created, therefore that's the main focus of the film.

Did you encounter any problems also?
Because we needed to get permission from the Cultural Heritage Organization in Fars to shoot in many of these locations, inevitably we had to deal with the bureaucratic problems and our work was delayed for a few months, eventually we got the permissions. Due to the remoteness and lack of sufficient accomidations in many of these locations, we were forced to take many trips to complete the cinematography and this made our work doubly difficult. Also, the lack of professional crew in Shiraz forced us to hire some crew from Esfahan and Tehran for the filming and that posed it's own difficulties, needless to say that finding funding for the film had it's own complicated process as well.
Were you supported by any institutions in this project?
Making this film had a high cost on me, both in financial terms and time wise, and because my goal from the beginning was to produce an objective and independent film without associating it to any institutions, individuals or ideology, I have relied solely on my own inner motivation and personal financial means and have come this far, however we do need the support of our friends and Iranians to complete the second part of the film which is in the post production phase.
How can people learn more about the film and support the project?
We have established a website for the film at farsmovie.com where people can get more information.
What is your purpose in making of this film?

My primary motive in making of this project is to promote and familiarize the world and the young Iranian generation to our culture and heritage and to present an accurate view of our nation, specially in a time when both internal and external forces attempt to undermine us and our national identity, and this for me and I believe for every Iranian is a critical task to accomplish.