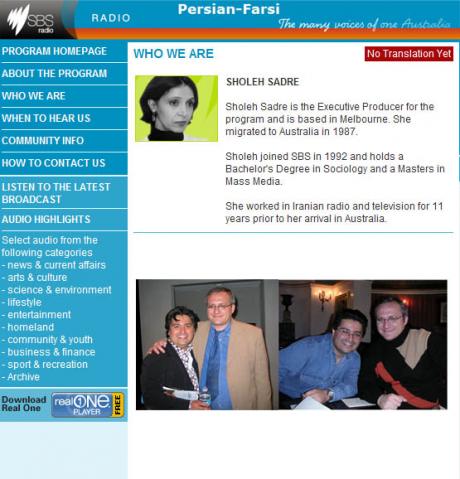 On New Years Eve, I got an email from my friend Kayvan Mashayekh ( director of The Keeper: The legend of Omar Khayyam) telling me that her aunt journalist Sholeh Sadre had  passed away from cancer. I had the honor of working with her on several radio shows on a weekly basis, reporting on cultural events taking place in Europe and film reviews for her Australian Iranian listeners every wednesday for two consencutive years. We never had the opportunity to ever meet eachother in person despite the long phone calls where her warm voice and professionalism reassured me during our recordings. She will be dearly missed. I extend my heartful condolences to her family and my friend Kayvan and her mother (Sholeh's sister), as well as to all her loyal listeners.
Rest in Peace,
Darius
Elvis Presley – For The Good Times:
Australia-Trailer starring Hugh Jackson and Nicole Kidman:
GOOGOOSH – Gharibe Ashenaa:

Googoosh & Saeid Kangarani in Dar Emtedade Shab:

Googoosh – Daryayi:

Bio:
Sholeh Sadre was the Executive Producer for the persian SBS programs based in Melbourne. She migrated to Australia in 1987.
Sholeh joined SBS in 1992 and holds a Bachelor's Degree in Sociology and a Masters in Mass Media.
She worked in Iranian radio and television for 11 years prior to her arrival in Australia.
Visit Her SBS Website Here
Recommended Readings:

THE KEEPER: An Interview with Kayvan Mashayekh by Darius KADIVAR
by Darius KADIVAR
  by Darius KADIVAR (2003)