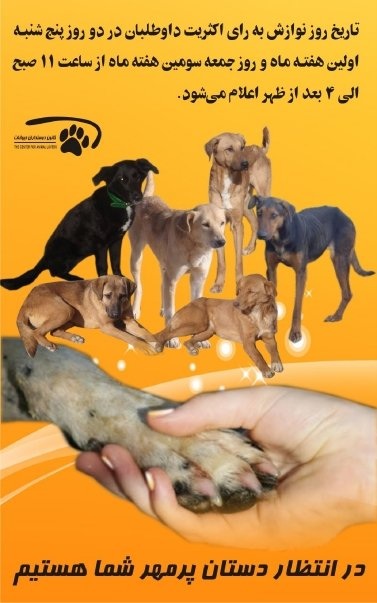 Dear Iranian.com/Vafa Shelter fans:
I would like to share the latest about the shelter dogs and its' amazing staff and volunteers.   For those of you who may be reading about them for the first time, I found out about Vafa Shelter through Iranian.com and since then, I had the pleasure of visiting Mrs EsnaAshari (director of Vafa) and the beautiful dogs and amazing staff of the shelter.
I wrote about my visit and shared the pictures of the dogs at that time. And just recently sent an update after having collected some donations from you all. We now have a Facebook Fan Page if you like to be updated more often. Once you become a fan, please click on INFO section for contact details.
Some of you may have heard about "Rooze Navaazesh".  (Loving touch day)  — The volunteers and staff decided to designate every FIRST THURSDAY and every THIRD FRIDAY of each month, Rooze Navaazesh.
Mrs EsnaAshari just shared some beautiful pictures (courtesy of Mehrdad Roghani) and a note written by Somayeh Rezaie (written in Farsi)  which I would like to share with you all.
Day of "Navaazesh" (loving touch) at Vafa Shelter was attended by many animal lovers on Friday Dec 18th.   Most everyone arrived by 11:00AM and the dogs, who as always patiently await for their human friends to come in and meet them, were surprised as they were invited to leave the grounds with the volunteers to go on walks.   The funny thing was they resisted leaving the shelter grounds as if they thought they're being kicked out!  Most of them had to be talked in to stepping out. They didn't know what to think of it.  As folks were petting them and they noticed other dogs starting to play outside the grounds, they joined in. One by one they joined in as the visitor's petted them and earned their trust.  I wish you could all be  there to see how excited they were, and how their paw prints were all over us! Everyone was happy! Dogs more than their human friends.  
Some of the folks who came after seeing the posters about this day, brought food, and most important of all, their love and kind hearts with them.  Some offered to be of further help to the shelter.  I could tell by the look in the dogs' eyes that they too were thrilled with all the new faces and the love that they brought with them.  
As always, Mrs Esnaashari was there and shared each dog's story and some background about the shelter.
It was so wonderful to see our 3-legged dog, Kavoos, and Dancer run around and play regardless of their old back injuries from car accidents.   
We even played soccer with a team of the dogs. One of them managed to punch a hole in the soccer ball—but no one dared to kick him out of the team! J
We'd like to thank each and every one of you beautiful friends  who came and shared your love and kindness with the shelter dogs and its staff members.
Next event will be held on Thursday January 24th and we look forward to once again welcome you and kindness of your touch at the shelter.
Somaye Rezaie
For more information about Vafa Shelter, please see  www.cal.ir  – We are working on fixing the English pages of their website. For now, the Farsi pages are up-to-date:  http://www.cal.ir/farsi.html. Thank you again, for taking the time to read this.   With Warm Regards,  Faranak Ravon