Khuzestan 1958-1960
Photo essay: Close links of kinship made a deep impression, certainly expanding my sense of human possibilities

Paul Schroeder
July 25, 2007
iranian.com

These photos, like the group that was posted here in April [see: Memories of an American boy], were taken by my father Charles Schroeder during the time we lived in Abadan, 1958-60. Many of the background details about our stay there were given with the first set. Since that posting we've received many generous and heartfelt responses that encouraged us to bring this new group forward >>> Photos
[Also see part 1 of this phot essay: Memories of an American boy]
While the earlier selection focused mainly on Abadan as a particular place in time, this set has more photos of individual people and family groups, giving perhaps a more personal view. In addition, people and places outside Abadan are shown, including scenes from Ahvaz and some villages near there; Shushtar and the ziggurat at Choga-Zambil; and Lali and Masjid-i-Suleiman (MIS). The occasions for these visits were varied: day trips with groups to the Shushtar region; with my father on a business trip to MIS; and a scout camping trip to Lali. I was not along when he went to desert villages looking for a horse. Several of these photos include the deputy head of the Payroll Department, Mr. Nassim, who presented us with the "key to the city" upon our arrival and whose relatives in Ahvaz hosted us for a gracious dinner.
In addition to the photos, several other documents came to light as I burrowed through family papers: a bus map of Abadan with schedules given in "refinery time" [schedules (1) (2) (3) (4)] ; our refinery passes; a youth choir Christmas card; and a complete organization chart for the Payroll Department [Part (1) (2) (3) (4) (5) (6) (7) (8) (9)], dated May 14, 1958, with note "Total 267."Adding to the geographical image of Abadan is a wonderful map that was sent by Eli Alfi via Firoozeh Dumas, who have given the ok to post it here – many thanks.
One correspondent encouraged me to view Abadan via WikiMapia, which I now encourage others to do. This link will take you to a view centered on our house, SQ 1098, which is now gone. A photo of the house is included here, as it was accidentally left out of the first group.
One photo requires special mention, that of "little Mother." I was unsure about whether it would be appropriate to include it, and asked my father for details about her. He told me that she was called "little Mother," and that she took care of a band of orphan boys who all lived with her in a building across from his office, and they used to hang out around his Department. I was surprised about this, thinking that his office was inside the refinery's gates, but he said no, it was on the edge of the refinery (toward Bawarda) and not inside the gates. I asked my friend Ali Aghamoosa here in Orono, Maine about a magazine article that we found among our papers. He said that it was about the little Mother, and told me some of the details of her life as given in the article. A scan of this article about her is given here [Page (1) (2) (3) (4)]. [See translation by Youssef Noorisa]
We learned that even the smallest details in the photos, such as the Company-issued furniture, were very evocative -- so some further views of the furniture are given here. Staff was issued a set of basic household gear, including industrial strength cooking pots stamped A.I.O.C., and good woolen blankets, two of which I still own and use. Most families had cooks and "houseboys." Our cook Kazem and house cleaner Naim are pictured here. I think we employed Kazem for a month or less – my mother was not one who could easily share her kitchen. I remember Naim with great fondness. He had the habit of polishing the floors by zipping around the house with cloths under his feet. Also pictured here are a group of grooms from the Jockey Club, including Habib who cared for my sister's horse. This photo was held back earlier because it is partly double-exposed.
For me, the most striking aspect of our trips into Khuzestan was the opportunity to see migrating tribes, who in this region were mostly Bakhtiaris. The earlier essay mentioned musicians who greeted us in the early morning at Lali. One person wrote that these were called Toshmal, who were Bakhtiaris who "play traditional/ local music, especially dance music in weddings. Unfortunately, these type of events aren't allowed any more." Though I could not have put words on this experience at the time, the vision of people who lived in close harmony with the seasons and the earth, encumbered by few possessions and tied by close links of kinship made a deep impression, certainly expanding my sense of human possibilities.
Above and beyond the photos, my memory holds a collection that I sometimes call "unphotographed moments." For instance, we don't have any pictures from Kharg Island, but my visit there is indelibly etched in my memory. During the time when my mother was bringing my sister back home, I travelled with my father to MIS as well as to Kharg Island. We flew to both, I think by company Dove to MIS and by DC-3 to Kharg. I loved the Doves that came swooping over our house as they approached and departed from the airport. Each plane had its own name: Agha Jari, Naft Safid, and the names of other oilfield towns were printed on the planes, and I could read their names from the ground. I think that my friend Martin Crane's father piloted Doves.
When we visited Kharg Island, the crude oil terminal there was just being planned. The island had a small mud-walled fishing village, and the only Company presence was a couple of small buildings, one of which was a large tent which doubled as commissary and recreation hall. Mr. Utrecht gave me my first ride on a motor scooter there, and I remember playing ping-pong in the tent / mess hall. I was surprised to read in my father's desk calendar that we were only there one day and one night – in my memory we were there at least a week.
One person who wrote said "I hope we eventually see the day that people are no longer racist and respect each other for what they are." A dimension that was only beginning to dawn for me during our stay in Abadan was that of class and privilege. I seldom think of the often negative views across our cultures as being "racist." I can now see more clearly the racism that is involved, though it is very different from racism as we generally define it here in the US. We had the privilege of crossing the Atlantic on our way home on the original Queen Elizabeth. I clearly remember the ship's arrival in New York, and thinking to myself how odd to see white men working as laborers on the docks. So I'm more open now to see the racist aspect to relations that are also defined by culture and class.
Most of all we want to say "Thank You" to the many people who have sent generous responses to the photos. I've learned how unique and loved Abadan is. The events of the past decades have placed Abadan at the heart of the ongoing global tragedy, which is lived out daily in the lives of those who have been displaced. Abadanis, no matter how far removed, will not allow the spirit of that place to pass from their lives >>> Photos
[Also see part 1 of this phot essay: Memories of an American boy]
Click on photo to see next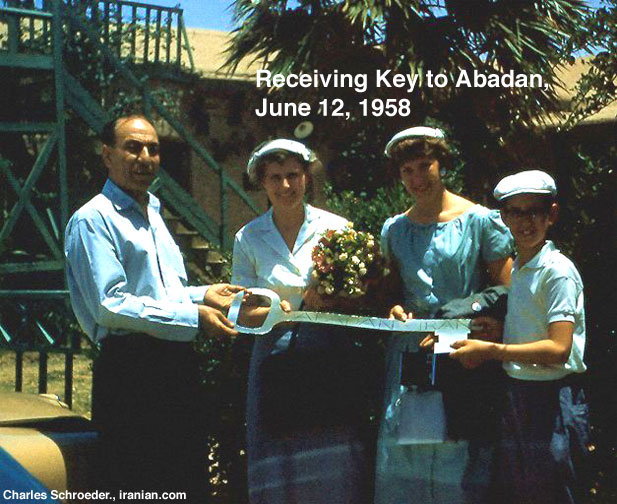 Click on photo to see next
Photos
(1) (10) (20) (30) (40) (50) (60) (70)
(80) (90) (100) (110) (120) (130) (133)