High price of noble ideals
Houshang Touzie's intriguing multifaceted play
Moe Maleki
September 8, 2004
iranian.com
Social commentary is rarely more honest and effective than biting satire delivered with a comic punch. And in the disparate Iranian diaspora community, no one does it better than Houshang Touzie.

In his latest creation, "Az Maahvaareh baa Eshgh" ("Via Satellite TV with Love"), performed at San Francisco's Palace of Fine Arts to a sell-out crowd, Touzie plays a starry-eyed refugee, newly-arrived in Los Angeles, who is bent on "taking over the city" with the launch of his own 24-hour satellite television station. Based on truth, freedom, and democracy, he hopes his station will soon lead to the liberation of Iran, or barring that, enable him to bring his ailing mother to the States.
After lying about the reason for his asylum ("to have a better life" did not cut it), he now finds himself living the lie by masquerading as the "darbaar" (court) singer at Iranian weddings in Los Angeles, while scheming ways to turn his faltering half-hour TV show into a bona fide 24-hour satellite station.

With the help of his cunning older cousin (played by Behrooz Vosoughi), who has arrived empty-handed from Germany after promising a diffusion of cash, CHO.I.N.T.M.M. TV is born -- from the anthem Cho Iran Nabaashad Tane Man Mabaad (if Iran is naught, I am naught). The new station's program line-up is an acerbic pun at the plethora of programs on existing Iranian channels broadcast via satellite from Los Angeles.
Among these is a call-in music request show hosted by a clueless perky neo-Iranian damsel in tights; a dismally bleak show by a depressed philosophizing host obsessed with Sadegh Hedayat; and a show featuring a highly esteemed divorce lawyer, nimbly played by Vosoughi, who promises to take your husband for all he's got "by simply dialing 1-800-GO-TALAGH."

When the new station's dire financial situation peaks, the cousins set out to raise the money by appealing to the audience's maligned sense of nostalgia and nationalism and offering them soil and air! samples of Iran for hefty donations. When this tactic fails to sufficiently woo the audience, the cousins hit on another idea, in the form of a disparaging caller, in order to tug at the audience's sense of pity (del sookhtani).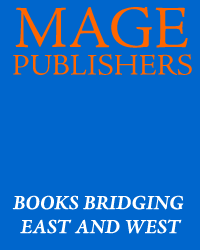 In this scene Touzie's genius for mixing comedy and commentary shines. Instead of dispensing rash "fohsh" (obscenity) the presumed caller, feigned by one of the cousins, carries on an intelligent, rational dialogue with the befuddled host, who is at his wit's end to answer the caller's charges of impropriety, pretense, sham and dishonesty. The host feigns tears (tissues at the ready) and the prank works -- sympathy donations begin to flow into their bank (of America!) account.

Later, in a lucid moment of self-realization, Touzie's character awakens to the harsh reality of having attained success at the high price of his once noble ideals. He chastises himself, but goes further to admonish a community which so readily bought into his antics of lofty slogans and sensationalism. A sad commentary indeed not only on unscrupulous producers and hosts of such shows in real-life, but also on an obtuse audience which has embraced it, and a larger silent community which has tolerated it.

Other subordinate themes are also at work in this intriguing multifaceted play. There is the main character's resolute fiancé, a beautiful modern woman who is a pillar of support and stability, if not the moral barometer, of her fiancé's wayward dreams and his subtle alcohol problem. And there is the recurring theme, espoused by the older, wiser cousin, that money is not at the core of the younger cousin's dilemmas. Still in its infancy (San Francisco was only the third performance), the play could benefit from shortening it a little, and having a less righteous, more realistic (and therefore honest) ending.



The play, like Touzie's other successful productions, is a timely, observant, and entertaining look at our émigré community. Whether it's confounded parents struggling to raise teenagers in the delicate balance between two cultures (the subject of his earlier smash hit, "Zendegeeye Shirin-e Ma" or "Our Sweet Life"), or a stinging, yet honest commentary on a shamelessly self-promoting, ethically and morally challenged, sensationalist broadcast industry that has raised the bar all the way up to a Jerry Falwell or a Jerry Springer, Touzie gets it right again!