Talent & vision
Art on display at women's conference in Maryland
Iranian Women's Studies Foundation
August 8, 2007
iranian.com
This collection presents works by Iranian female artists exhibited at the 18th International Iranian Women's Studies Foundation (IWSF) conference in July 2007 at the University of Maryland, College Park. This exhibition was a combination of slide projections and wall displays. The main objective of the exhibition was to connect Iranian woman artists of all generations and show the diversity of their work while appreciating their individual talents and visions.
Participating artists in alphabetical order:

Atti Vakili, Avid Rastin, Aylene Fallah, Azadeh Hussaini, Azadi Damood, Bita Salahi, Faezeh Rastin, Fahime Vahdat, Farzaneh Shafiei, Fataneh Dadkhah, Guita Vafai, Haydeh Rastin, Hengameh Modarresi, Leila Aghazadeh, Leila Salartash, Leyla Ghaffari, Mahshad Haeri, Mahyar Nili, Manzar Rassouli, Maryam Mohammadi, Mina Javid, Mina Noori, Minoo Aldin, Mitra Mortazavi-Lore, Nahid Marandi, Nahid Navab, Nasrin Navab, Negar Assari-Samimi, Pamela Karimi, Pari Ram, Pari Vafai, Parisa Faghih, Parvin Heydarynassab, Rassah Ostad, Roohee Mirbaha, Rosa Miladi, Saghar Barzmehri, Sally Kordestani (In loving memory), Samar Modonpour, Samira Yamin, Sara Jafari, Shadi Yeganehmanesh, Shohreh Mehran, Sohayla Vafai, Soraya Yekta, Taraneh Hemami, Zohreh Alishad.
Click on image to see 46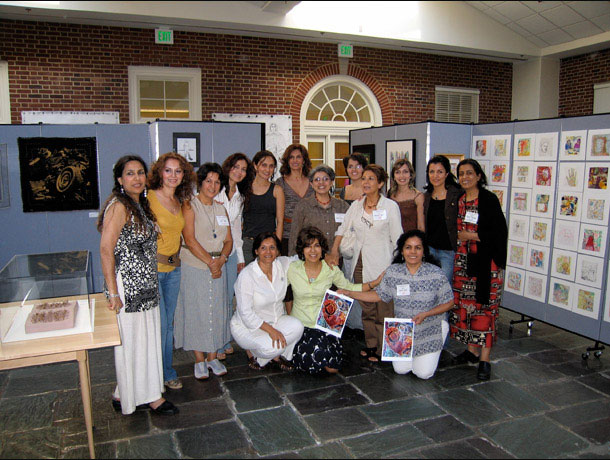 Click on image to see 46
images
(1) (10) (20) (30) (40) (46)