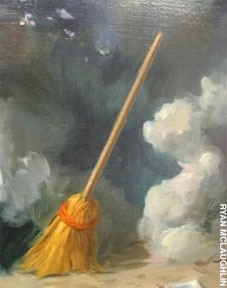 Ba behtarin arezouha...
Nazanin Canadai
August 9, 2007
iranian.com

I am moved
Even in this distant place where I cannot touch your face,
I cannot help but wonder what the fuck you are doing this morning.
I hope all your mornings will be shitty and all your evenings will be migraine filled.
With neither the patience to learn your lessons nor the energy to keep running after you
I have made yet another decision:
I will never share my secrets with anyone.
And I am jealous. Very jealous.
I know you probably have a girlfriend. I am a jealous fool.
Jealous.
But what can I do? I tried everything, on my own. No one helped me.
You humiliated me.
I am pretty. So are other women. Prettier than me.
Why not one of them?
You know me.
I cannot even fuck myself anymore.
Imagine that!
Until we meet again my love, live in misery.
When you come back in October, the leaves will be dry.
Spend your time with Reza and Sanaz
Hang out at O'conners and smoke in the terraces of those smoke deprived coffee shops
A strip club or two
A visit to mommy dearest!
That's all you deserve.
Don't call. This time, I won't come.