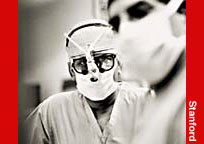 Irish doc
Considering going abroad for medical school? How about Ireland?
By Nariman Namazi
January 15, 2004
iranian.com

Getting into medical school in the United States back in the late 90's was tough, tougher than it's ever been. In 1996/97, applications peaked at roughly 55,000, all competing for the approximately 16,000 spots available at the 105 U.S. medical schools. I had the misfortune of graduating from college in 1996 with a biochemistry/premed major.
After four grueling years at the University of Chicago and with a GPA which wasn't going to get me into med school, my options were limited. Ultimately I ended up going abroad to study for a year, then took a year off to work, and so on. In the end I was faced with the choice of waiting indefinitely to get into medical school in the United States, or going abroad for medical school.
Going abroad for med school for any U.S. graduate almost always means going to the Caribbean medical schools. This is a fact that all Iranians in the medical field can attest to. In fact, if you look at the class at any one of those Caribbean med schools, 1/4 of the class are Iranian and the rest Indian. This option wasn't very attractive to me. I didn't like the idea of pursuing my medical education on a beach.
Also, my image of these schools was that they were filled with students who partied and slacked off for 4 years in college (mostly California). I didn't do that, I busted my balls for four years. Without trying to sound elitist, I simply felt I'd be in the wrong company. This is not to take anything away from those Caribbean schools. My uncle went to one of them, some of them are pretty decent. Nevertheless, it wasn't for me.
Then one day I'm talking to a friend of mine who happened to be in a similar predicament, and he casually mentions medical schools in Ireland. I'd never heard of any Americans going to Ireland for med school, or anywhere else in Europe for that matter. In fact, it never even occurred to me to go to Europe for my medical education. I guess I assumed that European medical schools weren't open to U.S. students-unlike the Caribbean schools, which were designed solely to take in U.S. medical school rejects.
As it turns out, most medical schools in Europe do not accept international students. However, I went online and did a little research and found three medical schools in Ireland which have a quota for accepting students from North America every year. These three schools are Trinity College Dublin, University College Dublin, and the Royal College of Surgeons in Ireland (RCSI).
Each of these schools takes in approximately 15-20 students from the U.S. and about the same number from Canada each year. However, of these three, the one that has the greatest prestige and best connections in the United States by far is the Royal College of Surgeons in Ireland (RCSI). Connections and prestige are VERY important for a foreign medical school because it directly affects the kind of residency you can get into. There are many many graduates of top Indian and Pakistani medical schools who come to the U.S. but who can't get residencies.
The only drawback is that medical school here is 5 years instead of 4. However, that has its advantages as well. It is not as grueling as a U.S. medical school, simply because the medical program is stretched out over an additional year. That gives you time to breathe every once in a while and to enjoy some semblance of a social life, as well as the multitude of sporting, cultural, and extracurricular activities on tap. In addition, living in Dublin means you have ready access to all of Europe. London, Paris, and Rome are all a short, cheap plane ride away.
I came here in 2000 and am now in my 4th year. As far as our clinical education is concerned, it is widely accepted that it is better than most U.S. medical schools. Dublin teaching hospitals are excellent and there is immersion in patient interaction beginning at the end of second year. Moreover, RCSI has cooperative arrangements with Johns Hopkins, Tufts, Columbia, University of Pennsylvania, and Mayo Clinic (among others) whereby these schools will accept a certain number of our students for clinical electives every year.
Finally, perhaps the best measure of the status or quality of any medical school is its residency match list. The Americans I knew in last year's graduating class matched at such places as UCSF (transitional year outside of CA), Yale, Mayo, LSU, UPenn, and so on.
So, I encourage all Iranians out there who are considering going abroad for medical school to consider the Royal College of Surgeons in Ireland. In the end, you will be much better off than going to the Caribbean, especially if you want to get back into a university/teaching hospital (rather than a community program). I very much encourage anyone who has any questions to email me. The application deadline for Entering 2004 is, I believe, February 15. Good luck.
* Send this page to your friends