The Iranian knight
Our very own Maz Jobrani stars in a new national network sitcom

Pedram Moallemian
January 10, 2007
iranian.com
Last July 23rd, a friend asked us to join him at a party in a trendy West Hollywood restaurant. Since we had already committed to another event, I apologized. But then he said that it was a Good-Bye Party for Maz Jobrani. Good-Bye Party? Oh No! Where is he going? In our own small universe, we had just "discovered" the man and even exchanged pleasantries about our common hairstylist at a couple of events. Now he's leaving?
In the superficial corners of Los Angeles night-life, we couldn't drop names like Zellweger, Witherspoon or even Aghdashloo, but we were getting comfortable with the odd person recognizing our "Maz" as "Mo", the cop in The Interpreter or "Moly" in Ice Cube's Friday After Next or "Glen" in 13 Going on 30. We even liked it when our eyeranian friends pretended they knew him too and then professed how much they enjoyed him in the Mummy or opposite Whoopi Goldberg, obviously mistaking Jobrani for Omid Jalili.
To our relief, it turned out that he was only temporarily moving to New York to shoot a new sitcom. But that's when the relief ended as he explained the premise of the new show later at the party and all I could do was keep a straight face and mutter "great". In reality, I felt the main storyline sounded rather unexciting: a group of regular guys plan to rob Mick Jagger! I later told my wife Mitra that it'll probably last an entire three episodes before the real programming director at ABC returns from vacation.
But I was wrong!
Fast forward to last Wednesday and we are invited by Namak magazine to a semi-private party organized by Maz' agent Ray Moheet to watch the premier of the new sitcom, now called The Knights of Prosperity with two of the show's stars Kevin Michael Richardson and Maz Jobrani in attendance.
The pilot episode (now available for free online at ABC), promoted heavily and prominently featured on network's Wednesday line-up starts with Eugene Gurkin (Donal Logue) being unhappy at his janitorial occupation and wanting something better than a co-worker who dies on the job after decades of laboring at his rather tedious position. Having no other experience, skills or savings, the bank manager laughs at his proposal of starting his dream bar and just when all hope seems lost, he sees Mick Jagger on a television entertainment show taking the cameras for a tour of his brand new multi-million dollar condo in Manhattan. As the easy solution out of his troubles, robbing Jagger's new dig becomes his goal and obsession. He call it the Robin Hood thing; stealing from the rich to give to the poor.
Amongst the ragtag group of noncriminals he is able to recruit, Jobrani plays Gourishanker "Don't call me Gary" Subramaniam, an Indian lawyer turned NYC cab driver and desperate for an opportunity to move up in his new home. "Gary", as everyone ends up calling him despite his displeasure, is also a womanizer who has had four wives and doesn't hold back when asked what his favorite thing about women is. He is also naïve or perhaps cunning enough to recruit an "intern" (Josh Grisetti) who would work for them without knowing the true nature of their mission or claiming a share of the possible loot.
The addition of voluptuous waitress Esperanza Villalobos (Sofía Vergara) to the crew provides the pre-requisite sex appeal for the allotted network time-slot. Two great character actors, Kevin Michael Richardson and Lenny Venito round out the cast as Rockefeller Butts and Francis 'Squatch' Squacieri respectively.
But the best part of "The Knights" and undoubtedly what has convinced the network to already commit to a rare and long by TV standards of a 13-episode run is the writing. Rob Burnett and Jon Beckerman are the veteran team that makes The Knights of Prosperity an intelligent, funny and highly entertaining show to watch.
They are also the reason I now think I was wrong in my hasty first impression and see that any show with somewhat of a mediocre "hook" can become a huge success with exceptional writing. If you doubt that, just look at the phenomena Jerry Seinfeld and Peter Mehlman created with an entire sitcom that is essentially about "nothing".
With that, I saw Maz again this Sunday as we both participated on a panel of Middle-Eastern comedians (and one ex-comedian in my case) at an event by Levantine Cultural Center, the folks behind the very popular Sultans of Satire events. I took the opportunity to ask the man himself a few questions: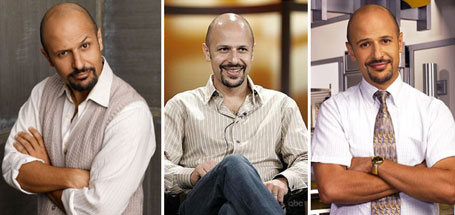 So Maz, what's your take on the Knights?
I think that it's one of the funniest projects I've ever worked on. It's got a quirky sensibility that I like. It's written by Rob Burnett and Jon Beckerman who did the show "Ed" a few years back. They were also executive producer and head writer, respectively for Late Night with David Letterman. Anyway, it's one of the first times that I'll read a script and laugh out loud as I do. It's also a great underdog story as you root for these 6 nobodies to get to their goal of robbing a celebrity, Mick Jagger.
If the pilot is an indication, it looks like your character ended up with all the great punch lines, what gives?
I think it's just a case in this episode. What's great about the writers is that they've tried to give us all our shining moment. Our lead, Donal Logue, kind of plays more straight than he normally does in other projects. However, they even gave him some great lines and some fun things to do. What's funny is that as I've worked on the different episodes, I think that the "straight man" character changes from episode to episode. The viewers will see this as they tune in.
What do Gourishankar and Maz have in common?
Well Gourishankar is Indian, I'm married to an Indian woman. He used to be a lawyer back in India, my parents wanted me to be a lawyer in the U.S. I think that the Indian and Iranian culture have a lot in common (as do a lot of the cultures of the Middle East and Mediterranean region.) So when you get to play a character like this there are some insights you can offer from your Iranian background that would be similar to an Indian background. For example, in a later episode when Gourishankar goes to a dentist that he knows, he has a very formal relationship with him - as if the dentist is a part of the Indian community and Gourishankar wants to present himself as good as possible in front of him. The same way Iranians will be formal in such environments. Does that make sense?
I think so. But do you think it should concern people that with all the obvious acting talent available there, an Iranian should play an Indian character?
No, I don't think so. As an actor I always loved Peter Sellers and he got a chance to play all kinds of characters - one being an Indian, Hrundi V. Bakshi, in The Party. I would love to emulate his career where he got to play all these different ethnicities and then also play a very straight part in "Being There." I actually had a chance to play the character as Iranian, but chose to do it as an Indian. I have been writing a script for a character named Jimmy Vestvood (www.jimmyvestvood.com) with my co-writer Amir Ohebsion and I'm kind of saving my Iranian comedic character for that.
So what is the Knights of Prosperity crew really like?
The crew is great to work with. The chemistry was really good on the set and everyone's really talented. From Donal Logue who is a leading actor with character actor skills, to Kevin Michael Richardson who does the most amazing voices, to Lenny Venito who is a trained actor with great classical skills to Sofia Vergara who's beautiful but can also play funny, to Josh Grisseti who is the young guy just out of conservatory in Boston and reminds me of a young Martin Short meets Paul Reubens (Pee Wee Herman) - again, the viewers will see this side of him later in the show.
Speaking of beautiful Sofia Vergara, my wife is away on business this whole week, can I have her phone number?
Yeah, make me an offer, but it better have a lot of zeros behind it.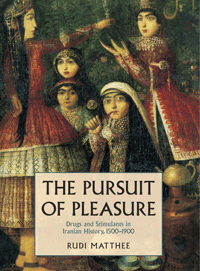 You recently made a bit of a stir by your comments about roles offered to olive-skinned people who look like you and me. Could you elaborate on that?
I really can't speak for everyone, but I have made it known to my agents that I don't want to take any terrorist roles. I've done those in the past and felt bad afterwards. I just think that there's so much of that depiction of Middle Easterners on TV and in the news that I don't need to add to it. Now, some people might say, "well, you're playing a cab driver on TV. That's not a positive image of Middle Easterners or Indians, etc." My response to that is that I know Middle Eastern and Indian cab drivers who are in Gourishankar's situation. He was a lawyer back home and here he drives a cab. That's a common story. Also, it's a fun character that is defined by other things too. He considers himself a womanizer; he thinks he's got great ideas, etc. I'm cool with playing these kinds of fun parts, but I won't do the terrorist stuff. That said, I wouldn't judge anyone who does. People have different reasons for playing a part and I can't know what they are.
Now I know you personally and also know that Maz is short for Maziar. But for those who don't, how "Iranian" are you really?
That's a funny question. How do you quantify ones Iranianness? Do I have chelokabab at every family function? You bet I do. Do I smell like ghormeh sabzi if I don't use deodorant for one day? You bet I do. Do I say damet garm to every Iranian I speak with? You bet I do. Do I go to Persian concerts? Not often. Do I only hang with Iranians? No. Do I love nooneh barbari? You better believe it. Do I go to Vegas on Christmas? No. Do I drive a black BMW? No. Do I only dress in black clothes when I go out? No. Am I married to an Iranian woman? No. Will I make my kids (when I have them) speak Farsi? You better believe it. Do I root for Iran in the world cup? I try, but they get out too fast, so I go to my backups Brazil or Italy.
My backup has always been Germany, except for a period that I was involved with a Portuguese woman and had to pretend I preferred Brazil. Luckily for me, they won the World Cup during that period, but enough about my failed relationships. Now here's the inevitable question; what advise do you have for others, particularly Iranians trying to get into comedy or show business in general?
My advice is to get into classes for acting and/or comedy. From there I think people need to stay active. Either be in a class or in a play at all times. Write as much as you can. For comedy you need to write and perform at least 7-10 times a week. The more stage time you have the better you'll become. Also, some people get on stage and realize it's not what they thought it would be. It's just about going for it. You can pick up trade publications like "The Backstage West" at any newsstand and find an acting class to get into. If you're in high school or college, take classes there. You'll find your own way from that point on.
The Knights of Prosperity airs on ABC network at 9/8 central in US and CTV network in Canada on Saturdays at 5:30 PM ET. Maz Jobrani's website is at mazjobrani.com. Comment
Pedram Moallemian is a Los Angeles based writer and activist. He is also half of the duo behind the www.eyeranian.net weblog with his wife, Mitra.
Levantine Center's special 10th edition of Sultans of Satire comedy benefit, starring Maz and other great stand-up comedians will be held on January 27th in Los Angeles at USC's Bovard Auditorium.