May 15, 2003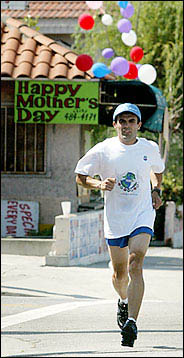 Iranian Cyclist for Peace Begins Cross-Country Journey on Foot
By CHARLIE LeDUFF
The New York Times
LOS ANGELES, May 11 The City of Angels became a little emptier this morning when Reza K. Baluchi jogged up Figueroa Street, turned on Sunset Boulevard toward the Mojave Desert on his way to Ground Zero, N.Y..
The 3,000-mile run he began today is the last leg of a remarkable peace tour that began in Iran six years ago on a bicycle, spanned six continents and stalled in an American immigration jail.
Here is the short version.
Reza Baluchi was born in Rasht, in northern Iran near the Caspian Sea. The youngest of eight, he learned the horror of violence when his brother returned from the Iran-Iraq war a shattered and incoherent man.
As Mr. Baluchi grew older, he fell away from Islam, the state-sponsored religion of Iran. On one occasion he was publicly flogged for eating during Ramadan, the holy month in which Muslims fast during sunlight. On another occasion he was hanged by his wrists from a tree for possessing a banned videotape and wearing a Michael Jackson T-shirt. After serving 18 months in prison for associating with "counterrevolutionaries," he left Iran on his bicycle.
He rode through civil wars. He went hungry. He did not wash for weeks and slept wherever he laid his head. He worked when he could. A Colombian dentist fixed his teeth for no charge. He made many friends, as his scrapbook attests.
Then last November, Mr. Baluchi, 30, was picked up by a Border Patrol helicopter that found him camping in the Arizona desert. He was charged with entering the United States illegally and thrown in immigration jail. He said at the time that he was waiting for a visa in Mexico and had simply gotten lost.
He spent five months in jail, refusing bail, quite certain that if he could only speak with the immigration judge, the judge would be convinced of Mr. Baluchi's nve and release him on humanitarian grounds.
Mr. Baluchi promised then that if the judge released him, he would finish his peace journey on foot, running from Los Angeles to New York.
On Feb. 27, the immigration judge, LaMonte Freerks, granted Mr. Baluchi asylum on the grounds that if he were returned to Iran he might be persecuted for, among other things, his revolutionary belief that there should be separation between church and state.
So this morning, Mr. Baluchi began the fulfillment of that jailhouse promise. Wearing new shorts, new running shoes and a bad haircut, he said he carried no hard feelings, no chips on his shoulder, only a knapsack filled with a tent and reflective vest, nylon leggings, a sleeping bag, food, water and an A.T.M. card.
"I go by I self," he said in self-taught English. "New York. Everybody wait me there. Soon. Soon. I come. Peace. No war. American people very good."
Mr. Baluchi will run eight hours and hopes to make 40 miles a day, regardless of weather or topography. He will run across the Mojave Desert, then follow old Route 66 through Arizona and New Mexico. He will run through Amarillo, Tex.; Little Rock, Ark.; Memphis. He will veer north through the Blue Ridge Mountains, head into Washington and finally reach New York City.
His resolve is steel, and he appears fit for the task, with thick, ropy legs and calves the size of hams.
"It's sad he's leaving L.A. because he's one of the good men," said David Hyslop, a struggling 47-year-old entrepreneur who, via e-mail, offered Mr. Baluchi a sleeping space at the foot of his bed after reading about him in the newspapers. Mr. Hyslop has become enamored with the man and the myth that is Baluchi, even helping to arrange his cross-country route.
"With him the immigrants have a face," Mr. Hyslop said this morning. "It says don't give up. The system sometimes works."
Mr. Baluchi is also something of a cult celebrity in the Iranian exile community. Persian women came this morning to see him off and pose for pictures with him. Anonymous donors have put money in his bank account. A man came to sing him a farewell song in the mother tongue, a cappella.
Mr. Baluchi was expected to arrive somewhere in the Antelope Valley this evening. But weep not, Los Angeles: he was to return, if only for a brief moment, to appear live from the studios of Persian Syndicated Television. His limousine was being arranged at press time.
Sent by Darius Kadivar
* Send this page to your friends
Who's your Iranian of the day? Send us photo