May 23, 2004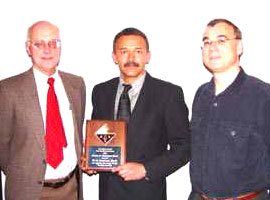 May 12, 2004, NEW HAVEN - Dr. Ali R. Banijamali of Woodbury was presented with the 2004 Maurice R. Chamberland Award at the April meeting of the New Haven Section of the American Chemical Society in recognition of his pioneering work discerning the pathway of metabolism of the acetylenic bond in mammalian systems.
The award, established in memory of Dr. Maurice R. Chamberland, who was actively involved with the section and served as its chair prior to his death, is presented periodically to candidates whose work in the field of chemistry manifests itself in the enhancement of societal well-being.
Dr. Banijamali's presentation to the members of the section was entitled, Nuclear Magnetic Resonance Spectroscopy in Metabolism Studies: Application of 13C and 2H Labeling in Studying the Metabolism of Propargyl Alcohol.
In introducing Dr. Banijamali, Dr. David Smudin of Crompton Crop Protection R&D in Bethany, chairman of the section's Chamberland Award Committee, cited the quality and novelty of Dr. Banijamali's work leading to the understanding of the animal metabolism of the acetylenic bond, whether it is present in crop protection chemicals or pharmaceuticals.
The work augments the total body of knowledge of animal metabolic processes and pathways. Conclusions from it may be extended to other areas, such as human health risk assessments, which is one of the reasons why it is so important.
Dr. Banijamali is currently a research fellow in the Crompton Corporation in Middlebury. He holds an adjunct professorship in the Department of Medicinal Chemistry and Pharmacognosy at the University of Connecticut.
He is listed as author or co-author on more than 50 presentations and publications in areas of synthesis and metabolism.
Dr. Banijamali is a member of the American Chemical Society and has served as the 2003 chairman of the New Haven Section.
The New Haven Section is one of 72 sections of the American Chemical Society, the largest scientific organization in the world. It holds monthly dinner meetings at various venues in New Haven County, with lectures on chemistry related topics of general interest.
The meetings, which are normally attended by society members employed in chemistry related occupations, are open to the public.
The next meeting will be held Thursday, May 13, with a lecture by Geoff Fox on weather prediction.
Those seeking additional information may call Susan Tomlinson at 203-812-3912.
Forwarded by David Rahni
Who's your Iranian of the day? Send us photo