October 8, 2004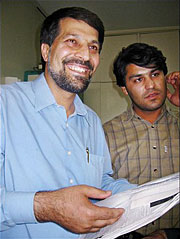 Iranian journalist and human rights advocate Emad Baghi detained by authorities on way to U.S. to Accept Intl. Human Rights Award
For Immediate Release
Contact: Susan Kayne, EqualShot, (917) 880-1365
October 8, 2004
New York, NY -- Emadeddin Baghi, Iranian reformist journalist, historian and author, was detained by Iranian authorities at the Tehran airport early this week as he attempted to travel to New York to receive the 2004 Civil Courage Prize.
His passport was confiscated and he was not permitted to leave the country. This action appears to be a demonstration of an emerging pattern of harassment of independent human rights defenders in Iran.
" I am a researcher, writer and human rights activist working in accordance with the law," said Baghi. "They were checking everything thoroughly as though I was a spy trying to take out and disclose confidential nuclear information. I had not been summoned, trailed or penalized, thus this action was totally against the law."
Baghi, a former revolutionary and Islamic seminary student committed to the establishment of democratic reform in Iran, used his ability as a writer to call attention to government involvement in the murders of more than 80 secular writers, intellectuals and political activists in Iran in the late l990's. He is the author of 20 books, six of which were banned by the ruling Iranian clerics.
In 2000, Baghi was arrested, put on trial and imprisoned in solitary confinement for apostasy and endangering the security of the Islamic state. Although freed in 2003, he remains under a new threat of prison sentence for his staunch defense of free expression.
According to Amnesty International, preventing Baghi from taking part in human rights conferences by the Special Court for the Clergy, which has never sentenced, tried or even summoned him, is contrary to Article 7 of the United Nations Declaration on Human Rights Defenders. This article states "everyone has the right, individually and in association with others, to develop and discuss new human rights ideas and principles and to advocate their acceptance."
The Civil Courage Prize, which Baghi had planned to accept in person on October 12, honors individuals who exhibit "civil courage" - steadfast resistance to injustice at great personal risk.
"It takes an individual with almost super-human courage of conviction to put their life on the line year after year to fight an injustice," said John Train, founder of the Civil Courage Prize and chairman of the Northcote Parkinson Fund. "There are many courageous people in this world, but very few who will lead the charge for rights and freedom at their own expense and often that of their families. Baghi is one of them."
For more information on Emaddedin Baghi, please visit civilcourageprize.org.
From Tobi E
Who's your Iranian of the day?
Send us photo