September 8, 2004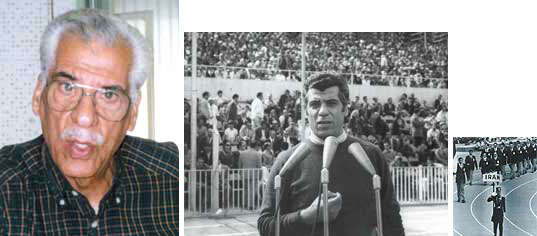 I am sending you two pictures of Atta Behmanesh for Iranian of the Day & also for your archive in iranian.com . He is most popular among the middle-aged and senior citizens. All those who used to watch sports events on TV or listen to sports and commentaries on the radio some four or five decades ago remember the live broadcasts and the unforgettable, expert analyses of Atta Behmanesh.
A veteran author and sports commentator, a former manager of national wrestling team, a columnist, a TV and radio personality, a secretary of Sport Ministry, and a sports analyst. Ata Behmanesh is associated with more than 50 years and generations of Iran's sports and sportsmen.
To accomplish what Behmanesh has achieved in both national and international sports scenes takes something more than passion, knowledge and hard work of a lifetime. Today at age of 82, Behmanesh continues to enrich the Iranian sports literature by writing books and articles.
His last published book is a chronicle of Iran in eleven Olympic Games . He also has a program on satelite TV for Iranians around the world & covered the Athens 2004 Olympic Games.

Sincerely,
Niloufar Behmanesh
Maryland, USA
Who's your Iranian of the day?
Send us photo