August 7, 2006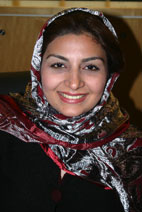 Love for wrestling fuels "Moon" to learn more about the sport
Gary Abbott USA Wrestling
08/03/2006
USA Wrestling has been hosting a special guest for the last few weeks, a person with a passion for wrestling who has a thirst for learning.
You might say that Maahyar Rassaie of Iran is a wrestling fan, in all the good sense of the word. This young woman, who has been an employee for the Iranian Wrestling Federation for over three years, is in the United States on vacation this summer to expand her knowledge and bring back new experiences to her country.
She is called "Moon" by her friends in the USA, because that is what her first name means, and because it is easier for Americans to say it. Those who have met her can see the glow that comes to Moon's face when she talks about wrestling.
"Every night, I dream about wrestling," says Moon. "I am getting more experience about wrestling, the sport that I love. I love wrestling. I can't live without wrestling."
She was hired at the Iranian Wrestling Federation to work in public relations and as a translator, editing the official website and translating wrestling stories from around the world into Farsi, the language used in Iran. Maahyar had an opportunity to attend the 2005 World Championships in Budapest, Hungary and report on the results there. She assists on TheMat.com's international wrestling rankings.
Recently, she has also worked in the international department for Iran's wrestling program, helping with projects including applying for visas, writing tournament regulations and sending invitations to other nations. You could say that Moon stays very busy in her job within wrestling.
She has taken a leave from her job to travel to the United States to visit members of her family who live here and to spend time with the U.S. wrestling program.
Moon was in Fargo, N.D., watching the ASICS/Vaughan Junior Nationals and Advocare Cadet Nationals, the world's largest wrestling tournament, and learning about the U.S. developmental programs. She is spending five days in Colorado Springs, Colo., visiting the U.S. Olympic Training Center and taking a tour of USA Wrestling's national offices. Her final stop on this journey of discovery is Washington, D.C., where she will stay with family and will meet with some members of the media to expand her understanding of sports journalism.
"I want to get all of this experience for myself," said Moon. "Someday, maybe my country can use this. I can wait for that day, when I can help."
She studied software engineering at Tehran Center University, and became interested in foreign languages. She speaks Farsi, English, French and a bit of Spanish. In addition to an interest in computers, Moon is also a big fan of sports. She sees her job within wrestling as combining all of these interests in one place.
"I have computer science, foreign languages and sport. That triangle is the center of my life. In wrestling, I have them all. In wrestling, there is always something new. Each day is not the same. You don't know what will happen tomorrow. It is very nice for me to get these experiences in my life," she said.
Moon was especially impressed by the Junior and Cadet Nationals in Fargo, a wrestling experience that is so much larger than anything she had ever encountered.
"I was attending the greatest tournament of wrestling, which was in Fargo. It has 24 mats. I have never seen more than six mats at a tournament. It was so unbelievable," said Moon.
She is taking special interest in the women's wrestling program in the United States. If there is ever a decision in her nation to start a program for women wrestlers, she would like to be able to assist. Moon was able to watch the high school girls wrestle in Fargo and has seen some of the U.S. Women's National Team workouts at the Olympic Training Center.
"I like Iris Smith, the U.S. World champion. She is so strong. I really like to see the Japanese women wrestlers. I'd love to some day go to Japan to see them compete," she said.
The visit to the U.S. Olympic Training Center has also been a highlight of her trip so far. To walk through the facilities, see the athletes in their daily routines, and to get an idea of how they live has truly impressed Moon.
"When I see the Olympic Training Center, where some of the best athletes in the world train, it is very exciting to me. I visited the Olympic Hall of Fame display. I have heard about the names of those athletes since I was a little girl. Now I see where they have trained. It is so exciting," she said.
Moon's passion for wrestling includes a desire to help the sport get more publicity on a worldwide basis. She has noticed that there is not enough wrestling coverage in the media, not just in the United States but also in many nations. This is something she would like to help change.
"Wrestling is not covered well all over the world. I want to try to persuade the news agencies to cover wrestling more. I don't see it on TV. We have such fantastic competitions in wrestling. If I have a chance to meet journalists, I will ask them to cover more wrestling," she said.
Moon is very proud of the opportunity she had in Budapest to interview IOC President Jacques Rogge during a press conference there. She asked Rogge if wrestling would remain in the Olympic program. Rogge told her that sport would be a part of the Olympics in the future, especially with some of the new changes.
She finds the emotion and passion in wrestling so powerful, an image that compels her to be involved in the sport.
"There are such nice pictures of happiness and sadness in wrestling. Somebody won a gold medal, and somebody lost the match. I just cry, looking at those pictures," she said.
Moon is interested in so many aspects of the sport. She is interested in the rules of wrestling and the system of officiating within the United States. She wants to learn about the techniques in the sport. When she is in Washington, D.C., she will also attend a pro tennis competition and a gymnastics training center to learn about these sports. She is hungry for knowledge and is taking the time to ask questions and surround herself with information and experiences.
Part of her passion for sports derives from the chance to meet new people from around the world. It is what makes wrestling so special.
"It is nice to get to know more people, to make more friends," she said. -- Sent by Sean A
Who's your Iranian of the day? Send us photo