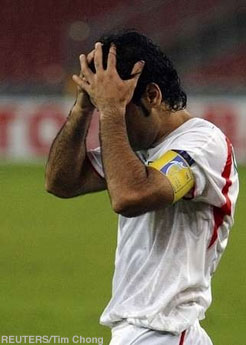 The saga continues
As fans, we are left disappointed and unfulfilled, hardly influential in the course of the team that we so passionately love
Parsa Pezeshki
July 30, 2007
iranian.com
Let us as football fanatics be just that: fanatics, and let the extremities of our emotions overwhelm our logic in dealing with the continuation of the same, old saga. But this saga does not consist of any heroic exploits; there is an abyss of notable achievements. It is the saga of Iranian football filled with the short-lived ups and the long-lasting downs, the flashes of brilliance and the enduring taste of misery and underachievement. This saga belongs to the post-revolution times, experienced by me and the likes of me especially since Team Melli's exit from the 1996 instalment of the Asian Cup of Nations.
It may well be a matter of irony that the joy of a revitalized Iranian football, initiated and led by the golden generation of Daei et al, brought about hard falls of hopeful dreams. That we once again awoke to football meant that we were in danger of getting knocked out cold. Of course, I am, here, speaking of the disheartening of us, the fans, time after time after time.
Some may regard it as vacuous whining, but I persist that, at least from a certain angle, being a Team Melli fan is a difficult, and sometimes hazardous, occupation. This becomes notably clear when you realize that your blood pressure is directly correlated to the distance the opponent is from your team's goalposts. And the repetition of the nauseating and shameful feeling of disappointment˜like that of the Ireland, China, Mexico, Portugal, and, finally, Korea losses˜only makes the Team Melli fan's job more difficult.
Ali Daei's golden generation, which consisted of the great Ahmadreza Abdedzadeh, Khodadad Azizi, Karim Bagheri, Mohammad Khakpour, and others, was at least somewhat compensated for its honourable and passionate showings. Despite the semi-final exit of UAE 96 and, even worse, the quarter-final defeat of Lebanon 2000, they brought some glory with their legendary matches against Australia and the United States.
The saga did, indeed, continue, sadly yet unsurprisingly, on the 22nd day of July, 2007. This time was a loss, as mentioned, against the old foes, Korea Republic. The overused cliché of 'broken hearts' merits a mention, as millions around the world who have dreamt, thought, and spoke 'Team Melli' are, once again, left in agony. The pain multiplies when a retiring Rahman Rezaei holds his head in his hands, whether in disgrace or merely to comfort himself.
It is more unbearable seeing the talented Ali Karimi unrewarded for his years of magic, or the Helicopter, Vahid Hashemian, slowly but surely crashing down. And seeing Mehdi Mahdavikia, the captain and leader of his golden generation, obviously hurt but still proud is the apex of all my heartache. Unlike the previous generation, this one left less than gloriously, leaving us lost and wandering in the gap between the team's potentials and achievements.
Perhaps it is not of indubitable veracity to say our football has only been a conveyor of disappointments; but it is surely not an exaggeration. As fans, we are left disappointed and unfulfilled, hardly influential in the course of the team that we so passionately love. But we are devoid of any choice but to move on; because for most of us, we are in too deep to turn away. Despite any active volition, hope will linger in our broken hearts: In my case, the barely logical voice that says perhaps Karimi is not finished, or the more reasoned one that places Nekounam to take the helm of the ship of Team Melli in the sea of the future.
Yes, at times like these, we must resort to metaphors to symbolize our hopes, for we cannot eternally remain miserable. And although this is only football, says my logical side, the fanatic in me eclipses to give importance to this beautiful game.
We lost today. We have no reason to believe we will be victorious tomorrow. We nevertheless hope. Comment