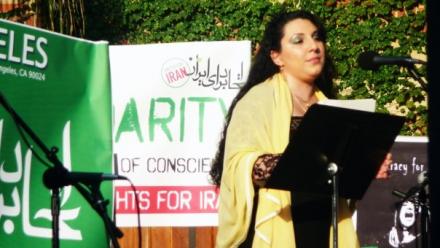 Shhhhh…
she whispered through the crack in the wall
Listen!
Do you hear me?
I am still here!
I am still here!
Do you hear?
She stretched her hands outside…
Less than 5 minutes-
that's all the time MY hands have- to tell YOU what those hands told ME
Less than 4minutes and 30seconds for me to convey to you that this girl, in her 20's, did not make it home,
she left that morning, reassuring her worried mother- in Farsi-that she would be alright,
"na maman joon, I will not get close to University, the students have barricaded themselves inside, the basij are everywhere."
Her only crime was to pass by the wrong motorcycle at the wrong time, her beauty vibrant and her rebellion intoxicating-
She disappeared,
her shawl was left by the curb side.
15 days later her worried sick father received an anonymous phone call that her daughter has "a moral problem" and her nearly unconscious body can be found among the thousands of others in the hospital…
Less than 3 and ½ minutes left for my hands to tell YOU what her hands told me:
Do you hear me?
I am still here…
she said:
These hands are a 20kms long protest–
These hands locked in thousands of other hands, make human chains,
No they can't beat us- These hands are protection
Unbreakable, unlike the bars of the prisons they lock us in  
These hands grip the torch of victory-
to the Olympic of equality- maybe even to a soccer game
These hands with lines, callused, cut, bruised are a million strong 
These hands are the silent march until dawn
These hands are the loud cries- barely heard, barely voiced- on the flat rooftops of homes
These hands are breaking the deafening tone of screeching cries
These hands are seeking light
These hands are carrying the fire of Zarathustra
-ancestry, history, legacy, mystic poetry, beating drums
These hands are rising from the ashes of our parent's disappointed revolution
Disillusioned votes, movements, university meetings,
beatings, war time memories and lost hopes
These hands are the phoenix -rising from the incinerated past of our grandfather's basements
These hands are the growing seed from our mothers' stillborn children
I am here!
I am here!
She whispered, whimpered, cried, screamed, shouted:
I am here!
These hands are rising; rising from the ashes of the bodies they've burned
Dumped in the desert, unidentified
Rising from the graveyard where mothers in black walk every Friday with pictures of their children hanging around their necks
These hands are rising from the morges where there is no more room for death,
they've arbitrarily filled it with bodies, bodies, bodies,
rising from the stadiums, turned into detention facilities
rising from students who are kicked out, locked up, sent out, exiled for intellectual debate
rising from beaten journalists, professors,
shut down papers and magazines
rising from the foul smell of destroyed photographs, tapes
rising from false confessions and shattered dignities
rising from Evin and Gohardasht- from the massacre of '88
rising from public executions of children in townsquares
rising from violent assults by the basij, revolutionary guards,
by boys in plain clothes who are on Afghan narcotics
rising from tears streaming down, strolling through tear gas, bombarded by white phospherate
rising from carrying the shame and fear of rape,
risng from the 29 days late phone call to our mothers after we've been shot
rising from being hospitalized with torn torsos and riped thighs 
rising from toleration for moral police and moral codes,
rising from the assult on the humanity of men-women-children-young and old
rising from the perversion of clerical authority
rising from the iron grip of holy scriptures,
rising from intimidation and scare tactics,
rising from only ONE single color to embrace the full picture
rising into action verbs, collaborated civil disobidience
I am here!
I am here!
There is no question, or debate, it was not a democratic election
These hands are rising from sedation, apathy, cynical submission
These hands are rising, waking from a our slumber
It's been too long, 10 years since 1999, but we're rising.
These hands cannot accept that a woman is half of a man
If witness to a crime,
These hands cannot accept being stoned
These hands cannot accept stoning,
barbaric laws of flogging, long hours of no food, solitute,
watching loved ones being tortured for simply speaking, writing, singing, drinking 
These hands cannot accept a minority's second rate position
These hands are rising, grassroots, door to door, petition by petition
These hands are willing to carry dirt
These hands are willing to work for freedom
These hands are not products- manufactured- sold or bought
These hands will not stand to be dismissed during negotioations
And are not formed by any western nations
I am here!
I am here!
These hands were born out of discontent, rising to take a breath- inhale!
Exhale!
These hands are ready to sing again, to dance agin, to write again, to create again to rebuild again…
Can YOU hear me?